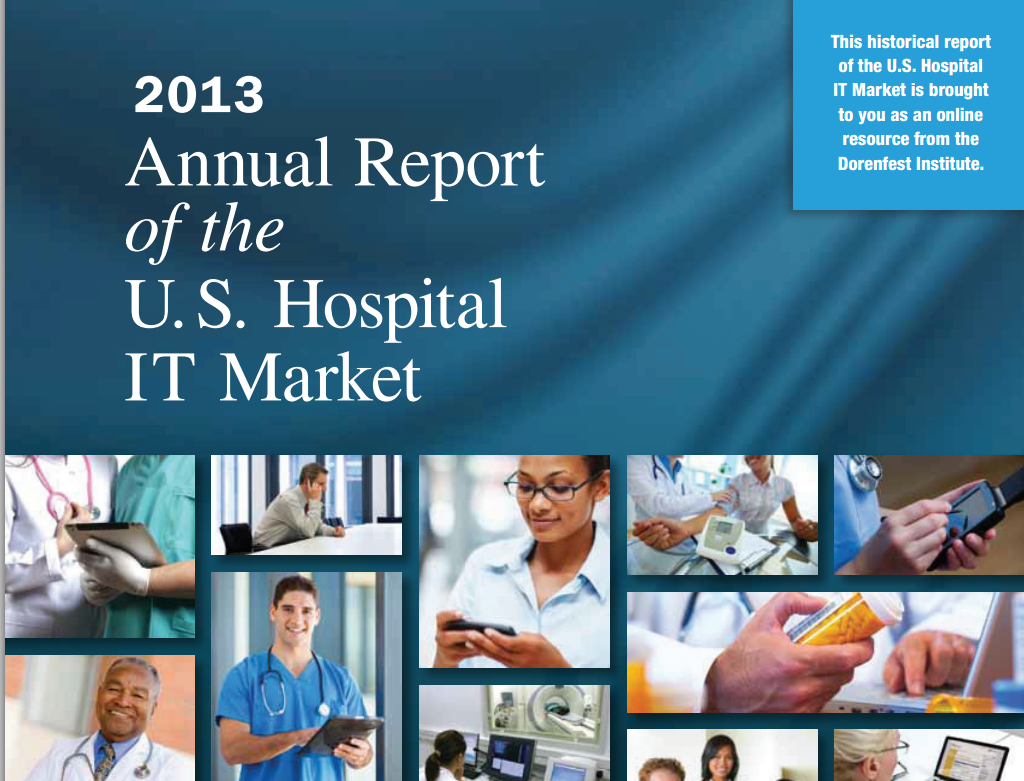 Last week, HIMSS Analytics and The Dorenfest Institute for Health Information released a new free report, 2013 Annual Report of the U.S. Hospital IT Market. This report provides valuable new insights into the world of healthcare IT from 4,200 American hospitals, as well as the latest analysis on the penetration of more than 100 IT applications in various sectors (e.g., bed size, hospital type and census regions). 
Here are twenty five key takeaways/trends from the report:
1. The challenges associated with a multi-year EMR implementation process can often cause organizations to lose sight of a critical guiding IT principle: technology is simply a means to the end, not an end unto itself. The data demonstrates that implementing an EMR alone will not achieve cost savings, quality improvements or revenue enhancements unless it is a component of a broader plan with clearly defined organizational and operational improvement objectives. The most successful organization are those which have used their EMR as a foundation for implementing process change and complementary technologies—such as business analytics and clinical decision support—to achieve improved outcomes and reduced costs.
2. Federal policy has stimulated the adoption of healthcare IT, and that the drive to develop a successful ACO, patient-centered medical home and payment reform has picked up steam.
3. ACOs are driving hospitals to enter new partnerships with competitors in order to manage the health of a defined population. These pilot programs will, by necessity, develop strengths in clinical and business intelligence (C&BI) in order to analyze the quality of their care and to drive efficiencies to meet the payment and incentive goals.
One clear objective of the ACO program is to find a much better way of managing chronic diseases. According to Kaiser Permanente data, five percent of their covered population consumes fifty percent of the healthcare dollars. Clearly, the industry must find ways, through patient engagement and best-practice modeling, to reduce consumption and the prevalence of chronic disease. The report finds a continued strong growth in software, hardware and services to meet the needs for C&BI.
4. ARRA funding has clearly stimulated the acute care IT industry. Evidence of this growth can be found in the increased rate of progression up the EMRAM scale.
5. In 2012, HIMSS Analytics recognized 205 hospitals achieving Stage 6 EMR Adoption Model, double the number (102) that achieved Stage 6 in 2011, and 2.5 times greater than the number achieved in 2010 (80). In October 2012, in response to questions surrounding the efficacy of the HITECH program by certain members of Congress, HIMSS produced an acute care. EMRAM score table detailing five quarters of data from the initial stimulus payment in Q2 of 2011 through Q3 of 2012. Astonishingly, that table showed that Stages 5 and 6 grew by more than 80 percent while Stage 7 grew by 66 percent.
6. Consolidation continues in the hospital provider market. Acquisition and mergers of acute care providers increased slightly in 2012 compared to 2011. The report found access to large capital may be constrained in this uncertain economy due to the anticipated reductions in Medicare and Medicaid reimbursements. However, the ACA will also provide a new source of revenue to hospitals as we begin our national effort to reduce the number of uninsured consumers. These two countervailing pressures make for uncertainty, and thus diminished appetite for debt as well as a diminished appetite to loan. 
7. The average and median ratio of IT department operating expense to total hospital operating expense increased from 2011 to 2012. 
8. The most significant increases in the sales of enterprise EMR systems were among medium sized hospital, i.e., those in the 301–500 bed range. 
9. As integrated delivery networks (IDNs) ambulatory portfolio continues to grow, some consolidation around a common AEMR and a practice management system will continue to drive some replacement activity. This additional source of patient care data will also drive some infrastructure upgrades in IDN data centers, or see an increasing use of outsourced data centers.
9. For clinicians, the need for ubiquitous access to EMR data of varying types from inpatient and ambulatory sources—including digital images—will necessitate improved wired and wireless network capacity; higher investments in mobile point-of-care devices; improved security; and more robust remote web access.
These upgrades to hospital application portfolios will drive spending on IT infrastructure higher as well.
10. As more mission critical patient clinical data is transformed into digital form system performance and reliability will become even more important  and costly for those hospitals that host their own data centers. This massive growth of clinical data is not going unnoticed by hospital boards and leadership who are expecting the wealth of information to turn into a competitive advantage. 
10. Most of the planned purchases for applications in the financial management suite are from replacement buyers. The exception being ERP, where nearly two-thirds of planned purchases are attributed to first-time purchasers.  
11. The financial management IT application market will continue to be driven by competing IT initiatives (e.g.EHRs and ICD-10 coding conversion projects) leaving little capital funding for upgrades or replacement of financial systems.
12. Future purchases of HR IT applications may be deferred for many hospitals because of various federal IT related initiatives, such as ICD-10, and Medicare and Medicaid-funded EHR implementations. Hospitals leaders may elect to allocate their resources in satisfying federal initiatives instead of replacing older HR applications, unless their HR IT applications do not meet minimal requirements or been sunsetted by the vendor.
13. Revenue cycle market saturated applications such as ADT/registration, patient billing and patient scheduling, are good indications that replacement purchases are being made. It is likely that these applications will continue to be replaced over the next three to five years.
14. The next generation of revenue cycle management is still in its infancy; however, these applications are expected to become critical solutions for all hospitals within the next few years. RCM applications are designed to improve collection rates, business office workflows, productivity, patient satisfaction, and patient convenience.
15. The Health Information Management (HIM) market reflects a replacement buyer market partially driven by the movement from the "best of breed" solutions. Biggest growth potential for the HIM market is expected in dictation with speech recognition and data warehousing/mining-clinical.  
16. Chart deficiency and chart tracking/locator applications will become obsolete as the adoption of EHR applications become more prevalent. However, until dependence on paper documentation is completely eliminated, these applications will maintain a healthy market presence.
17. EMR adoption is driving the electronic forms management market with increases across all hospital bed sizes ranges based on the need to have all documentation and orders available on the network, even if it originated on paper.
18. The purchasers of applications in the nursing IT environment are most likely to reflect replacement buyers, although this first-time/replacement buyer mix varies by the application considered.
19. The majority of the planned purchasing in the ancillary department market in this next year will be replacements purchases. ED is the only ancillary application to indicate that fewer than 80 percent of planned purchase will be replacements. As in previous years, the requirement for a tight data coupling with pharmacy systems and CPOE systems is driving the replacement of legacy pharmacy systems with the organization's EMR vendor's pharmacy system.
20. The R-PACS IT application market will most likely continue to experience growth, driven by continued first-time purchases among smaller hospitals and the early stages of replacement purchases by the larger hospitals, including academic medical centers and other early adopters.
21. The majority of purchases for CPOE and physician documentation solutions will be made by hospitals that are planning to purchase this technology for the first time.
22. Academic medical centers and larger medical/surgical hospitals demonstrated the highest adoption rates in physician-focused applications (e.g. CPOE, physician documentation, physician portal). These organizations tend to have higher staffing levels of residents and hospitalists, who are generally required to use the clinical applications for patient care. Critical access and rural hospitals showed higher adoption increases as they continue to expand their EMR application capabilities and increasingly adopt the role of hospitalists.
23. The EMR market will be faced with increased pressures on hospitals by federal and state authorities to participate in HIE and public health reporting activities, or the desire of IDNs to actively participate in private HIEs.
24. The EMR market will be faced with tight capital markets which may impact the acquisition and installation of EMR products through 2015, especially for small community and critical access hospitals, in spite of the availability of ARRA incentives.
25. The continued resistance of attending physicians in a competitive community hospital environment to the adoption and use of CPOE and physician documentation applications will continue to impact the EMR market. 
The 2013 Annual Report of the U.S. Hospital IT Market, is also now available in pdf format on the Dorenfest Institute website.