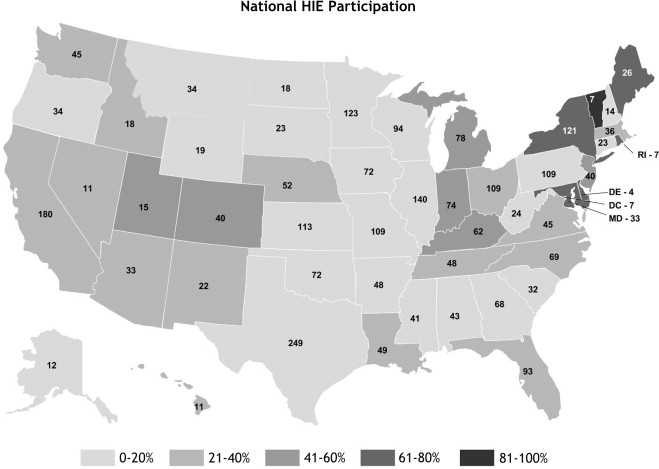 46% of hospitals with a basic EHR engaged in health information exchanges, according to a new study published in Healthcare: The Journal of Delivery Science and Innovation. Overall, the study found that 30% of U.S. hospitals engaged in health information exchanges with unaffiliated providers with a large variation in state-level participation with some states achieving more than 70% participation (Rhode Island, Delaware and Vermont) and others with minimal participation, iHealthBeat reports.
The study used the most recent national data from the American Hospital Association's IT Supplement to assess U.S. hospital participation in HIE and how participation varies by state. The researchers then examined whether HIE is being pursued by all types of hospitals, or whether specific types of hospitals are not yet engaged. 
Despite an uptick in hospital HIE participation since the start of HITECH, the majority of hospitals still do not engage in HIE and there is large state-to-state variation. Specific types of hospitals appear to feel that they are better off not engaging in HIE.  The study concluded that stronger policies and incentives may be needed to convince organizations to share their data electronically. Pursuing these policies and incentives is critical to ensuring that the highly anticipated quality and efficiency gains from our large national investment in health information technology are realized.
Key Findings 
– While several of the states with high participation rates were small (i.e., few hospitals), some large states like New York and Indiana had among the highest rates; by the same token, states with very low rates included both large states like Minnesota as well as some very small states such as Alaska, North Dakota, New Hampshire and Wyoming. 
– Hospitals with a more dominant market share were more likely to participate: while only 14% of hospitals in the lowest quartile of market share participated, 49% of hospitals in the highest quartile did participated 
– Multivariate results were similar: for-profit hospitals were far less likely to participate in HIE compared to non-profit hospitals 
– Hospitals in the highest quartile of market share were more than twice as likely to participate compared to hospitals in the lowest quartile (OR: 2.05, 95% CI 1.15–3.63, Table 2). One additional hospital characteristic was associated with HIE participation: hospitals that were part of a centralized system were more likely to engage in HIE (OR: 1.73, 95% CI 1.33–2.25, Table 2).
– 37% of private, non-profit hospitals particpated in health information exchange
– 31% of hospitals that do not have a basic EHR particpated in health information exchange
– One out of every three hospitals is engaged in health information exchange
To view this study, click here