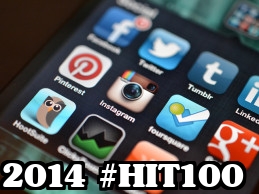 Yesterday evening, Michael Planchart, aka The EHR Guy kicked off his fourth annual #HIT100 list that recognizes the leading contributors supporting the #HITsm and #HealthIT social media communities by contributing insightful tweets, articles, books, blogging, etc. The nominations opened last night starting at 6pm EST.  Those highlighted in previous lists include some of the leading social influencers in the healthcare technology industry. 
How It Works
All participants of #HIT100 must have had a Twitter account open for at least 6 months and they must be active participants of both the #HealthIT and #HITsm channels. This applies to both nominees and nominators.
1. The nomination is a simple tweet that should be written as follows: "I nominate @tweet_handle to the #HIT100 list. #HealthIT #HITsm" (omit the quotes in the tweet),
2. Only one twitter handle may be nominated in one tweet,
3. Simple RTs will be counted but "thank you" or "TY" RTs will not nor will RTs of RTs, so keep it simple,
4. The first round will be for the first top 250 nominees and this round will last 7 days or until the stream slows down,
5. From the first round the top 100 nominees will be listed on the #HIT100 list,
6. The second round will be executed the same way but only those that showed up in the #HIT100 list can be nominated,
7. The second round count will narrow down to the first 5 of the #HIT100 list. These 5 are this years champs.
Previous top 5 winners include: 
2013
1. @HealthcareWen 
2. @HITAdvisor 
3. @Brad_Justus 
4. @ahier 
5. @EMRAnswers
2012 
1. @EMRAnswers 
2. @ahier 
3. @eGrunden 
4. @nrip
5. ShimCode
2011
1. @ahier 
2. @motorcycle_guy 
3. @TheGr8Chalupa 
4. @ePatientDave 
5. @NateOsit 
photo credit: Jason A. Howie via cc