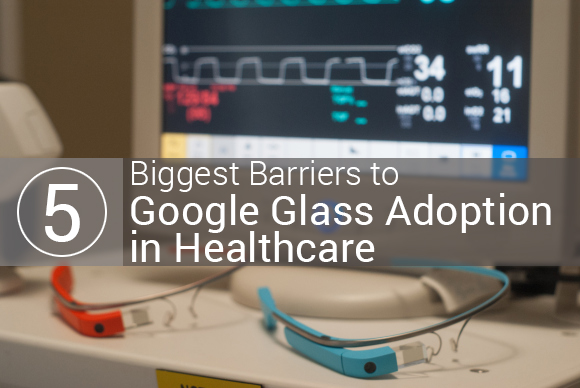 Google Glass adoption in healthcare is promising, but also has its share of challenges to overcome. We examine the thoughts of Dr. Rafael Grossmann and Pristine's Kyle Samani on the subject.
The little wearable optical computer that could, may be helping physicians and medical professionals see things a bit differently these days—but how Google Glass will seamlessly replace other devices to enhance clinical care has yet to come fully into focus.  For even the device's biggest enthusiasts say there are barriers between Google Glass and its potential.
For starters, there are several misconceptions about the hands-free optical device that could lead the best intended physicians and clinicians astray, according to Dr. Rafael Grossmann (@ZGJR).  "One of the most common mistakes that I can foresee is that most users will assume that the device has connectivity of its own. It does not! It needs a wifi network to connect to, or a smartphone that it can tether to, in order to have internet capabilities," he said.
Grossmann, a self-proclaimed telehealth pioneer and surgeon, was one of the first Google Glass Explorers to don the device in the name of healthcare. He was the first in the world to use the device to live-stream a routine surgical procedure to a group of medical students. He believes that Google Glass has the potential to drastically change care practices and consultations, but there are some caveats to using the device, which he discusses at length in his blog post on the subject.
Taking his considerations in mind, here are five of Google Glass' biggest barriers.
1. Privacy Regulations & HIPAA Compliance
Matters of privacy and HIPAA compliance are some of the biggest hurdles for Google Glass, at least in the USA. To use the Google Glass in a clinical setting, for example, the device will have to be cleared to transmit patient data through the device. Aside from ensuring that there are proper security protocols in place, there is more to consider. Like if the Google Glass-compatible apps used in conjunction with the device also uphold the level of security required to comply with HIPAA regulations.
One way to work around this is to avoid using Google's mirror API, according to Pristine's CEO and co-founder Kyle Samani when asked about the topic in an interview with Pioneers.
Kyle Samani, Pristine's CEO

 "The mirror API is pretty much unusable for anything healthcare related, because everything gets routed through Google's own servers. Google told us flat out, 'We do not want you putting healthcare data on our servers.' Google knows the privacy advocates will be all over them for it, so they're discouraging it from the start."
Samani and his team had to keep that in mind when developing Pristine's Eyesight (an app that provides streaming video between Glass and mobile devices) as well as its CheckLists app (which provides check list prompts during clinical procedures).
As a result, Pristine keeps all the data transmitted via its app behind a hospital's firewall; no data from Glass ever leaves the network.  "It literally becomes 10 times harder to close the deal and make things happen when the 'This lives inside your firewall' and 'This doesn't live inside your firewall' conversations begin.' We made the decision to install our software locally to avoid exactly this debate," said Samani to Pioneers.
2. EMR /EHR Integration
Google Glass may hold the power to be a very intuitive hands-free tool, but without proper integration with EMR/EHR software it will not meet its full potential. "The device needs to be an extension of the current platforms that we routinely use, running the same EMR software or at least agnostically conversing with it," writes Grossmann. Meeting that challenge will add other challenges to the mix, including achieving internal interoperability as well as maintaining fluid aggregation and normalization practices.  To achieve that seamlessly and without upset, will be quite the task ahead for the adopters of Glass.
3. Price Point
Google Glass may be far more affordable than the cumbersome telehealth carts or surgical cameras currently in vogue, but for the buy-in to be universal, the purchase price has to be lower. Although it's not quite yet for sale (except for last Tuesday at the bargain rate of $1,500) the fancy pair of specs is nearly four times the price of other popular mobile devices.  And if you wear glasses, a prescription pair will run you an extra $250.00. For Glass to have some skin in the game, Google will have to get competitive when it comes to cost comparison, according to Grossmann.
4. Device and Network Limitations
Glass does have some design drawbacks that make it somewhat challenging to integrate into clinical care. Although it is touted as hand free and voice enabled, you do have to use your hands on occasion to tap and swipe your way through Glass' menu. Naturally, this is less than ideal for a user who needs to keep his or her hands sterile.  Other limitations include the device's battery life, which if used continuously wouldn't last more than an hour or two.
Developers like Samani have also said that Google Glass can be buggy and its lack of power has challenged the application developer to come up with some creative solutions to get the desired effect they seek with their applications.  Add even more apps to the mix, and this calls into question just how much Glass will be able handle at once.  Perhaps later models, if developed, will offer more functionality. But for now, physicians will have to accept Glass and all of its glitches.
Investments will also have to be made on the network infrastructure side of things, said Grossmann.  Hospitals are going to need better bandwidth to achieve the optimal transmission of data between Glass and other devices.  To achieve that level of connectivity without delays or flaws, dedicated networks will have to be developed. This may be an added cost and obstacle health institutions are not willing to embrace—at first.  However, the promise of having a more secure and interoperable IT infrastructure, without the headaches that come with BYOD (bring your own device) policies, may help balance out those negatives.
5. Culture Change
The healthcare culture may look at Glass with a discerning eye for now, however, it will be prompted to change and embrace Glass as it did with the proliferation of mobile devices. Still, healthcare's hesitation to change is a very real barrier that will have to be broken down in order for Glass to pass muster and make its way into more clinical settings. Grossmann is confident that culture change will happen, however.  Maybe it will—when the other barriers begin to break down—and those peering behind Glass can finally see its pure possibility at play.
Related: 5 Medical Specialties That Can Benefit From Google Glass