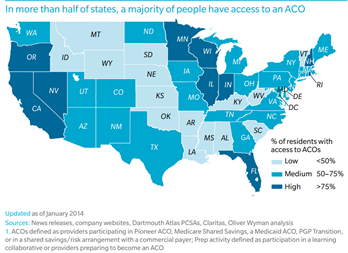 15 to 17 percent or roughly 46 to 52 million of the American population are served by accountable care organizations (ACOs), according to new analysis by the consulting firm Oliver Wyman. The analysis identified an additional 150 additional ACOs, bringing the estimated total to more than 520, up from 320 in July 2013 and 260 in January 2013. This number represents a 41 percent increase since September 2013 and a 102 percent increase since February 2013.
Included in the research are both CMS and non-CMS ACOs. CMS ACOs were classified as any healthcare provider participating in the Pioneer Program, the Medicare Shared Savings program, a Medicaid ACO, or the PGP Transition program. Most Medicare ACOs also serve non Medicare patients.
Lack of an official list or definition made it difficult to count Non-Medicare ACOs and defined them as any provider organization with at least one shared-savings or shared-risk arrangement with at least one commercial payer but not with CMS.
Other key findings of the report include:
About 5.3 million Medicare beneficiaries, or about 10 percent of total Medicare beneficiaries, will now receive their healthcare from ACOs.

The corresponding figures in July 2013 were 4 million beneficiaries and 11 percent of total beneficiaries.

The number of beneficiaries served has risen by 32 percent since July 2013 and by a total of 120 percent since January 2013.

Medicare ACOs currently serve an estimated 33 million non-Medicare patients, up from 25 million in July 2013 and 15 million in January 2013.

There are 154 non-Medicare ACOs, compared to 135 in July 2013 and 124 in January 2013. That represents a growth of 14 percent since July 2013 and 24 percent since January 2013.

We estimate that these ACOs serve between 9 million and 16 million patients, compared to 8 million to 14 million in February 2013.
Click here to view the full report.