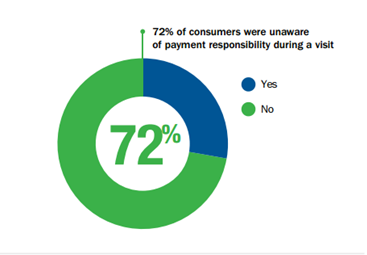 72 percent of patients said that they did not know their payment responsibility during a provider visit, according to a new report by InstaMed. Much of the growth in the healthcare payments industry has spurred from the rise in patient responsibility, as the number of patients enrolled in high-deductible health plans (HDHP) increased nationally to 15.5 million as of January 2013.3 Due to this growth in HDHP enrollment, providers are required to collect more money from their patients, but many providers still rely on paper-based, manual payment collection and posting processes. As a result, providers are spending more money and more time to collect from consumers than in other industries, yet still accumulating a large amount of bad debt. This surge in HDHP enrollment is causing patients to become consumers of healthcare who are sensitive to their healthcare costs
The report, Trends in Healthcare Payments Annual Report: 2013 demonstrates the business drivers for payers and providers and the changes they are making to operate efficiently, focus on the consumer and maintain cash flow. This report also showcases quantitative data processed on the InstaMed Network and features trends based on qualitative data obtained from healthcare providers, payers and patients nationwide.
Other key highlights from this report include:
Increase in Patient Responsibility 
 Total number of patient payments to providers increased by 72 percent from 2011 to 2013.

 Average amount of a patient payment to a provider increased from 110.86 in 2011 to 133.15 in 2013.
The increase in the average amount of a patient payment combined with growth in the total number of transactions, demonstrates that patients not only receive more healthcare bills, but these bills are for larger amounts.
Increase in Flexible Ways to Pay Providers 
Total number of transactions for payment plans increased by 284 percent to 2013. This trend is growing rapidly as patients demand ways to easily budget for their rising healthcare costs.

Card payments made by patients represented 34 percent of gross dollar volume of back office payments, which increased to 42 percent in 2013. This shift in back office payment methods verifies that more providers are accepting payments electronically, and when given the option, patients are willing to pay this way.

If given the option of various methods to pay their healthcare bills, 79 percent of consumers indicated that they would pay online through their provider or health plan website

In 2013, 76 percent of providers said that it took more than one month to collect from a patient.

Nine in 10 providers will utilize a mobile device by next year. Half of providers are considered "digital omnivores" – someone who routinely uses a smartphone, tablet and a computer professionally.
Increase in Provider Adoption of ERA/EFT 
Payers promoting ERA/EFT to their providers achieved an average of 44 percent provider adoption of payer payment volume in 2011, which increased to 73 percent in 2013.

As more payers began to offer ERA/EFT (electronic remittance advice/electronic funds transfer) in 2013, more providers began to accept these transactions to get paid faster and improve efficiency with automated posting and reconciliation.

76 percent of providers said that they offered the option of payment plans to their patients
The full report can be downloaded:  click here