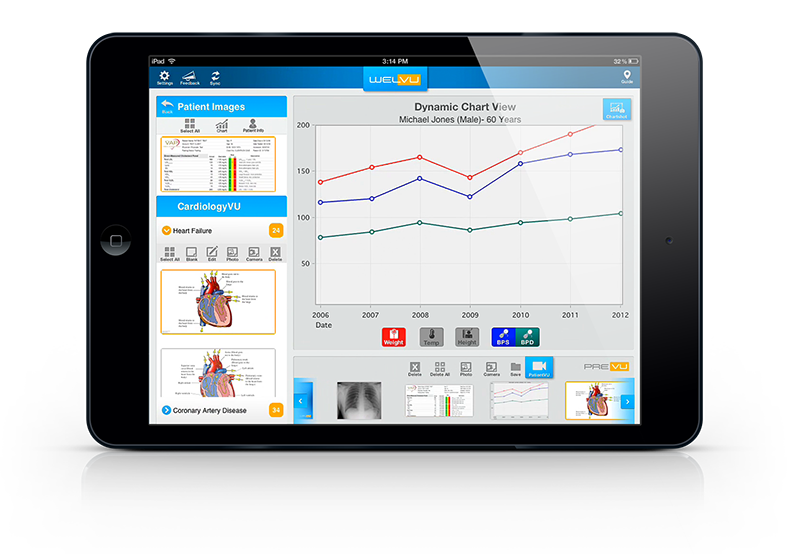 This morning, Box and Dignity Health announced WeIVU, a cloud-based patient engagement platform that allows educational content to be prescribed by a physician to a patient as the winner of its Patient Education App Challenge. As the winner, WeIVU received a $100,000 convertible note, a bond that can be exchanged for equal cash value, and one-month office space and mentorship from The Social+Capital Partnership. WelVU will also be featured in the Box Apps Marketplace, receive marketing and sales support from Box, and have the opportunity to propose the product or solution to Dignity Health's leadership as a potential pilot project.
Cirrus Health also received an honorable mention for most innovative patient education use case for its personalized patient video discharge summary.
WelVU Overview
WelVU's technology platform uniquely combines the visual learning advantage of medical illustrations, the trusted voice of a healthcare provider, and power of a patient's personal clinical data to create a multimedia educational experience for the patient to reference and share long after they have left the exam room or hospital.  Physicians, nurses, and educators create point-of-care educational videos and prescribe those videos directly to the patient for their convenient review on a smartphone, tablet, or desktop.  The resulting multimedia experience extends the productivity of face-to-face care encounters and allows organizations to finally begin measuring data around patients' engagement with educational content.
Last month, the company raised $1.25M in seed funding to develop requested product features, fuel marketing and sales and efforts, support client deployments, and execute the broader WelVU strategy focused on improving readmission rates, patient satisfaction, health literacy, and health outcomes.
Challenge Overview
Box partnered with Dignity Health for the challenge after receiving feedback from their hospital customers on how Box can used to help improve patient engagement through patient education about their diagnosis or disease.
The contest, which kicked off at the Health 2.0 conference in October 2013, invited developers to build applications on the Box platform to help patients consume and interact with educational content related to their diagnosis, disease, or surgical procedures. Judges for the final round of the challenge included:
Aneesh Chopra, Former U.S. chief technology officer, White House

Ted Maidenberg, General Partner, The Social+Capital Partnership

Aaron Levie, CEO and co-founder, Box

Rich Roth, Vice President, Strategic Innovation, Dignity Health
Box and Dignity Health received more than 150 applications, which were narrowed down to five semi-finalists and one honorable mention in February 2014. The remaining semifinalists were:
To learn more about the challenge, the semifinalists and winner, please visit: http://blog.box.com/2014/04/box-and-dignity-health-name-welvu-patient-education-app-challenge-winner.