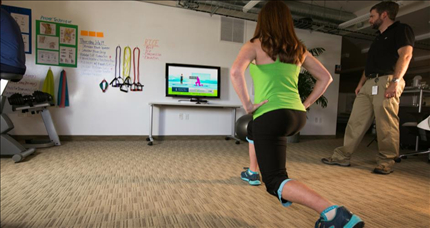 Reflexion Health, Inc., developer of a software platform for rehabilitation medicine, today announced it has closed a $7.5 million Series A Preferred Stock financing, with the Gary and Mary West Health Investment Fund. Reflexion Health will use the proceeds of the financing to further develop "Vera™," its Microsoft Kinect-based physical therapy program.
Vera, Reflexion Health's first product, modernizes physical therapy by incorporating an interactive and entertaining patient interface that motivates patients to do their physical exercises at home. Vera is currently in pilot studies at the Center for Connected Health, a division of Partners HealthCare in Boston, MA and Rady Children's Hospital in San Diego, CA.
"We are pleased with the sustained commitment by the West Health Investment Fund and the interest of our early customers and research partners," said Spencer Hutchins, co-founder and CEO of Reflexion Health. "Healthcare need tools like Vera that can extend the expertise of physical therapists and finds ways to better engage, motivate and coach patients towards their recovery, wherever they are."
Vera, incorporating initial research conducted at the Gary and Mary West Health Institute, allows physical therapists to update their decade's old-practice of using photocopied paper handouts to guide patients through their home exercise program with an engaging, digital platform. Vera delivers instructional video and full-body video game mechanics to patients in their home with the Microsoft Kinect for Windows. The system coaches patients through their physical therapy exercises while sending real-time information and performance back to their clinicians.
Reflexion Health is currently conducting a research evaluation in collaboration with the Center for Connected Health and Brigham and Women's Hospital at Partners HealthCare to study the clinical efficacy of Vera when used as a home exercise program for patients recovering from hip and knee injuries.
"Digital medicine tools hold enormous promise to transform the patient experience and bring physical therapy alive for patients at home, the same way we can interact with them in the clinic," said Clare Safran-Norton, physical therapist, Ph.D, clinical supervisor of Rehabilitation Services at Brigham and Women's Hospital in Boston. "We see the potential for this technology to demonstrate how improved physical therapy can drive adherence, engagement and may ultimately help patients restore physical function and health."
Vera helps address a wide variety of musculoskeletal diseases, which cost Americans $127 billion a year, according to estimates from the American Academy of Orthopaedic Surgeons.
"We need technologies like Vera to expedite the rehab process by leveraging our highly-skilled therapists to provide more direct patient care, using evidence-based, manual therapy techniques," said Kelly Randich, lead physical therapist at Rady Children's Hospital. "We are excited to be working with Reflexion Health to help us take better, more efficient care of our patients with orthopedic injuries."
Reflexion Health will use the proceeds from this current round of financing to develop its engineering, product development and customer support teams, as well as continue to complete research studies, including researching additional mobile and at-home platforms like Microsoft's next generation Kinect camera, currently for sale in connection with its Xbox One.
Vera is currently in a closed-Beta test with a select number of organizations. Health systems, clinicians and people with injuries interested in more information on availability of the system can register for more information at: www.reflexionhealth.com/stay-informed.
The Vera video system is intended for use under the direction of a medical professional.