More than two-thirds of U.S. consumers say their doctors have not involved them in the transition to digital medical records, according to a recent Xerox survey.
Xerox's fourth annual EHR survey of 2,009 U.S. adults revealed that only 29 percent of those who have a doctor have been informed their medical records will be converted to digital format. While this shows a 13-point improvement from four years ago, the survey results continued to show that the majority of Americans (83 percent) have concerns, such as security, about EHRs and less than one-third (32 percent) want their medical records to be digital (compared to 82 percent and 26 percent in 2010, respectively).
Healthcare providers seeking to earn Meaningful Use Stage 2 incentives, which first become available for hospitals on Oct. 1, will have one year to make patients' medical records available via online portals and must have 5 percent of their patients actually access the data. Currently, only 19 percent of the U.S. adults surveyed have access to their medical records online.
"The juxtaposition here is that since the HITECH Act became law four years ago, healthcare providers have made tremendous strides in adopting EHRs, but there has been little to no change in Americans' acceptance of digital medical records," said Charles Fred, president of healthcare provider solutions at Xerox. "Patients will soon have more access to their personal health information than ever before, but they need to be educated by providers on how this will empower them to take charge of their own care."
Despite continued resistance and slow progress, Americans do see some benefits of EHRs, with 62 percent agreeing that they will reduce overall healthcare costs and 73 percent believing that EHRs will improve the quality of service they receive from their healthcare provider, respectively up 2 percent and 3 percent from last year.
The infographic below illustrates the key findings of the Xerox's fourth annual EHR survey: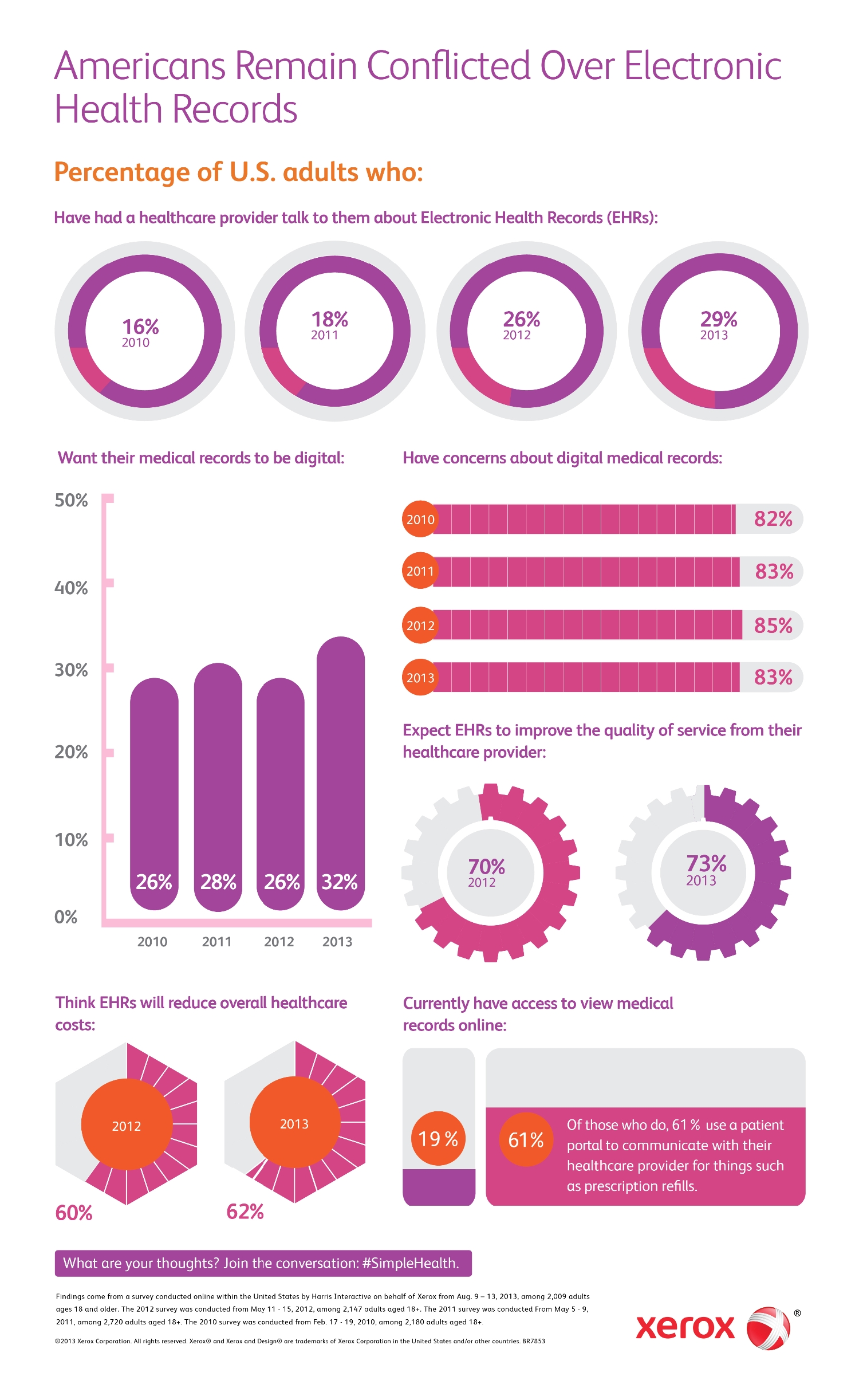 Background
This survey was conducted online within the United States by Harris Interactive on behalf of Xerox from Aug. 9 to Aug. 13, 2013, among 2,009 adults ages 18 and older. The 2012 survey was conducted from May 11 to May 15, 2012, among 2,147 adults ages 18 and above.
The 2011 survey was conducted From May 5 to May 9, 2011, among 2,720 adults aged 18 and older. The 2010 survey was conducted Feb. 17 to Feb. 19, 2010, among 2,180 adults aged 18 and older. This online survey is not based on a probability sample and therefore no estimate of theoretical sampling error can be calculated.