The Internet isn't always a safe space for health research. Any nurse who has fielded a day of nervous self-diagnosing Web surfers can testify to the dangers of the wrong information in inexperienced hands. Fortunately, user-owned technology isn't all bad. The apps on our list below go to the source of medical issues, serving as powerful information repositories patients can use with their doctors to learn more about their health on a day-to-day basis. Healthcare providers should feel confident recommending the following applications to patients hoping to take more of an active interest in their health.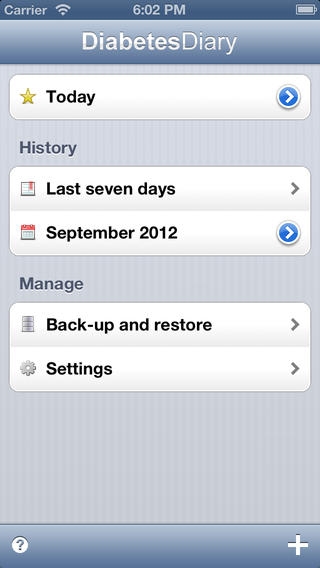 Diabetics know that keeping accurate, consistent records is essential for maintaining good health. With this app, record keeping becomes powerful and simple. View patient progress month to month and easily record insulin doses, glucose readings and carb intake. The app supports both mmol/L and mg/dL units for glucose readings and a features a customizable list of insulin types. It's a robust, powerful app that takes guesswork and complication out of daily monitoring and gives diabetic patients or their caregivers a powerful log of information to share with doctors.
Cost: $2.99
Requirements: Android, iPhone, iPod touch, or iPad, iOS 4.3 or later, optimized for iPhone 5.
2. uChek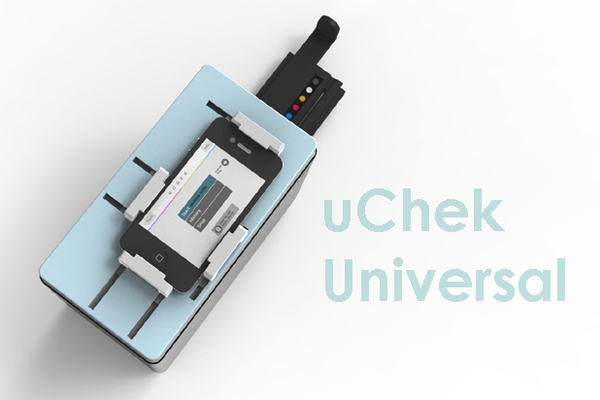 Your urine can tell you a lot about your health, and one app aims to make the story more easily told. Patients purchase a test kit for $40 and use the free app to simply analyze urine for carb metabolism, liver and kidney function, acid-base balance and bacteria. The data can be saved securely, putting patients in charge of their own health data. As one of the most intriguing healthcare apps on the market, uChek is garnering a lot of unwanted attention from the FDA, which is trying to determine how the device and app are regulated. For now, it's a hot item and a top pick.
Cost: Free ($40 for test kit)
Requirements: iPhone, iPod touch, or iPad, iOS 5.1 or later, optimized for iPhone 5.
3. Caremerge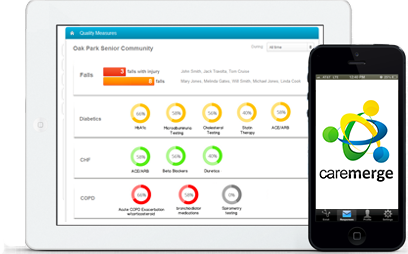 As the baby boomer population ages and smartphone use rises, the natural combination means more access to hospice and nursing home care than ever. The suite of apps keeps caregivers connected with families, updates users on activities and health issues, and includes clinical collaboration. Family members can keep up to date on a patient's health, diet and mood from anywhere in the world, making it easier to interact with patients undergoing inpatient care. "We have more family involvement here than any other community I ever ran," reports one caregiver using the app suite.
Cost: Per-bed fees paid by caregiving facilities
Requirements: iOS, Win8, Android, mobile devices
4. Propeller Health (formerly Asthamapolis)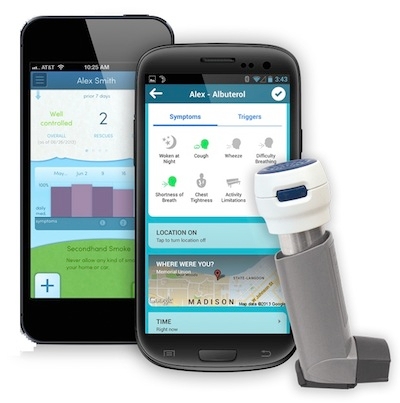 Ever wished your patients' asthma inhalers had a GPS system? You might if, like many asthma sufferers, their symptoms are triggered by weather and the environment. This innovative app tracks inhaler usage and wirelessly syncs it to a smartphone with environmental information. The powerful information logging means caregivers and patients both learn more about when the patient's lungs need the most help. Secure sharing with family members helps parents track how often kids use their inhalers and receive alerts when they are using their rescue inhaler.
Cost: Free
Requirements: Android, iPhone 3GS, iPhone 4, iPhone 4S, iPhone 5, iPod touch (3rd generation), iPod touch (4th generation), iPod touch (5th generation) or iPad, iOS 5.0 or later, optimized for iPhone 5.
5. MyFitnessPal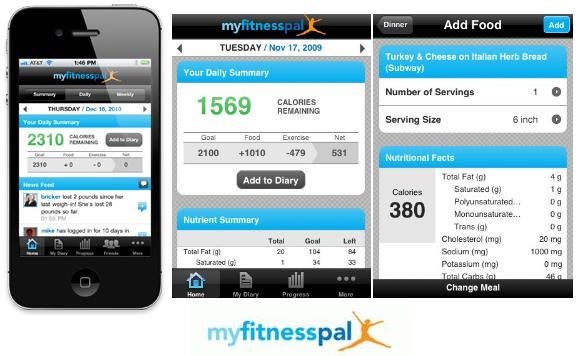 Conscientious eating and good nutrition are an essential part of any healthy diet. For smartphone users, maintaining balanced days is simple with this fitness and calorie tracking app. Users can enter individual foods or create commonly used recipes. A barcode scanner makes it easy to enter products, and users can optionally sync with Facebook or Twitter to keep themselves honest and on-track. Users can set a weight goal in the app, or simply use it as a simple, powerful diary to learn how much they're really taking in on a day-to-day basis.
Cost: Free
Requirements: Android, iPhone, iPod touch, or iPad, iOS 5.0 or later, optimized for iPhone 5.
The apps above mean a repository of daily information for doctors. More importantly, the healthcare technology aims to inspire patients to take an active, daily interest in their health and progress. Patients who might otherwise be put off by keeping a journal of their experience may be more likely to insert data into an automated program set up to track their specific symptoms and issues.
About the Author:
Mary Fineday is a contributor to AlliedHealthWorld.com and hospice care volunteer. Her writing and research interests include mobile health, aging and long-term elder care.