MedSnap, LLC introduces MedSnap ID, a medical app to quickly identify an entire set of patient pills and screen them for safety.
Poor medication use by clinicians and patients costs $200 billion each year in the U.S., or 8 percent of all U.S. healthcare expenditures according to a recent IMS Health study. To improve medication adherence and safety, MedSnap, LLC has launched MedSnap ID, an iPhone® medical app for clinicians, health systems, hospitals, clinics, ACOs, pharmacies and home health providers. MedSnap ID uses computer vision technology to quickly identify an entire set of patient pills and screen them for safety.
Founded by medical entrepreneurs, Dr. Patrick Hymel and Dr. Stephen Brossette, MedSnap ID's technology allows patient to demonstrate what medications they actually take and in seconds, an accurate medication list can be generated, competed with pertinent drug-drug and drug-disease interactions. The innovative medical app was designed to empower clinicians and healthcare systems to undertake improvements in medication safety at the individual and enterprise levels.
How MedSnap ID Works

MedSnap ID provides clinicians and healthcare professionals with a subscription-based service that identifies prescription medications using MedSnap's patent-pending computer vision technology and precision Snap Surface. Using the iPhone camera, the app identifies prescription medications, including generics, by name and strength, screens for drug-drug and drug-disease interactions and provides detailed clinical information via a professional database. The application also exports Snap reports through print and email.
Mobile Medication Reconciliation for Health Systems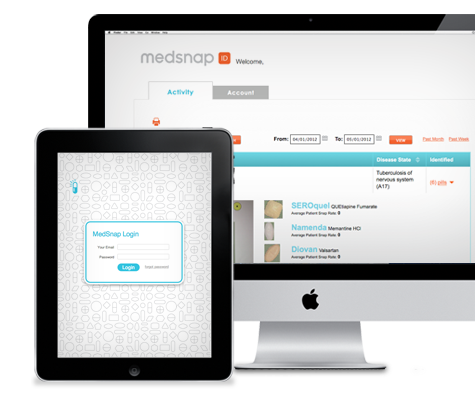 MedSnap ID Enterprise is designed for health systems, emergency medical service providers and home health organizations to integrate MedSnap data into existing information systems and provide centralized review of medication regimens across the organization. In addition to the features found on the individual version of MedSnap ID, the Enterprise version can securely import the MedSnap regimen into the patient's electronic health record or EHR. For home health providers, MedSnap Enterprise provides a centralized data review and analysis across the organization's user base for quality assurance and documentation purposes. The subscription starts at introductory price of $69.99 for an individual license
Crowdsourcing Approach to Addressing Medication Adherence & Safety
Earlier this year, the Birmingham, AL based health informatics startup launched the MedSnap Pill Mapping Project, a healthcare initiative designed to visually map the identities of thousands of prescription pills. . By doing so, MedSnap has expanded its proprietary Visual Pill Library to include more than 3,000 of the most popular prescription pills in the U.S. User submissions of new medications allow the Visual Pill Library to grow. MedSnap's quality assurance team reviews each submission for independent verification, then adds it to the Visual Pill Library for the benefit of the entire MedSnap community. Healthcare professionals will be able leverage MedSnap's visual-identification technology to improve their medication safety and reconciliation processes.
In addition to MedSnap ID, MedSnap's complete product line includes a set of smartphone apps that work together to make the entire medication process safer. MedSnap CG (Caregiver) is designed for patients to ensure each dose they take is correct, documented and available for secure review by their loved-ones or clinicians. MedSnap CG (Caregiver) is a free app that securely pushes MedSnap PT data to family and friends so they know how their loved one is taking their medications.
MedSnap ID app is currently available for download on iTunes
For more information, vist www.medsnap.com