MoodRhythm, a mobile health app that helps people with bipolar disorder learn about their personal rhythms has won the $100K Heritage Open mHealth Challenge at Health DataPalooza IV. Co-sponsored by Heritage Provider Network, Open mHealth, and the University of California, Los Angeles, the challenge was created to catalyze the development of mobile applications using an open architecture to help them communicate with one another and function on multiple devices.
MoodRhythm was developed by a team led by Tanzeem Choudhury, associate professor of computing and information science, and postdoctoral fellow Mark Matthews. It uses a phone's microphone, light sensors and accelerometer to monitor sleep and social patterns and combines this information with what the patient reports about daily activities, food routines and mood to learn what situations have positive or negative outcomes. The app gives the patient helpful advice to maintain a regular daily rhythm, while gathering vital information for the patient's doctor.  The team is contributing a routine, sleep, and sensing module to Open mHealth.

Tanzeem Choudhury

"Rhythms guide our lives," Choudhury explained. "Our biological clocks tell us when we need to sleep, eat and wake. When these rhythms are interrupted or obstructed, it can be difficult for our bodies to get what they need to stay healthy and balanced."
Bipolar disorder, also called manic depression, affects some 5.7 million American adults in a given year and is characterized by extreme mood swings from a happy, hyperactive state to extreme depression. It is associated with poor functional and clinical outcomes, high suicide rates and huge societal costs.
The app can replace traditional paper diaries that patients often find difficult to maintain. It was designed in collaboration with patients and clinicians, and is based on Choudhury's earlier experiments with using smartphones sensors to detect social interactions, stress and sleep. To protect privacy, the phone does not listen in on the content of speech, but notes variations in pitch, volume, speaking rate and other characteristics to measure emotional states.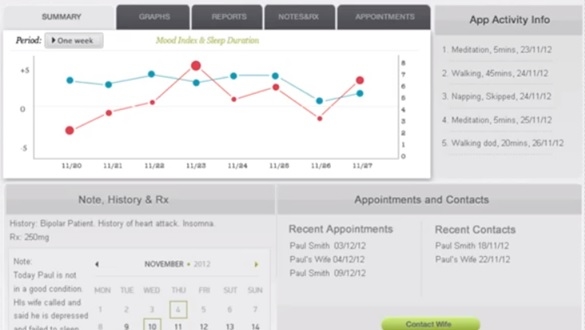 MoodRhythm's web dashboard supports clinical decisions and helps accelerate patients' personal learning. Clinicians can gain a richer picture of a patient's routine and daily sleep and wake environment in order to inform medication decision-making and guide the patient toward personal insights. Mood Rhythm helps patients become more aware of their daily patterns and adhere to their therapeutic goals by:
Making self reporting fun and effortless
Creating more reliable clinical information
Creating a rich picture of how and why a patient's mood fluctuates with their routine.
Using smartphone sensors to reduce the need for self-report measures.
"It is one of the greatest challenges in health care to develop cutting-edge technology that not only meets clinical needs but that can be incorporated with ease into patients' lives," Choudhury said.
Choudhury directs the People-Aware Computing group at Cornell, which develops systems that can reason about human activities, interactions and social networks in everyday environments. The group creates mobile apps to monitor physical and mental health, and is experimenting with the idea of exploiting the ubiquity of smartphones to gather public health data from large populations.
Along with Mood Rhythm, four Challenge finalists were selected. ACEScreening provides hearing screening technology for smartphones and other devices. IMPACT strives to improve physical function, pain, and mobility in older obese adults with hip and/or knee arthritis. Psychologist in a Pocket supports the treatment of psychological disorders. Spiro Sano is an infrastructure for managing multiple respiratory disease states, such as asthma and COPD and for supporting beneficial behavioral changes such as smoking cessation and physical activity.
Common features of submitted projects included the ability to record information in real time instead of having to rely on memory at the end of the day, control over when and how much information is provided to the doctor, and using sensing tools such as global position systems and accelerometers to track social activity and other behaviors.
Open mHealth was co-founded by Ida Sim, professor of medicine at the University of California, San Francisco, and Deborah Estrin, professor of computer science at the Cornell NYC Tech campus, to create a universal language for mobile mental health software, enabling all applications in the field to work together. Choudhury's team is contributing both a novel method to detect sleep and a sensing module to identify levels of social interaction to the Open mHealth software library.
The app is available on iPhone and Android, visit here to download.
References: 
https://heritagechallenge.openmhealth.org/heritage/finalist-press-release
https://heritagechallenge.openmhealth.org/heritage/finalist-press-release