New iHT2 report provides strategies for managing sophisticated analytics tools in the health care industry. 
The Institute for Health Technology Transformation (iHT2) has released their latest report entitled, "Analytics: The Nervous System of IT-Enabled Healthcare," to help executives from hospitals, health systems, and other provider organizations identify and understand models for innovative uses of data that can enable them to reduce costs, improve gaps in care, stratify patient populations, improve quality, and provide more accessible care.
"Analytics is the backbone and the nervous system and the learning center of the health IT-enabled healthcare system," says Jonathan Weiner, a professor of health policy and management at the Johns Hopkins Bloomberg School of Public Health and director of the university's Center for Population Health Information Technology.
A 2011 McKinsey report estimated that the healthcare industry can potentially realize $300 billion in annual value by leveraging patient and clinical data. With healthcare providers transitioning from a volume-based to value-based reimbursement, a new healthcare delivery model is emerging. In order to succeed in this new environment, healthcare providers are:
Accountable care organizations forming (ACOs) to improve care coordination
Preparing for bundled payments  for acute and post-acute care, as well as Medicare penalties for avoidable readmissions
Restructuring their care delivery systems
Areas of focus the report includes are creating a nervous system and solid infrastructure foundation that leverages storage, processing, analysis, and data management to make better, evidence based business and clinical decisions.
"The healthcare industry must identify and establish proven strategies and best practices to manage data and to conduct the advanced analysis necessary to generate real insights that can benefit the health system. Those healthcare organizations focused today on gathering patient and clinical data, decoupling the data from siloed applications and solutions, and determining which data points to measure will be well positioned for the evolving future state of the healthcare landscape," said John P. McDaniel, National Practice Leader—Provider Market at NetApp Healthcare.
The report also includes the following infographic shown below that summarizes the key findings: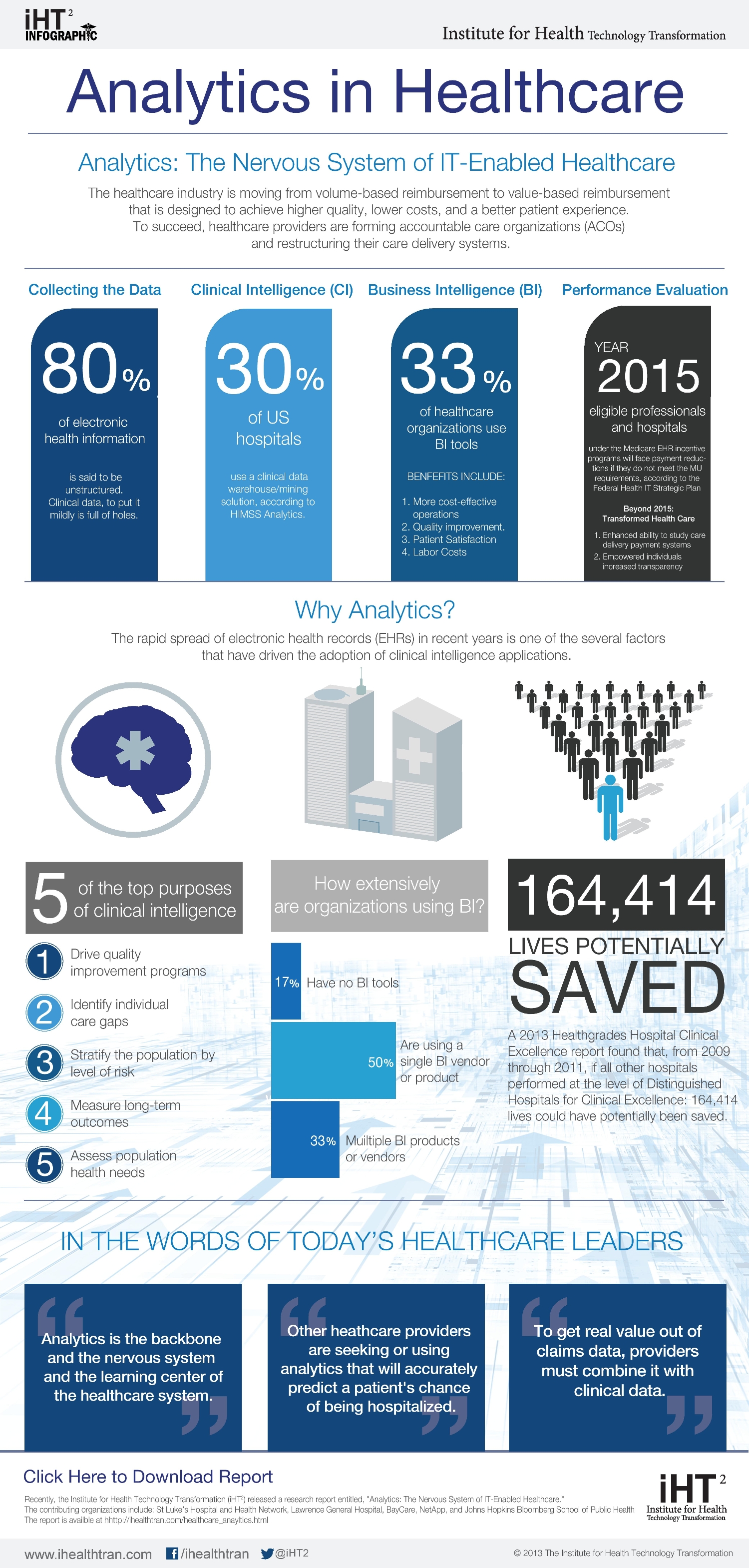 Background
Chad Brisendine, VP & CIO, St. Luke's Hospital and Health Network
Jeffrey L. Brown, CIO, Lawrence General Hospital
Charles DeShazer, MD, Chief Quality Officer, BayCare Health System
John McDaniel, National Practice Leader, US Healthcare Provider Market, NetApp
Jonathan Weiner, DrPH, Professor of Health Policy & Management and Health Informatics; Director Center for Population Health Information Technology, Director PhD Program in Health Services
For more details  (reportes and infographic) can be downloaded directly at – http://ihealthtran.com/analyticsreport.html