Healthcare professionals feel time is their biggest obstacle to ICD-10 conversion according to recent report highlighting healthcare providers ICD-10 progress. 
Brand strategy and marketing firm, Aloft Group recently conducted an "ICD-10 Snapshot Study" with over 260 healthcare professionals whose healthcare organizations are at various levels of progress in their ICD-10 implementation.  The objective was to provide a snapshot of how far they are in their ICD-10 transition.
With just over a year and a half left until the October 1, 2014 deadline, 74.6% of the respondents are only 25% or less completed in their ICD-10 implementations.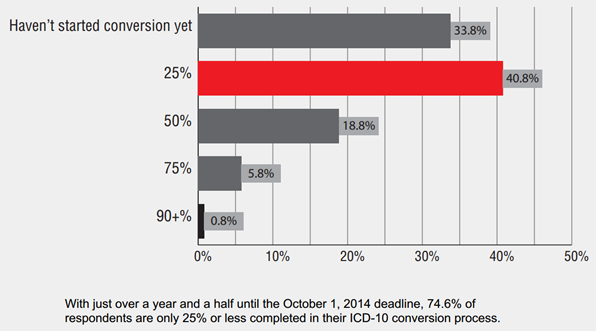 Time still remains one of the biggest obstacles to ICD-10 according to 71% of the respondents. The report findings would make many ponder whether the one year delay that was announced last year provided beneficial time for healthcare organizations ramp up their ICD-10 transition efforts.
The 260 respondents of the survey were a variety of clinicians, mid-level management, HIM directors, and C-level executives. Respondents also shared their opinions on the various obstacles, gaps, and frustrations that they are incurring along their ICD-10 journeys.
Other key findings of the report include:
75.3% of identify coding education as the biggest gap to ICD-10 conversion followed by coding education at 53%
HIM Directors/Managers (76.8%) & CFOs (75%) are the top two decision makers for ICD-10 purchasing
Proper training tools (47.7%) and financial resources (41.7%) are the leading gaps in their ICD-10 education process
43% do not agree with AMA's resistance to ICD-10
55.4% have no fears that they will meet the October 1, 2014 deadline
2 biggest ICD-10 vendor frustrations are "not adequate schedule in place to ensure we will be ready before the deadline" and "not enough guidance"
Reputation and training support are the two most important qualities in an ICD-10 vendor
For more information and key findings from the study, please visit www.aloftgroup.com, or contact Tracy Hartman 978-462-0002 x103 thartman@aloftgroup.com.
(Image credit courtesy of Aloft Group, "ICD-10 Snapshot")