A recap of 6 innovative digital health products that dominated CES 2013 held in conjunction with the Digital Health Summit.

The declaration by many predicting 2013 as the "year of digital health" got even more evidence to back up their claims with digital health making a huge splash at last week's annual Consumer Electronics Show (CES) in Las Vegas. The Digital Health Summit, which is held in conjunction with CES featured some of the most innovative digital health products available and soon to be available in the market.
This year's show was the largest CES with more than 150,000 attendees and 3,250 exhibitors making it a key event to launch your digital health startup and/or products. This year, several digital health companies took full advantage of this special opportunity to get further traction and raise awareness of their innovative products receiving major coverage in several major media outlets including CNN, NBC, and others.
Here is a recap of 6 innovative digital health products that dominated CES 2013.
1. HealthSpot- Health Clinic In A Box
HealthSpot, a pioneer in patient and provider driven healthcare technology unveiled its new cutting-edge medical device kiosk that provides high-quality medical diagnostics to patients anytime, anywhere. The HealthSpot Station is a 10 foot private, walk-in kiosk clinic that affords acute care patients live access to board-certified doctors, via high-definition videoconferencing and interactive digital medical devices.Inside the station is a scale, chair, and television dashboard where a medically certified assistant helps the patient go through the kiosk check in, the users are then greeted by a physician that will guide them through the use of the common medical tools to display vitals to the physician.
HealthSpot plans to bring these health clinics in a box to your local Walgreen's, where users can quickly get treated, e-prescribe any needed medications, and walk out their filled prescriptions creating a seamless enhanced patient experience.
Other key places for HealthSpot stations include rural areas and urban ERs. Stations are planned to retail for around $10K to $15K, with a $950-a-month prescription.
2. FitBit Flex – The Stylish Fitness Tracker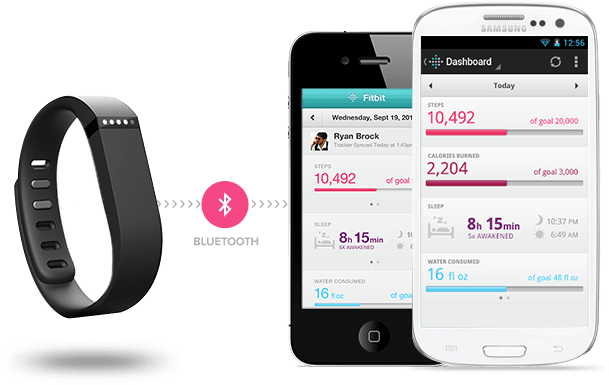 Fitbit, a company dedicated to helping people lead healthier, more active lives unveiled its latest product, the Fitbit Flex, a stylish wristband that tracks your steps taken, calories burned, distance traveled, hours sleep, and quality of sleep. Users can set personal goals using LED lights to show you how your day is stacking up against your goal. FitBit syncs your stats in real-time directly on select iPhone and Android devices and computers. The Fitbit Flex retails for $99.95 and is available now for pre-order that ships in five different colors.
3. Misfit Shine – Zen Fitness Tracker
Misfit Shine is an elegant, all-metal activity tracker that you can sync with your smartphone just by placing it on your phone screen. Find out how active you are every day, and set goals to become more active. Wear it how you want, wherever you want. There's no cables, no Bluetooth pairing, no charging stations – just an easily replaceable battery that lasts about six months.
It's tiny, and at just several millimeters thick, is one of the world's thinnest wireless activity trackers so it can be worn just about anywhere, even when wearing next to nothing. Clip it on your pants, bra, shirt, or shoes. Or use the wristband and wear it on your wrist where it can function as a watch too.
Misfit Shine's proprietary sensor algorithms can track cycling and swimming in addition to just steps so you'll get more credit where credit is due. To see how active you've been throughout the day, simply tap Shine and a halo of lights shines through invisible micro-holes, laser drilled into the metal casing.
Misfit is raising $800k through their crowdfunding campaign on Indiegogo and have already raised $700k in funding thus far. Contribute to their campaign on Indiegogo at http://www.indiegogo.com/misfitshine
4. HAPI Fork – Enjoy Your Food
The HAPIfork is an electronic fork that helps you monitor and track your eating habits. It also alerts you with the help of indicator lights when you are eating too fast. Every time you bring food from your plate to your mouth with your fork, this action is called: a "fork serving". The HAPIfork also measures:
How long it took to eat your meal.
The amount of "fork servings" taken per minute.
Intervals between "fork servings"
This information is then uploaded via USB to your Online Dashboard to track your progress. The HAPIfork also comes with the HAPILABS app plus a coaching program to help improve your eating behavior.
5. Withings – Smart Fitness Trackers
French company Withings debuted its newest smart scale at CES, the Smart Body Analyzer, which measures weight, body fat and your heart rate. The scale also tracks air quality, measuring Co2 levels and room temperature intended for use in the bedroom, because a healthy home environment is a key factor for health. The data is sent wirelessly to an iOS or Android device. The Withings Smart Body Analyzer will be available in stores in Q1 2013 and retails for $149.95.
Withings also released their new smart activity tracker that is the first tracker to record heart rate. The tiny device fits into your pocket or attach to the included belt clip or arm band. Using Bluetooth Smart technology, the tracker communicates with the Withings Health Mate app connecting to your iOS and Android devices featuring an on-device display and can send your alerts. Just press your finger to the back of the device to record your heart rate.  In addition to your heart, the device also monitors your steps, distance, calories, strides and quality of sleep.
6. iBitz Powerkey – Family Fitness Tracker
ibitz™ by GeoPalz® is a wireless family activity monitor. The new ibitz™ PowerKey and Unity activity monitors, a physical activity based device and game that wirelessly syncs to your Bluetooth 4.0® Smart Ready® phone and allows adults and children their own unique experience with personalized apps. The ibitz™ Unity for adults tracks steps, distance, weight, height, overall physical activity, even BMI, and allows them to incorporate their family memebers, and even form groups with friends.
While the kid's ibitz™ PowerKey, interface incorporates characters called GeoBotz, that a child must keep healthy with physical activity, healthy food, and plenty of water. The ibitz™ PoweKey is a successful way to engage children in being physically active because of the ability to bring the joy of gaming to physical activity!