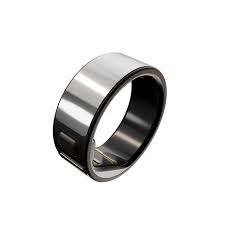 What You Should Know:
Following the success of the groundbreaking Circular Ring Pro, Circular, pioneers of smart ring technology, is excited to unveil the Circular Ring Slim, the thinnest, and lightest, most intuitive smart ring in the world and the first to incorporate haptic navigation and alerts.
Paired with Kira+, Circular's powerful AI wellness assistant, the sleek Circular Ring Slim assesses 7 biometrics and 142 derived markers 24/7 to help people sleep better and live healthier lives. By optimizing physical activities and maintaining mental wellness it is making personalized, preventative health a reality.
Circular Ring Slim – Miniature but Mighty
Circular is innovating the next wave of remote monitoring solutions, seamlessly integrated into highly wearable smart rings for both consumers and health professionals. The Circular Ring Slim, the company's second iteration, succeeds the Circular Ring Pro, embodying constant use for a comprehensive health circle.Weighing a mere 2 grams and measuring 2.2 mm thick, the Circular Ring Slim claims the title of the world's slimmest and lightest wearable. It boasts advanced sensors, a 6-day battery life, and 20 days of memory, ensuring continuous day-and-night wear. The ring gathers health data every 2 minutes, providing 15 times more information than competitors.
This ultra-thin design, crafted from matte black titanium, combines comfort with style. It captures various health metrics, including activity levels, blood oxygen, energy, calories, heart and respiration rates, and chronotype during the day. At night, it monitors circadian rhythm, sleep quality, disturbances, REM cycles, and temperature variations for early illness detection. Distinctively, the Circular Ring Slim introduces haptic navigation and feedback. Users tap inputs around the ring, and haptic vibrations offer feedback and drive features like the Smart Alarm Clock, Medication Reminders, and Guided Breathing Exercises.
Augmenting the ring's capabilities is Kira+, an AI-powered health assistant, providing personalized insights and recommendations without subscription fees. Kira+ analyzes data over a 14-day period, understanding user habits to deliver tailored health advice, predict potential issues, and offer motivation through gamification strategies within the Circular app.
Circular's app is compatible with popular health platforms like Google Fit and Apple HealthKit, ensuring seamless integration with other health apps.