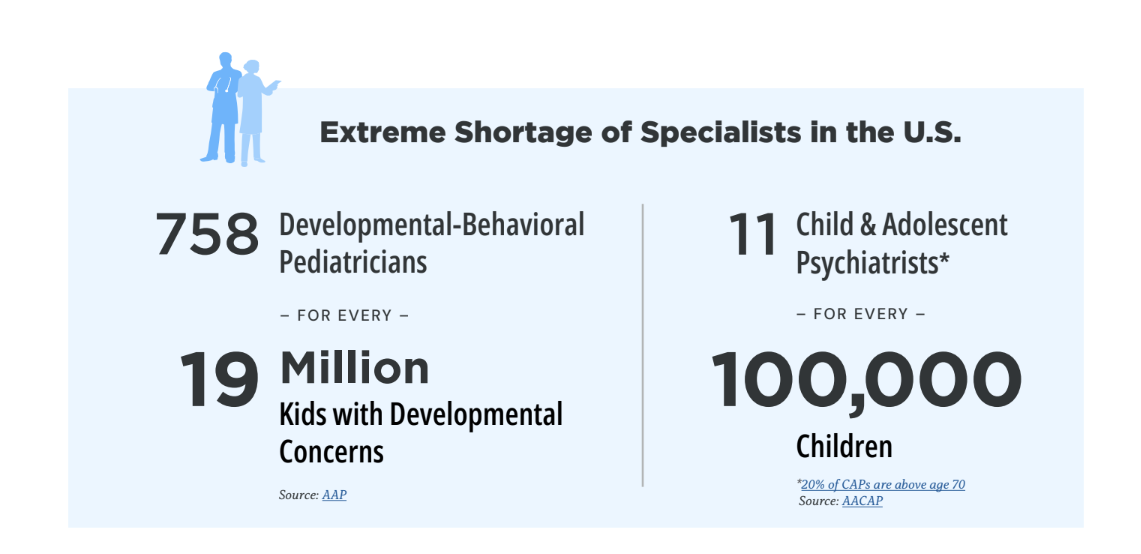 What You Should Know:
Cognoa, a leading child development and behavioral health company, today published a new report, The State of Pediatric Autism Diagnosis in the U.S.: Gridlocks, Inequities and Missed Opportunities Persist, that underscores the longstanding waitlist crisis for children and their families seeking a diagnosis of developmental delays and autism evaluation. The report assesses results from 111 specialty centers across the U.S.
On average, children and their families are forced to wait three years from the time of first concern of developmental delay to an autism assessment. Delays in diagnosis mean that children are missing the opportunity for early intervention during the critical early neurodevelopmental period when interventions have the greatest life changing impact.
A study by Scott Badesch, former President of the Autism Society of America, and sponsored by Cognoa, highlights significant concerns within the healthcare community. The main issues identified are excessively long waitlists to see specialists, the absence of a standard of care, and reimbursement barriers that disproportionately affect disadvantaged families.
Key findings from the study reveal:
1. Long Wait Times for Evaluation:
– Approximately two-thirds of specialty care centers have wait times of over 4 months from the initial request for an autism evaluation to the diagnostic evaluation.
– Out of these, 21% have waitlists of over a year or have stopped accepting new referrals due to high demand.
2. Reimbursement Barriers and Healthcare Inequality:
– 44% of surveyed centers do not accept Medicaid, disproportionately affecting underserved communities.
– Only 65% of practices accept commercial insurance, making it difficult for those unable to pay upfront costs to access care.
– Lengthy assessment processes, heavy documentation burdens, staffing shortages, and inadequate reimbursement processes are significant barriers to timely evaluation.
3. Lack of a Standard of Care:
– The study reveals a lack of consistency in the assessment tools used for autism diagnosis, with over 30 different tools in use.
– Variability exists from state to state and healthcare payer to payer in the requirements for recognizing an autism diagnosis for reimbursement.
– The majority of centers report that autism evaluations take over 3 hours, with 25% taking over 8 hours, even though research suggests that such lengthy assessments are not necessary for most children.
"Equipped with a diagnostic made for their setting, primary care clinicians and pediatricians can accurately and rapidly evaluate, diagnose, and manage most children with developmental delays and autism – all from within the medical home" said Dr. Sharief Taraman, CEO of Cognoa. "Yet, in most cases, the forces that be make the 'autism specialist' the only option for a diagnosis. This is an imbalance that healthcare leaders and policymakers must take seriously when directing future resources and developing initiatives to standardize, equitize, and streamline evaluation processes for families, irrespective of insurance type. We are failing our children as a nation. It is vital that we expand and empower the pool of providers who can evaluate and diagnose children, and we need to start in primary care."