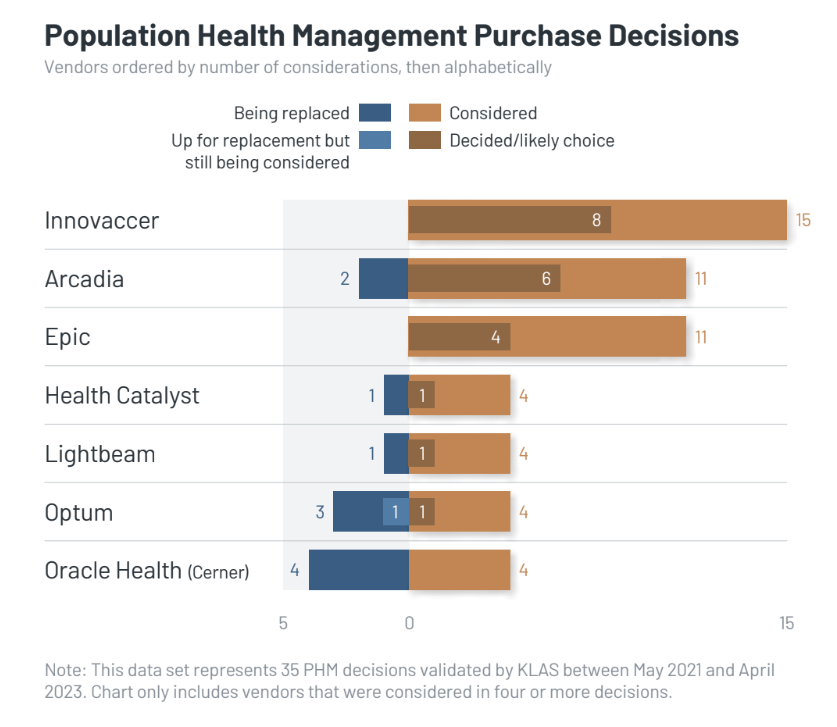 What You Should Know:
As more healthcare organizations start to leverage population health management (PHM) technology in their journey toward offering value-based care, they are sometimes uncertain about how well vendors can fulfill their unique needs, as PHM programs vary in breadth and complexity.
A new KLAS report provides an overview of several PHM offerings to help readers understand (1) what types of organizations typically use the solutions, (2) what the customer experience is like, (3) which solutions see the most market energy and why, (4) which vendors facilitate value-based contract revenue, and (5) how broadly PHM capabilities are adopted.
Key Insights from the Population Health Vendor Overview 2023
KLAS conducts annual interviews with numerous healthcare professionals to gather insights on the IT solutions and services utilized by their organizations. Here are the latest insights:
The Most Well-Rounded Leaders in PHM Today: According to this report, Epic and Innovaccer are the top vendors when it comes to customer experience, market presence, and the range of capabilities in population health management (PHM). They have a strong customer base, including major healthcare organizations that are actively embracing payment models based on risk.
Who Delivers the X Factor in Customer Success?: The success of customers in population health management (PHM) relies on the continuous optimization provided by technology vendors. Certain vendors actively collaborate with customers, especially those serving FQHCs, ambulatory organizations, and ACOs, establishing strong partnerships and providing guidance. Azara Healthcare stands out by analyzing customer data to address their queries, leading to successful training and implementations. Relevant Healthcare customers appreciate the resources and training that allow them to create their own reports. Salient Healthcare is valued for its proactive support in maximizing technology benefits. However, larger IDN customers desire more hands-on collaboration in product development to confidently assess value-based contracts and assume more risk. Lightbeam Health Solutions, Arcadia, and Oracle Health offer feature-rich technology, but customers often need to customize functionalities for desired outcomes. Innovaccer, Epic, and HealthEC customers seek improved collaboration and additional functionalities for care management workflows and performance in value-based contracts.
Who is Seeing the Most Market Energy and Why?: In line with KLAS' 2021 PHM report, Innovaccer, Arcadia, and Epic are the top choices for organizations seeking PHM technology. These vendors prioritize data acquisition and analysis, consistently expanding their capabilities in these areas. While Optum and Oracle Health (Cerner) are also considered, some customers are transitioning to vendors who offer more collaboration and take on more responsibilities in report building and data feed maintenance. One respondent from Optum is contemplating a move to Optum Performance Analytics, the vendor's go-forward platform. Health Catalyst is often considered by existing customers who already use their services for non-PHM purposes, as well as by new customers managing their own population health programs. In the wider market, organizations are actively seeking administrative reporting tools that can assess profitability based on current risk models and value-based reimbursement agreements. Clinicians and care coordinators desire AI-enabled tools that can streamline workflows and prioritize addressing gaps in care.
Who is Facilitating Value-Based Contract Revenue for Campus?: Organizations transitioning to risk-based models frequently opt for third-party vendors due to the additional functionality and strategic focus they offer, despite the associated costs and IT requirements. Customers appreciate the development and implementation of administrative and financial tools by third-party vendors such as Arcadia, Innovaccer, and Lightbeam, which assist organizations in generating revenue from value-based contracts. Arcadia and Innovaccer collaborate closely with customers to handle large and complex datasets, enabling comprehensive analyses. Innovaccer's support in establishing connections is particularly valued by respondents, as it empowers their PHM programs. Lightbeam customers benefit from the analytics tool, Cohort Builder, which enables them to evaluate and track ROI for value-based contracts by segmenting patients into customized, focused groups and automating workflows.