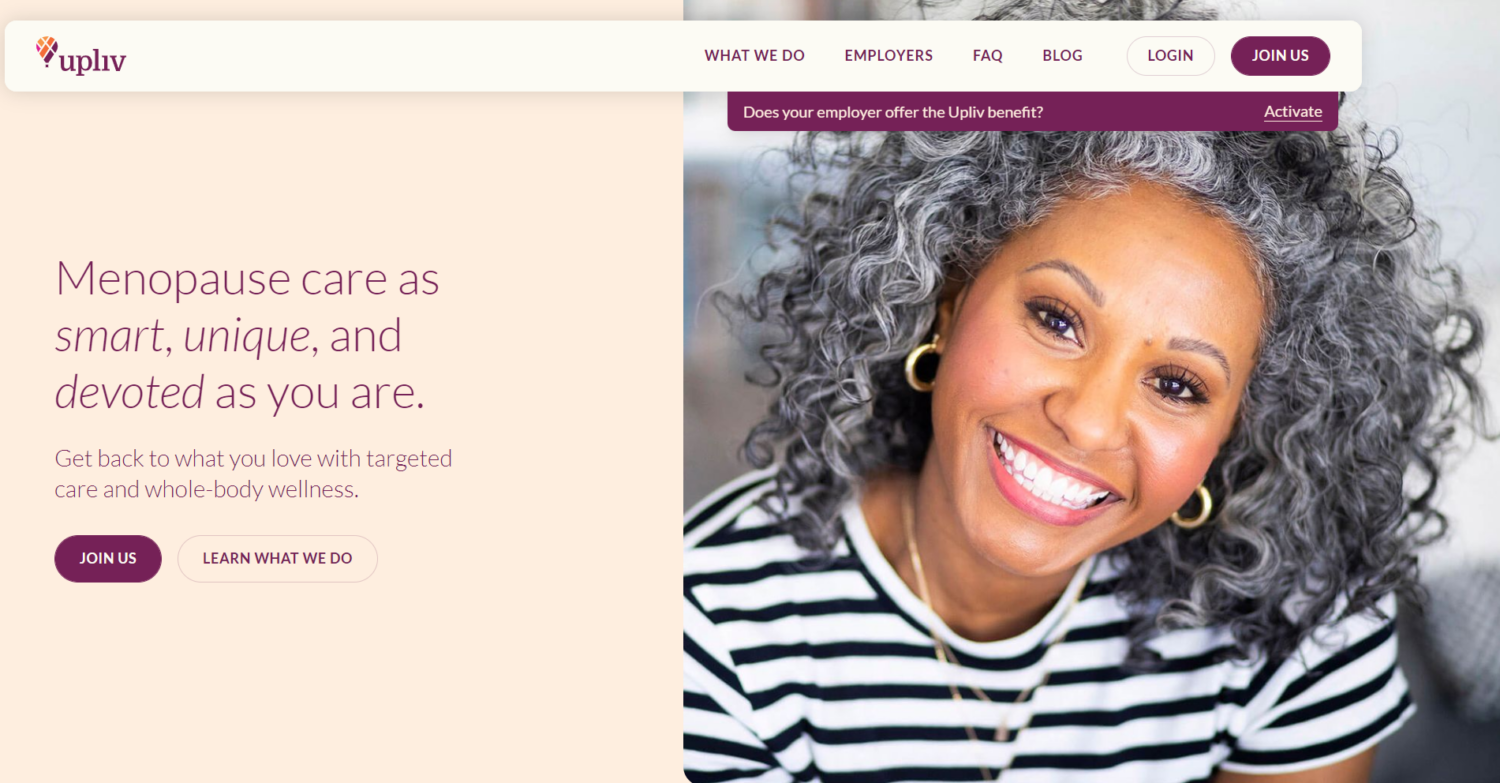 What You Should Know:
– Northwell Holdings and Aegis Ventures inked an agreement today for the formation of Upliv, a femtech-based women's virtual care startup that aims to raise the bar for clinical menopause support.
– Upliv is the joint creation of Aegis Ventures and Northwell Holdings, the for-profit investment arm of Northwell Health. In April 2022, Aegis Ventures announced the intention to invest at least $100M in seed-stage funds toward the development of joint ventures with Northwell Health. The projected seed funding for Upliv through the end of 2023 is $8.4M.
UpLiv's Clinical Menopause Support Offering & Costs
The aim of the company is to provide care to address the specific needs of women in their mid-life and to empower women to lead healthier, more joyful lives. Upliv will partner with employers to offer virtual telemedicine services and whole-person care to employees experiencing perimenopause and menopause symptoms. Initially, Upliv will offer services to select nurses through a pilot program at Northwell Health, followed by an expected enterprise-wide rollout in the first quarter of 2023.
"Many women going through menopause are not getting the care they deserve. The symptoms of perimenopause and menopause can range from moderate to debilitating," said Allison Schoeneck, CEO of UpLiv. "Too often, those symptoms are dismissed. Menopause can disrupt our daily lives and has serious implications for our health. Through Upliv, we are providing evidence-based treatments and whole-person support to help women manage their health."
Upliv will be offered as an employee benefit at zero cost to employees. For employers, menopause can result in significant medical expenses and employment-related costs. One in four women experiencing symptoms of menopause explores retiring early. Healthcare expenses related to just hot flashes and night sweats can cost $2,000 per person, per year.
UpLiv's Clinical Advisory Board
Care offered by Upliv is informed by the North American Menopause Society (NAMS) guidelines. Patients will receive medical and wellness services from an interdisciplinary team of doctors, nurse practitioners, and wellness coaches trained in accordance with the National Board Certified Health & Wellness Coaches (NBC-HWC). Upliv's services will be supported by a Clinical Advisory Board with expertise in women's health issues, including bone health, cognitive health, urogynecology, and cardiology:
– Stacey E. Rosen, M.D., Senior Vice President, Katz Institute for Women's Health, Northwell Health (Chair)
– Sherri-Ann Burnett-Bowie, M.D., MPH, Chair, Diversity & Inclusion Board, Massachusetts General Hospital
– Gayatri Devi, M.D., M.S., Director, Clinical Professor of Neurology and Psychiatry, Zucker School of Medicine at Hofstra University and Northwell Health
– Melissa A. McNeil, M.D., MPH, Director, Comprehensive Women's Health Program, University of Pittsburgh Center for Research on Health
Availability
Upliv is the first offering in a portfolio of virtual care companies that Northwell Health and Aegis Ventures are developing to address gaps in care and promote equity in women's health, which are expected to launch over the course of 2023.