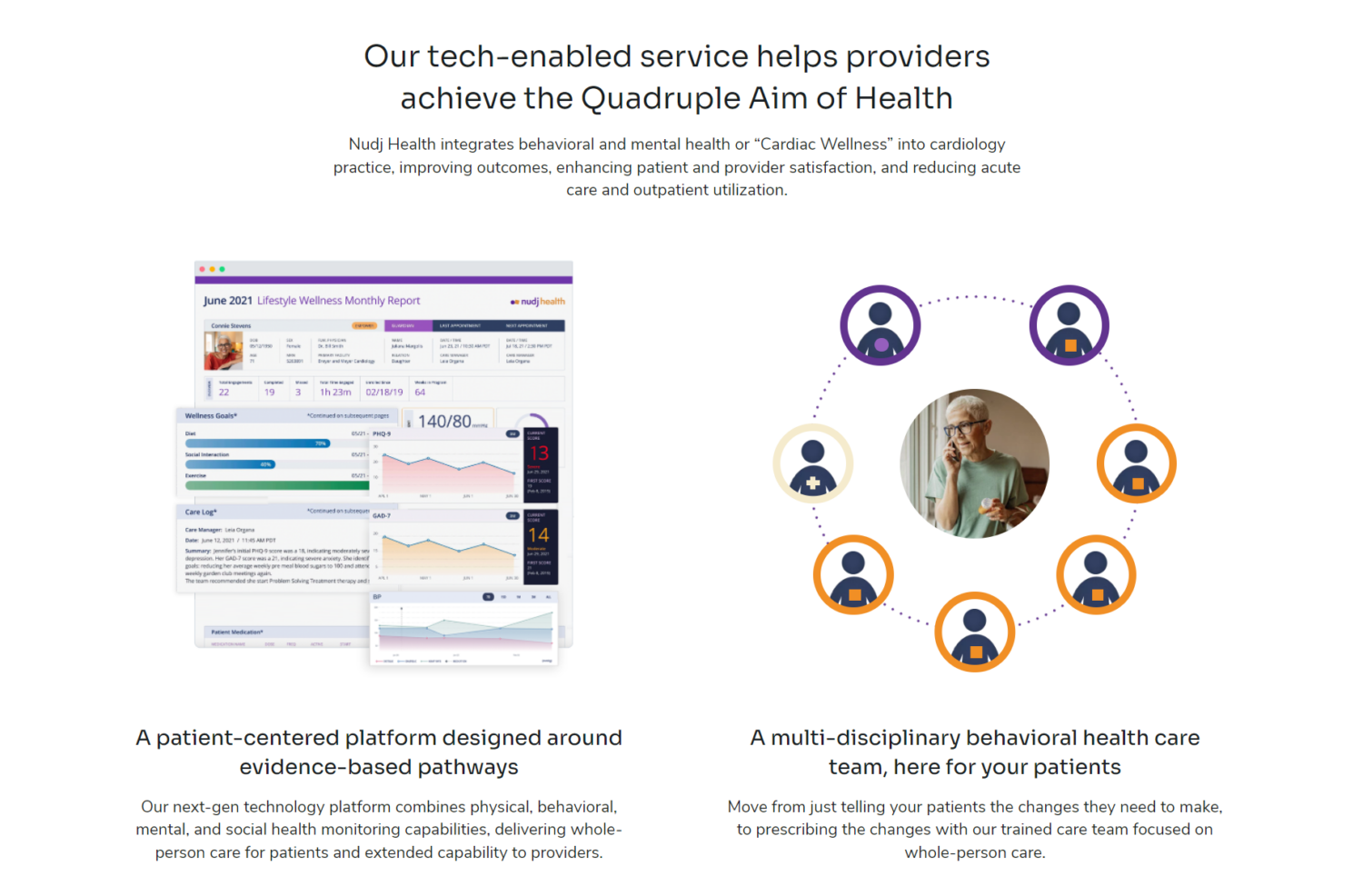 What You Should Know:
– Nudj Health, a tech-enabled health service that delivers telehealth lifestyle interventions to patients using the collaborative care model raises $10M in Series A funding led by Nebraska Medicine, Teal Ventures, Cohn Family Trust & Health Innovation Pitch.
– Founded in 2021 in Pasadena, Nudj Health delivers integrated, whole-person, and continuous care for patients with chronic disease. Based on AHA/ACC recommendations, the company uses evidence-based, Medicare-approved pathways centered around six interconnected lifestyle areas: stress management, physical activity, sleep quality, social support, behavioral risks and nutrition.
Provides the infrastructure enabling providers to finally integrate lifestyle wellness into patient care
In the U.S., 29% of adults with a medical condition also have some type of mental health disorder and close to 70% of behavioral health patients have a medical co-morbidity. Additionally, each year over $3.4 trillion of U.S. healthcare expenditures – approximately 90% of total costs – are spent on patients with both chronic disease and behavioral health issues. This problem is exacerbated by the lack of integrated behavioral health services into primary and specialty care settings.
Nudj Health provides virtual care infrastructure to providers nationwide to integrate behavioral health treatments that help improve patients' mental health and social determinants of health, encourage necessary and healthy lifestyle changes and ultimately drive positive patient outcomes. Nudj Health uses the collaborative care model and thus far its services have demonstrated effectiveness in the treatment of moderate to severe depression, anxiety, and insomnia with scores decreasing by 42-52% within 12 weeks. Patients also experienced a reduction or maintenance of blood pressure and weight, improved mobility, improved medication adherence and improved connections with family, community and Nudj Health support systems.
"Providers are challenged to support existing patients without the proper infrastructure. Nudj Health steps into this gap to extend the provider's services to care for patients beyond the walls of the office and to help patients make healthy changes that will improve their health and well-being while decreasing their disease burden," explained Yuri Sudhakar, founder and chief executive officer of Nudj Health. "By empowering and guiding patients to adopt healthy lifestyles, a whopping 80% of all chronic diseases could be prevented."