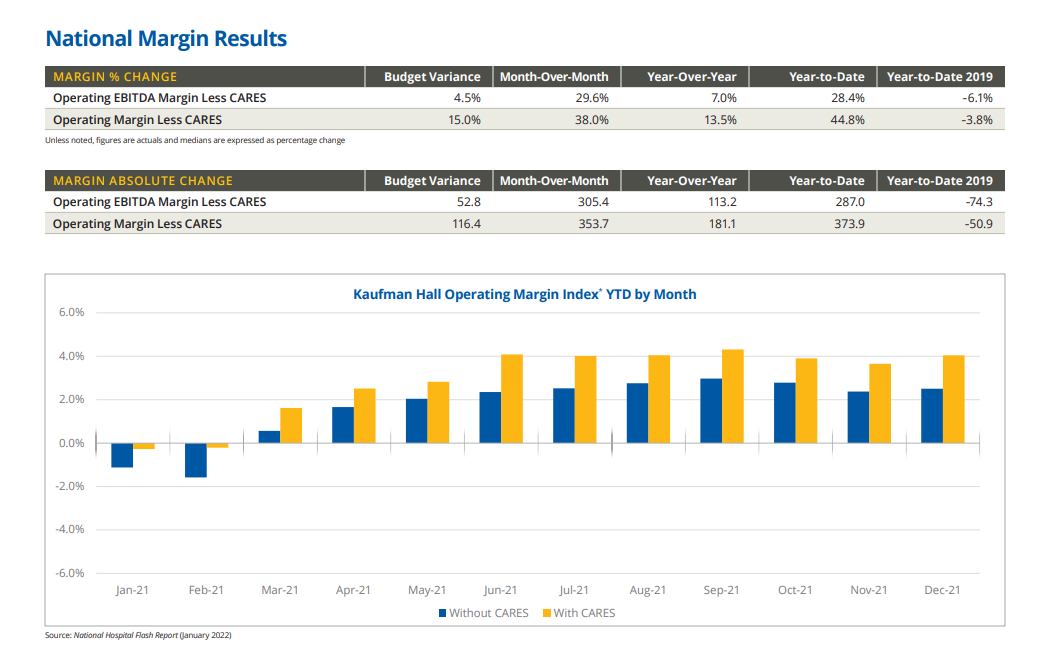 What You Should Know:
– The nation's hospitals, health systems, and physician groups closed the second year of the pandemic amid ballooning expenses exacerbated by nationwide labor shortages and global supply chain challenges. Many providers ended 2021 in a stronger financial position relative to the first year of COVID-19 in 2020, as they learned to better navigate pandemic volatility. Yet overall performance remains down compared to pre-pandemic levels, according to Kaufman Hall's latest National Hospital Flash Report and Physician Flash Report.
– The National Hospital Flash Report draws on data from more than 900 hospitals, and Physician Flash Report draws on data from nearly 100,000 providers representing more than 100 specialties. Data from both reports come from Syntellis Performance Solutions.
Key Findings
– For hospitals, volumes rose throughout December, as the rapid spread of the Omicron variant led to a sharp increase in COVID-19 cases. The spike in cases drove a 98% increase in COVID-related hospitalizations. Compared to November, Adjusted Discharges rose 5.5%, and Adjusted Patient Days increased 3.9%. Emergency Department (ED) Visits also jumped 7.3%, a trend consistent with earlier surges as more patients show up in EDs with potential COVID-19 symptoms. Compared to the first year of the pandemic, 2021 saw an increase in severely ill patients requiring longer hospital stays, but key volume metrics remained below pre-pandemic 2019 performance.
– Actual hospital margins remained thin, but above 2020 levels. The median Kaufman Hall Operating Margin Index for the year was 2.5% versus -0.9% for 2020, not including federal Coronavirus Aid, Relief, and Economic Security (CARES) Act funding. With the aid, it was 4.0% in 2021 compared to 2.8% in 2020. Increased volumes contributed to month-over-month margin increases. From November to December, the median change in Operating Margin rose 38%, not including CARES. With the aid, it increased 49.5%. Compared to December 2019, however, the median change in Operating Margin was down 14.7% without CARES.
– Tight competition for healthcare workers pushed expenses up despite lower staffing levels. Total Expense per Adjusted Discharge was up 20.1% for the year versus 2019 and Labor Expense per Adjusted Discharge was up 19.1% over the same period. Non-Labor Expense per Adjusted Discharge increased 19.9% for 2021 versus pre-pandemic levels.
– Employed physician groups ended 2021 with sizeable gains in physician productivity and revenues relative to the fourth quarter of 2020, but with mounting expenses and high levels of investments/subsidies required to support practice performance. The median Investment/Subsidy per Physician Full-Time Equivalent (FTE) was above late 2019 and late 2020 levels throughout 2021, rising to $263,001 for the fourth quarter. The metric was up 5.9% compared to the third quarter of 2021, driven in part by high expenses that mitigated physician revenue and productivity gains.
– Total Direct Expense per Physician FTE rose to $955,281 in the fourth quarter, up 9% versus Q4 2019 and up 16.3% versus Q4 2020. Expenses rose even as clinical and front desk staffing levels declined. Support Staff FTEs per 10,000 work Relative Value Units were down 16.6% from the first year of the pandemic in Q4 2020, with staffing level decreases particularly pronounced in Primary Care.