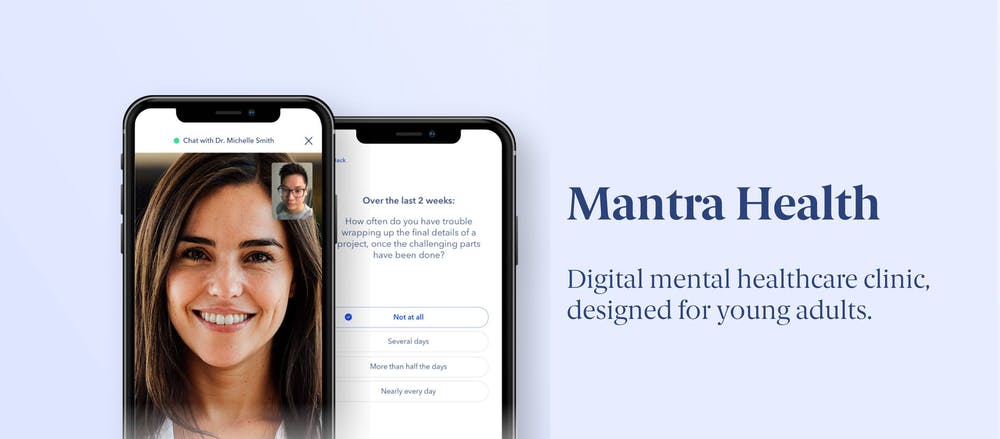 What You Should Know:
– Mantra Health, the preeminent digital mental health clinic focused on young adults, today announced a $22 million Series A investment, led by VMG Partners. The round includes new investors New Market Venture Partners, Elements Health Ventures, 14W, and Alumni Ventures. Returning investors included Canaan Partners, Global Founders Capital, Baleon Capital, Western Tech Investments, and City Light Capital.
– The company plans to use the investment proceeds to help grow the digital mental health clinic's diverse provider network, launch new clinical products, and expand its insurance partnerships.
Digital Mental Health Provider for University Students
Imagine you're a college student grappling with a mental health condition and you can't line up counseling or treatment due to appointment backlogs or provider scarcity. Or perhaps your school only offers short-term mental health services and you're in need of long-term care or treatment for a more serious illness like bipolar disorder. Will you be able to manage through the long wait times without professional guidance or access to medication? These are issues students and college counseling centers nationally are grappling with as the pandemic and an increased mental health crisis among young adults upends the ability to deliver consistent care.
Enter Mantra Health, a digital mental health clinic designed for colleges and universities to extend evidence-based teletherapy and psychiatric services to its students while eliminating the common obstacles that are currently preventing many college students from receiving the treatment and medication they need.
Mantra's platform allows on-campus counseling centers to refer students to its large network of board-certified providers in order to cut down wait times, provide access to culturally competent providers (over 50% of providers identify as BIPOC or LGBTQ+), and make sure students don't fall through the cracks by remaining engaged and able to access appointments at convenient times like at night and on weekends. Mantra launched its collaborative web-based platform in the Fall of 2020 and already its teletherapy and psychiatric services are accessible to nearly 500,000 students across 52 campuses including Penn State, MIT, and Miami Dade College.
Additionally, Mantra is dedicating proceeds of this round to significantly scale the Mantra College Mental Health Provider Diversity Scholarship. The scholarship launched in June 2021 to offer financial support to marginalized identities pursuing a degree related to mental health and completing work in a university or college counseling center to help reduce the racial disparities that exist in the mental health field.
"There is an urgent demand to remove the barriers that exist for young adults to access evidence-based and culturally competent mental health care," said Ed Gaussen, co-founder & CEO of Mantra Health. "With this infusion of new capital, we will focus on removing these obstacles by handling more complex diagnoses, building a more robust provider network across 50 states, and doubling down on insurance partnerships. We're also excited to continue investing in the future of mental health professionals through our Diversity Scholarship program to make sure all young adults in America have the mental support they need to succeed within their reach."
Mantra Health's Insurance Referral Program
Mantra Health's Insurance Referral Program leverages its virtual provider group and software ecosystem to allow partner schools to refer students directly into long-term care and access all the benefits Mantra's care model offers.
Historically, when a student has been in need of long-term mental healthcare, their counselor would refer them to community providers where they typically face long waits, and worse, often drop out of treatment, when it's most critical for them to be seen. The Insurance Referral Program is designed to work with the student's insurance as the payer instead of the school, the benefits of this model include:
– Digital referral pathway over 2x more effective than traditional referrals to community providers
– Students can match with a provider of their choice from a large network of diverse providers, with care delivered through Mantra's proprietary platform
– Option for on-campus care teams to collaborate with Mantra providers through Mantra's Collaboration Portal, for both ongoing care and crisis
– Convenient appointments times for students at night and during weekends
– Offset the overall cost of Mantra's program by working with student health insurance plans
Mantra is already in-network with Optum, Cigna, as well as other local payers, and has launched the Insurance Referral Program as a pilot at one of the largest state schools in the country in collaboration with their student health insurance plan.