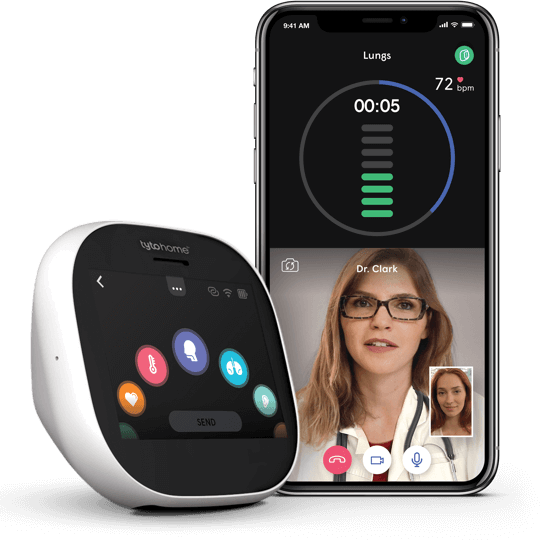 What You Should Know:
– TytoCare, an NYC-based all-in-one modular device and examination platform for AI-powered, on-demand, remote medical exams, today announced its expanded partnership with the NHS that will see the deployment of TytoCare's telehealth solution across 14 organizations and 26 projects in Yorkshire and Humber, including Leeds Children's Hospital, Sheffield Children's, and nearly 70 care homes.
– The integration of the telehealth solution will allow clinicians to diagnose and treat patients remotely with in-depth, physical examinations during video visits and offline for asynchronous exams.
Virtual Wards Project
After receiving CE Mark approval in 2018, TytoCare and Bradford Teaching Hospitals NHS Foundation Trust partnered the following year to carry out remote examinations for chronic pediatric respiratory patients, pediatric patients with ENT conditions, as well as pediatric palliative care. Bradford was the first trust in the UK to partner with TytoCare and the pilot received a high commendation from the HTN Health Tech Awards for 'Most Promising Pilot.'
Starting with the success of the Bradford pilot and now building on the accelerated adoption of digital health during the COVID-19 pandemic, NHSX, a joint unit of the Department of Health and Social Care, NHS England, and NHS Improvement, initiated a new Joined-Up Care Program to accelerate the scale of using digital innovations to transform patient care. The expansion is currently being implemented in various use cases, including care homes, remote patient monitoring, post-discharge care, pediatric virtual wards, and respiratory care.
At Leeds Children's Hospital, TytoCare's solution is being used by the Cleft Lip & Palate Team, where cleft nurses can take high-quality images and videos of babies' mouths in the maternity unit and when they visit the baby at home for follow-ups. The images are then reviewed by a surgeon for diagnosis, the planning of surgical options, as well as post-op, follow up, all virtually without the need for the baby and their family to travel to outpatient appointments.
Doctors at Sheffield Children's are using TytoCare devices for the NHS FT Home Ventilation Virtual Clinic to undertake physical checks on community visits and facilitate online remote consultations and examinations. Sheffield Children's plans on deploying the TytoCare devices to its NHS FT Pediatric Palliative Care Team so that more children and families can benefit from enhanced virtual support at home, avoiding travel to and from the hospital.
Almost 70 care homes and their linked primary care medical practices are also deploying TytoCare's solution. Due to the pandemic, care homes are limiting in-person doctor's visits and consultations to reduce the risk of transmission to residents, and due to high demand for primary care, doctors are also looking to minimize travel time to and from the homes. TytoCare's solution offers care homes enhanced capabilities for virtual consultations, enabling physicians to facilitate a more thorough level of clinical assessment and better clinical decision making, without the need for an in-person assessment of the patient every time.
Additionally, this enables care homes to treat more patients, including those in rural areas, in a more cost and resource-effective manner. The integration of TytoCare also empowers care home staff to better support the healthcare needs of their residents, while improving the residents' experience through better managing their health needs in the home.
The Yorkshire & Humber Academic Health Science Network (AHSN) has been working closely with TytoCare, maximizing its knowledge of and relationships within the health sector to support the adoption and spread of the TytoCare solution across the healthcare system. After noticing the solution during its initial pilot in Bradford, the Yorkshire & Humber AHSN advocated for it to be part of NHSX's Joined-Up Care Program.
Following the successful roll-out of these and other TytoCare projects, additional NHS trusts and Clinical Commissioning Groups across the UK are currently integrating TytoCare into their virtual care pathways.