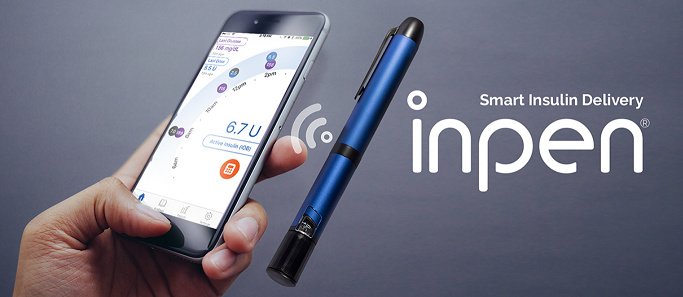 What You Should Know:
– Today Medtronic announced multiple CE Marks for a portfolio of diabetes products that will launch in Europe later this year. This includes InPen and Guardian 4 sensor which requires no fingersticks
– . The new CE Marks also allow for this next generation sensor to be integrated with either MiniMed 780G or InPen or for stand-alone CGM use as well.
InPen MDI Smart Insulin Pen
The InPen is the first and only smart insulin pen approved in Europe that's integrated with real-time4 CGM via one convenient smartphone app. The smart MDI system automatically records insulin doses, tracks active insulin, and recommends mealtime and correction doses based on an auto-populated bolus calculator. By combining InPen with the Guardian 4 CGM system, it will provide real-time glucose readings and alerts alongside insulin dose information giving users everything they need to manage their diabetes in one place. Rather than switching between apps, users will have the ability to see all their information in real-time, in one view — making it easier to make informed dosing decisions to manage their glucose levels. Combined insulin dose and glucose reports can be easily shared with care partners and healthcare professionals as well.
Outcomes/Results
For individuals who prefer automated insulin delivery via an insulin pump, the MiniMed 780G system with Guardian 4 sensor will automatically adjust and correct insulin delivery every 5 minutes with no fingersticks. By pairing the MiniMed 780G system with the recently launched Medtronic Extended infusion set that is indicated for up to 7 days, twice as long as current infusion sets, insulin pump users may need to perform 70 fewer set changes per year. With these two innovations, Medtronic offers the only pump that adjusts and corrects every 5 minutes with an infusion set that lasts twice as long –improving the experience of using insulin pump therapy.
Availability
In the United States, Guardian 4 sensor and the MiniMed 780G system are investigational use only and not approved for sale.