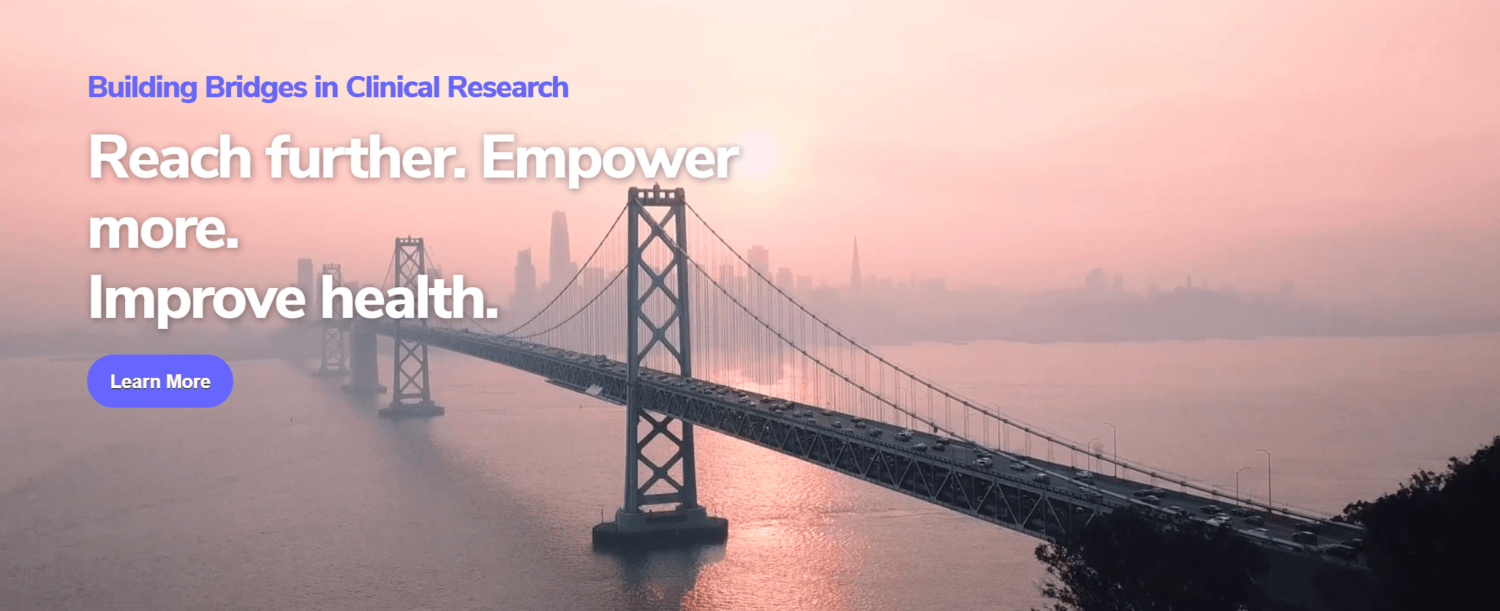 What You Should Know:
– Health2047, the innovation arm of the American Medical Association, today announced the spinout of a new company, SiteBridge Research, that offers a more accessible way for a broader set of physicians and their patients to participate in clinical research.
– SiteBridge Research creates a network of independent, small practice physicians to gather data from a broader, more inclusive patient population and, ultimately, create more widely applicable clinical trial results.
– SiteBridge's executive team taps both physician and pharma industry perspectives. The company was founded by Manesh R. Patel, M.D., chief of the division of Cardiology and division of Clinical Pharmacology at Duke University School of Medicine. The chief executive officer is Chris Komelasky, formerly an executive at PPD, a global pharmaceutical contract research organization, and GSK. Representing Health2047 on the board is managing director Neile Grayson, who brings decades of experience in corporate development, biotech, and drug discovery and development.
---
'Trial-In-A-Box' Platform 
SiteBridge is developing a network of thought leaders already engaged directly with pharma to shape research study design and strategies to specifically target broader site and diverse patient representation. Establishing a trusted and sustained presence in the local communities through ongoing community engagement also encourages wider involvement by both independent physician practices and their patients.
The company's 'Trial-In-A-Box' platform facilitates research through the application of best-of-breed technology, processes and functional expertise. The platform provides access to clinical research training, resources and support spanning the initial feasibility and site start-up through the full study delivery and close out. The team will offer flexible centralized and on-site support to remove administrative burdens and ensure that physicians can focus on supporting their patients. With seed funding in place and a mission-aligned founding team and advisors, the team is poised to build out a national network to support the next generation of clinical research.
Why It Matters

FDA statistics persistently indicate 3% of U.S. physicians and patients take part in research today, with most clinical trials conducted in academic healthcare systems that serve primarily urban populations and often do not include medically underserved populations. Potential study participants may be too far away from the nearest study center, while physicians whose practices are not part of large provider systems lack the underlying support systems, training, and resources required to function as a clinical trial site. Minority and other underrepresented patient populations take part in clinical studies at rates less than half of their representation in the broader population.
Acceleration in the pace of research means the pharmaceutical industry is challenged to achieve its goals in saturated academic medical centers, yet they have been unable to effectively navigate the fragmented small and community practice space. Meanwhile, small and community practice physicians—most of whom are looking to diversify and strengthen their practice income while also giving their patients new options for innovative care—need a path to engage in trials they are not even considered for today.
Studies have become more complex and constrained by more restrictive inclusion and exclusion criteria that govern patient participation, further limiting the potential patient pool. By creating a clinical trial network of independent, small practice physicians, SiteBridge is enabling researchers to cast a wider net and gather more targeted data to optimize treatments across a broader, more inclusive patient population.
"As health systems vow to improve health outcomes by tackling social determinants and inequities, it's critical to ensure clinical trials represent the broadest possible patient set," said SiteBridge CEO Chris Komelasky. "Our platform facilitates the participation of smaller physician practices in trials, so research studies can have more representative patient populations for the intended applications of the drugs being tested and create more realistic risk/benefit profiles for new treatments. It puts the focus of research on the trusted relationship between a physician and patient."
Recent Health2047 Spin Outs
Other portfolio companies previously spun out by Health2047 include:
– Emergence Healthcare Group, whose turnkey practice solution is designed to reduce the administrative burdens and financial pressures intrinsic to today's private practice. (2021)
– Phenomix Sciences, whose inaugural product is a phenotype-driven multi-omix blood test used to predict responses to FDA approved obesity interventions. (2021)
– Medcurio, whose instant data access solution simplifies insight extraction and allows healthcare organizations to harness the full value of their data quickly and efficiently while protecting patient data privacy. (2020)
– Zing Health, a tech-enabled Medicare Advantage plan that helps doctors and communities coordinate improved and individualized care for chronically underserved populations. (2019)
– First Mile Care, a preventive chronic care company building an affordable, scalable and sustainable platform to reverse prediabetes. (2018)
– Akiri, whose secure, private "network-as-a-service" enables the sharing and use of trusted health data in real time. (2017)