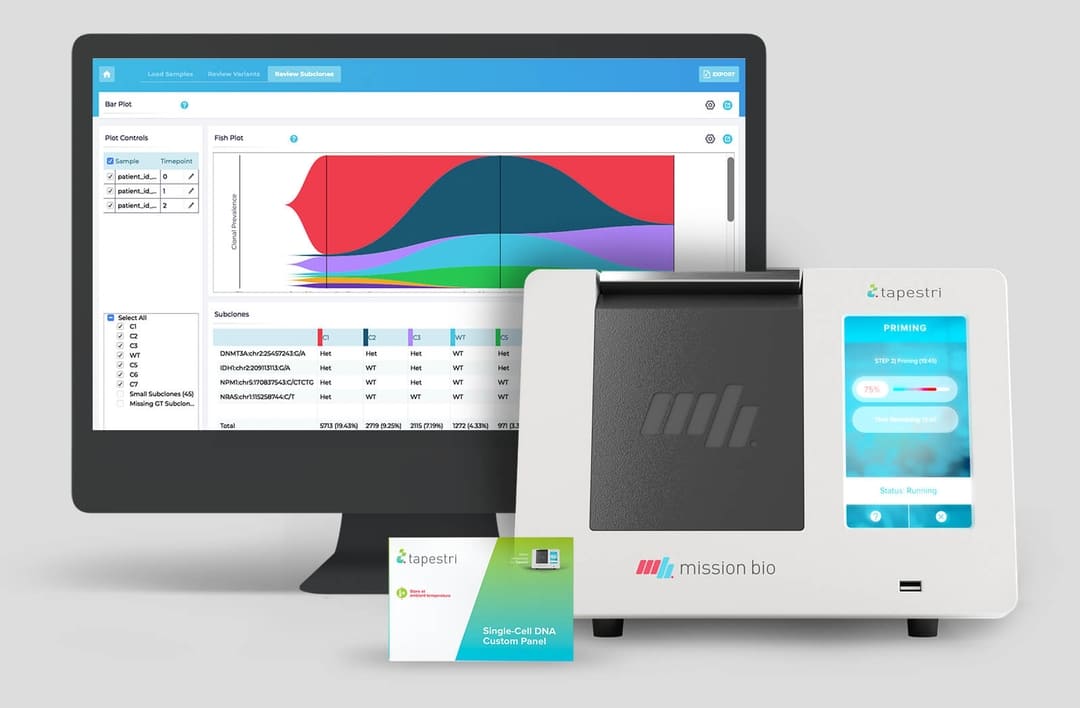 What You Should Know:
– Mission Bio raises $70 million in Series C funding led by Novo Growth to accelerate the development of cancer therapies with single-cell multi-omics.
– Mission Bio's Tapestri Platform, the first single-cell platform capable of detecting DNA and protein changes simultaneously, gives a profound insight into the mutations that drive disease to accelerate the development of novel treatments and save patient lives.
---
Mission Bio, Inc., a South San Francisco, CA-based pioneer in high-throughput single-cell DNA and multi-omic analysis, today announced $70 million in its Series C financing led by Novo Growth. Soleus Capital also joins the round, along with earlier investors Mayfield, Cota, and Agilent, bringing the company's total funding to more than $110 million.
---
Lack of Understanding at the Single-Cell Level
Cancer is a disease of single cells, and it is driven by DNA mutations. Until now, we've been using outdated tech that's misled us to focus on the wrong parts of these cancer cells. Due to this, our current understanding of the disease at the single-cell level has been incomplete.
Only 3% of cancer drugs tested in clinical trials between 2000 and 2015 have been approved to treat patients, and even those that have been approved are not as effective as we'd hope. Even those aimed at specific biomarkers like DNA mutations aren't effective in every patient with that mutation, resulting in high rates of relapse. Ultimately, the complexity of disease evolution and therapy response requires comprehensive tools to characterize how DNA mutations drive disease at the cellular level, including functional changes in the protein. To develop durable therapies, we require a deeper understanding of all analytes of the cell.
---
One Platform. Genotype + Phenotype
Founded in 2014, Mission Bio Is the first and only single-cell multi-omics platform developed to accelerate the discovery, development, and delivery of treatments for cancer. The Tapestri Platform is the first-ever single-cell multi-omics platform capable of detecting DNA and protein changes simultaneously from the same cell — a capability necessary for the development of impactful precision therapies.
The award-winning technology has been adopted by Agios, LabCorp, Onconova Therapeutics, and other companies to optimize clinical trials and improve the likelihood of success. Leading cancer centers, including Stanford, MD Anderson Cancer Center, the University of California at San Francisco, and Memorial Sloan Kettering Cancer Center, have leveraged the Tapestri Platform to support their work in therapeutic resistance and treatment response monitoring.
Over the past year, Mission Bio has advanced its efforts to support drug development through clinical trials and the translation of research into novel biomarkers with its growing install base in NCI cancer centers and key biopharma companies.
---
Expansion Plans
To support Mission Bio's rapid growth, the funds will scale its single-cell multi-omics technology, the Tapestri® Platform, to expand the company's reach in more effective clinical trials for novel cancer treatments, along with expanding in cell and gene therapy.
"We're on a mission to help our customers eliminate cancer. With access to multiple layers of the cellular profile, the Tapestri Platform can help identify novel biomarkers in diseased cells, monitor therapy resistance and response, and accelerate novel therapies through clinical trials," said Charlie Silver, CEO, and Founder of Mission Bio. "We are delighted to partner with Novo Growth to advance our impact in drug development and cell and gene therapy."
---