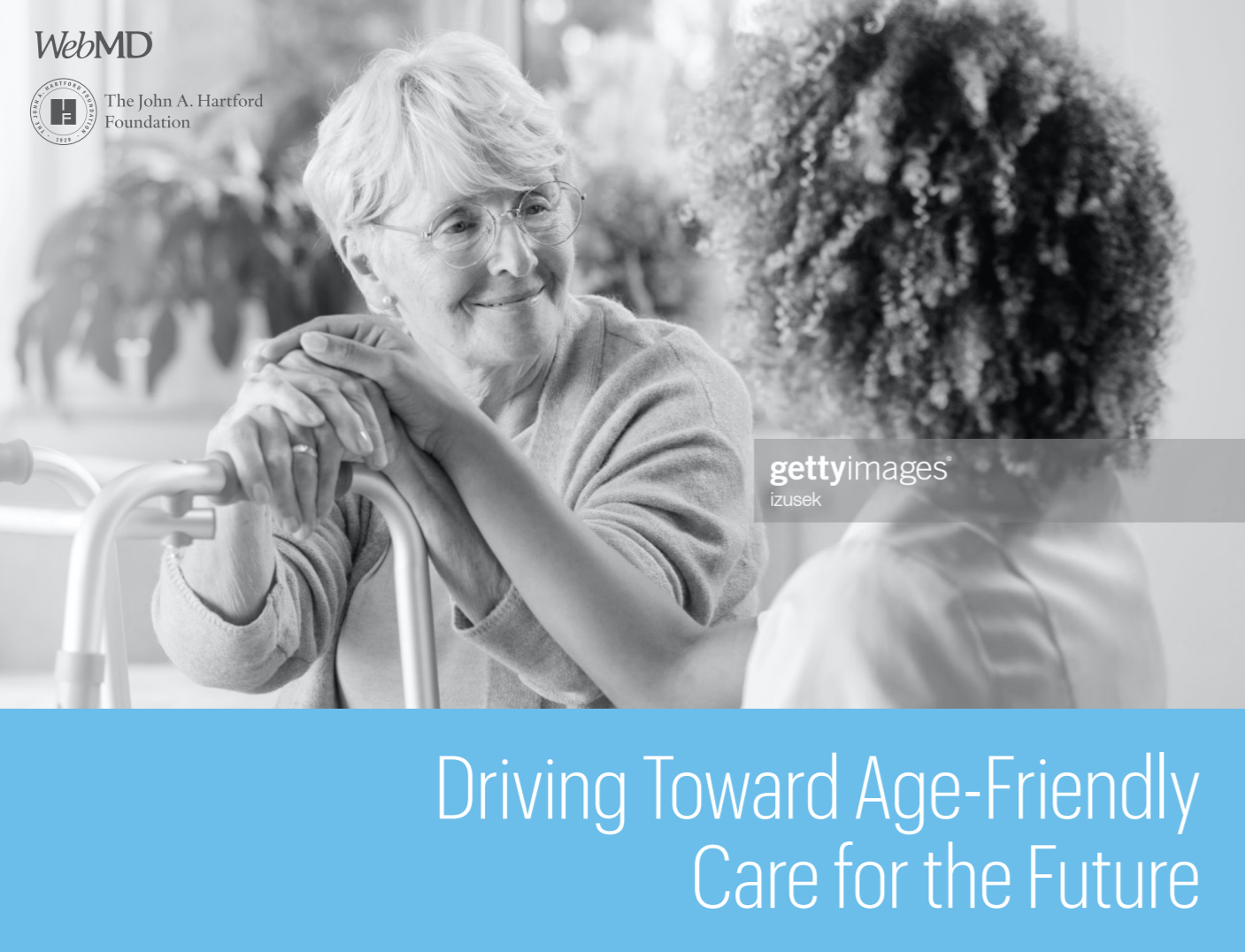 – Newest survey results from WebMD and the John A. Hartford Foundation engages more than 2,700 patients and caregivers 65 years of age and older.
– Survey finds that 3 out 4 patients are not aware that they can demand better and personalized healthcare, known as age-friendly care.
– The 28-page report raises awareness about the need for more age-friendly health systems and to promote dialogue to address barriers in elder care.
America's healthcare system is failing senior citizens and managing their care has become nearly impossible for older people and their families. While there are cost-effective ways to address these challenges, a new survey: Driving Towards Age-Friendly Care for the Future, from WebMD and The John A. Hartford Foundation of more than 2,700 patients and caregivers age 65 and older find a population by and largely resigned to poor quality of life and never-ending challenges.
Older Patients & Caregivers Unaware of Care Options Designed to Alleviate Challenges of Aging
Older patients and caregivers are unaware of care options designed to support their overall health goals, alleviate aging challenges and maintain their optimal quality of life. Nearly 40% of respondents don't know that certain prescription medications can impact cognition and more than 40% incorrectly think that depression is an inevitable part of aging. 
The survey found that 3 in 4 older adults are not aware that they have the right to ask for and receive healthcare tailored particularly to their needs and wants – a concept known as Age-Friendly Care – that could mitigate many of these problems – depression, dementia, and decreasing mobility – and promote greater well-being among older patients. The survey comes at a time when older adults represent 16% of the U.S. population, a rate that will continue to grow to more than 25% of all adults by 2060.
Other survey highlights:
– 50% of respondents are not aware that some medications are harmful to older people and should be avoided
– Nearly 40% of patients and caregivers don't know that certain medications can have cognitive side effects
– More than 40% incorrectly think that depression is an inevitable part of aging
– More than two-thirds of caregivers said that the person in their care has difficulty walking around – half said they have fallen within the past year
– Less than one-third of patients and caregivers have discussed life goals, fears and concerns and future health goals with their health care provider
"Many older adults in the United States have a lower quality of life because they, and their care team, simply don't know that there's a more age-friendly pathway to healthcare," said President of The John A. Hartford Foundation, Terry Fulmer, PhD, RN, FAAN. "We, as a society, have come to accept the downside of aging—including the impact of multiple, conflicting medications, cognitive decline, depression and mobility issues—rather than asking for care that helps us benefit from the positive aspects of our later years."
Building a Movement for Age-Friendly Care
Age-Friendly Care is defined as care that is safe, high-quality and based on what matters most to older adults, while also promoting a better quality of life. The focus is to prioritize the "4Ms" of care: what matters to patients, mobility, assurance that medications don't interfere with the quality of life, and the treatment of dementia, depression and other mentation-associated conditions. 
The John A. Hartford Foundation encourages healthcare systems to incorporate age-friendly care into their delivery models and also help patients and caregivers better understand, and ask for, age-friendly care. In the survey, 70% of older adults noted that having a checklist of questions to ask doctors and online resources that are focused on health topics for older adults would help them feel more comfortable requesting age-friendly healthcare.
The Foundation focuses exclusively on the improvement of care for older adults and supports a national movement with the Institute for Healthcare Improvement to help all U.S. hospitals and health systems provide age-friendly healthcare. WebMD also promotes awareness of age-friendly care through its partnership with the Foundation and provides online information to consumers.
"Caring for the aging population is among the most critical issues facing the nation today," said Chief Medical Officer at WebMD John Whyte, MD, MPH. "It is crucial that the entire health care system understands the challenges and works pro-actively to take them on. Together, WebMD and The John A. Hartford Foundation are committed to providing a brighter future for older adults, and this survey shines a light on some of the issues we must address."
Survey Background/Methodology
WebMD randomly surveyed 2,361 patients aged 65 years or older, and 405 caregivers of someone aged 65 years or older, from late June to mid-August 2019. Respondents were randomly intercepted throughout WebMD.com and invited to participate in a 14-minute online survey. Respondents must have had at least 1 visit with a health care provider in the past 12 months in order to answer questions related to health care experiences. A statistical significance test at the 95% confidence level was applied to examine effect size differences between cohorts (e.g., sex, race/ethnicity, age, socioeconomic status, geography).