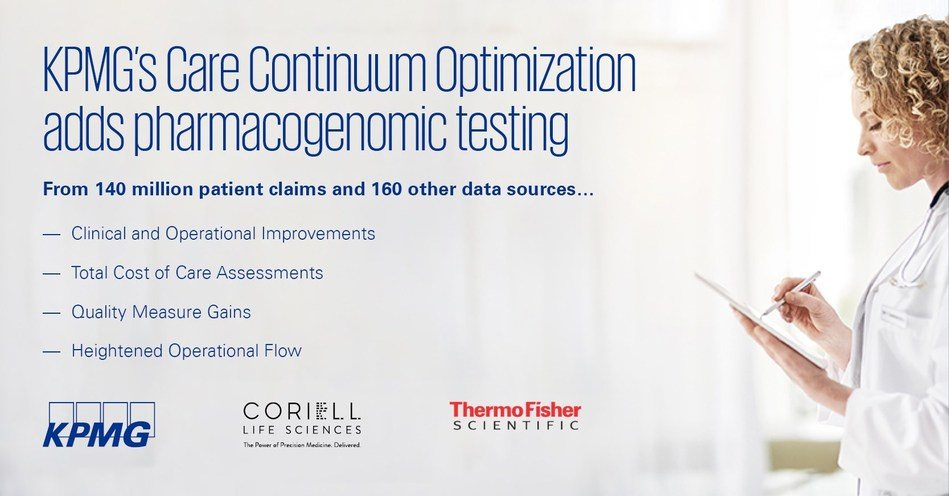 Coriell Life Sciences will provide pharmacogenomic tests for clients of KPMG's Care Continuum Optimization, a cloud-based data platform aimed at improving healthcare outcomes and guiding clinicians through transitions in care.  Coriell will be running the tests on Thermo Fisher Scientific technology to provide alerts to prescribers when there is the potential for an adverse drug event tied to a patient's genetics and recommend safer treatment options.
KPMG's Care Continuum Optimization Overview
KPMG's Care Continuum Optimization, a program under KCI that aims to reduce the variability of treatment, can put information in clinicians' hands to help them develop a treatment plan aimed at improving quality measures. The data gathered also has utility for population health management and managed healthcare organizations.  
Impact of Pharmacogenomics
Pharmacogenomics can play an important role in identifying how patients may respond to certain medicines and those at risk for adverse drug events. Many of the genes that have an impact on drug metabolism govern liver enzymes. More than 250 drugs have pharmacogenomic references in their FDA approved labels, including widely used pain relievers, cancer treatments, antidepressants and blood thinners.    
This enhancement to Care Continuum Optimization follows the recent incorporation of social determinants of health data into the program to account for social factors that can affect health outcomes.  KPMG's Care Continuum Optimization incorporates data from medical claims and 160 different sources to help clinicians benchmark how patients are doing on a risk-adjusted basis.  The program has been shown to reduce length of stay and total cost of care, as it gives insights about suitable times for patients to be moved to sub-acute settings or home care.
Clinicians will use CLS' industry-leading Enterprise PGx (EPGx) program with data from Thermo Fisher platforms and trained pharmacists will assess genetic-based risks associated with a patient's medicines.   EPGx leverages genetic information with traditional medication therapy management that alerts prescribers to risks and provides medication options that can improve safety and efficacy. The results are included in the patient's electronic health record.
Why It Matters
"Pharmacy safety is one of the earliest areas where genetics has been shown to improve the quality of healthcare," said Scott Megill, CEO and President of Coriell Life Sciences. "The collaboration between KPMG and CLS will allow us to bring this powerful new science, combined with robust data analytics and healthcare optimization made possible through the use of Thermo Fisher's leading genetic analysis and next-generation sequencing technologies, to large population clients around the world."