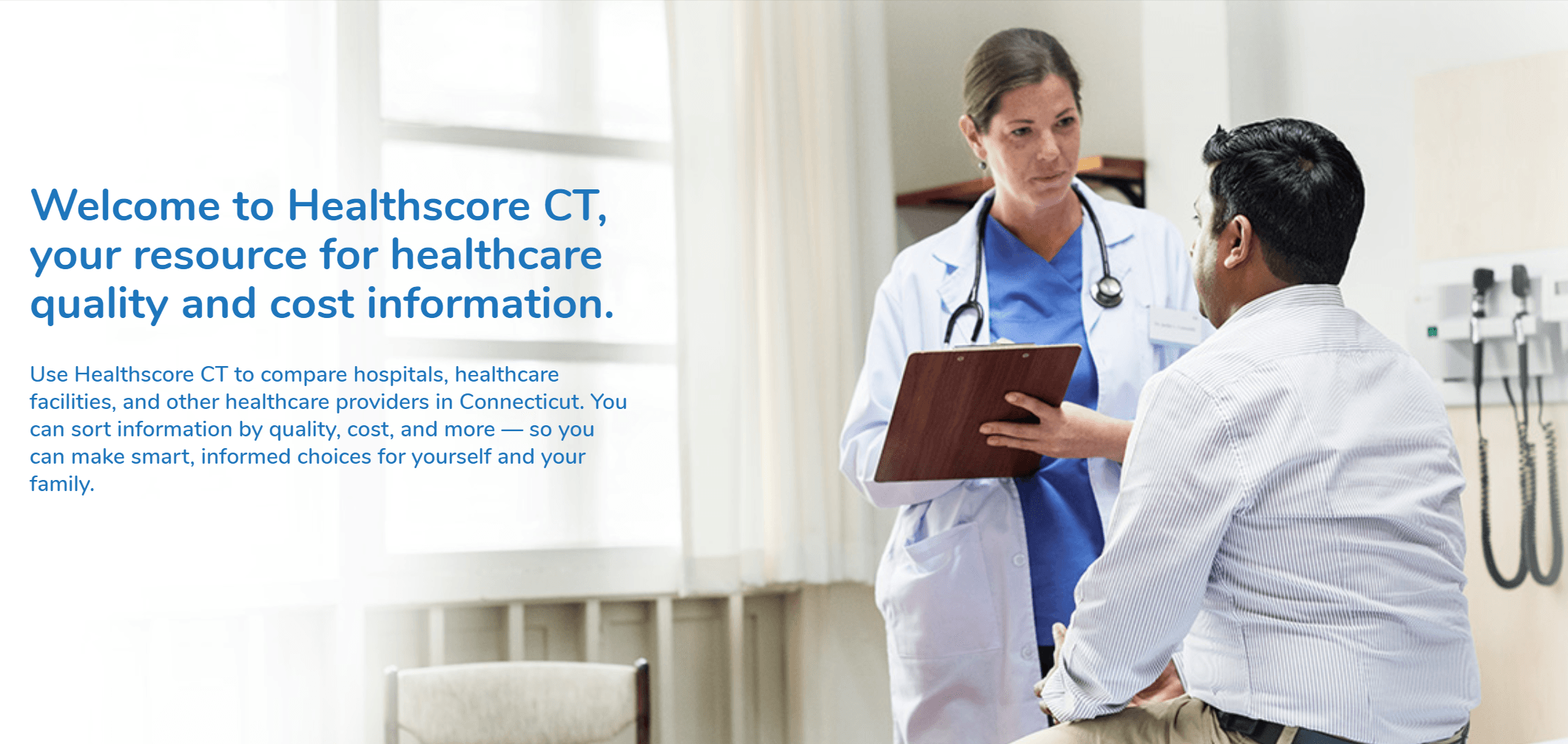 The Connecticut Office of Health Strategy (OHS) has launched a state-wide online hospital quality scorecard and cost estimator solution called Healthcare CT to assist residents in making informed decisions concerning their healthcare among healthcare providers. The website has interactive tables and graphs that allow consumers to search, sort, and filter by entity, quality measure, health topic, and rating.  In addition, the solution promotes cost transparency in healthcare improves access to care for all residents, and helps policymakers use trusted data to guide decision making.
Why Healthcare CT?
Having cost transparency helps lower out-of-pocket costs for patients. Healthscore CT was created with the sole mission of taking the mystery out of the cost of healthcare by allowing CT residents to compare the cost and quality of different health organizations. Funded through a $45M State Innovation Model (SIM) grant awarded in 2014 by the Center for Medicare and Medicaid Innovation, Healthcare CT is a project of the Connecticut Office of Health Strategy (OHS) in partnership with the OHS Quality Council, which provided oversight and advice on attribution, benchmarks, and ratings. Members of the Quality Council include healthcare providers, health insurance experts, patient advocates, and other experts from across the healthcare and related sectors in Connecticut.
"Healthscore CT brings transparency to two priorities in healthcare—quality and cost. As healthcare changes, quality is becoming even more important. Healthcare isn't just about tests, it's about what makes people better and more productive in their lives; what improves outcomes; what reduces health disparities; and what makes our communities healthier. We are all healthcare consumers at one point or another in our lives. Healthscore CT gives people the resources to make better healthcare decisions and gives providers an opportunity to improve the cost and quality of the care they deliver," said OHS Executive Director Vicki Veltri.
The website has two major components: a quality scorecard and a cost estimator that is scheduled to be released at the end of September 2019.
Quality Scorecard Methodology
The scorecard uses information from nearly 465,000 patients of 19 accountable care organizations throughout Connecticut; individual scores may be based on fewer patients, but not fewer than 30 patients. Consumer experience scores are not based on fewer than 50 patients. The health measures cover 10 areas including behavioral health, child health, women's health, chronic conditions, and preventive health. Using interactive tables and graphs, the provider networks may be compared to other networks and to the state average for any given health measure (like diabetes or asthma) or an overall rating that measures its performance against all networks on all quality measures.
Scorecard Attribution Model
The Healthscore CT scorecard attribution model uses the available data in the All-Payer Claims Database to rate the performance of healthcare organizations to whom patients are attributed. It is important to note that this attribution is not intended for payment purposes. The attribution model has been developed in collaboration with the SIM Quality Council, an advisory body made up of consumer health advocates, providers, community organizations, and payers.
The quality scorecard measures are endorsed by the National Quality Forum (NQF). NQF helps ensure that quality measures are well designed and scientifically valid. The technical development and production of the scorecard was undertaken by UConn Health in its role as a subcontractor to OHS. The data has undergone significant testing by evaluators at UConn Health to help ensure that the results are valid and the measure calculations have been shared with providers in advance of publication.
Cost Estimator (September 2019 Launch Date)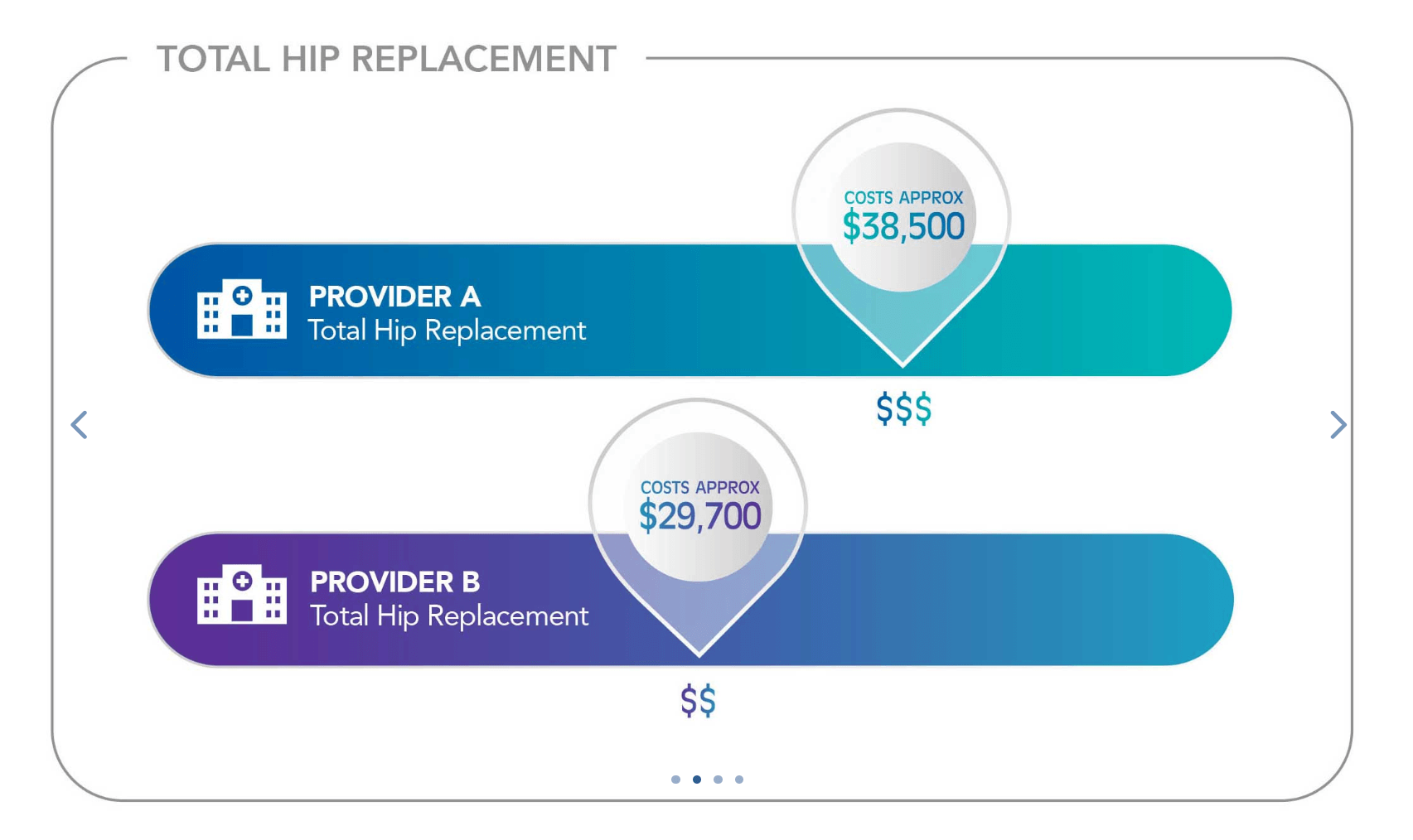 Slated for launch in September 2019, the cost estimator pulls data from insurance claims in the All-Payer Claims Database. The high, median, and low costs reflect the payments made by insurers for a particular routine and uneventful procedure. Residents using the cost estimator will be able to see that the cost of a variety of medical procedures can differ significantly, depending on the provider organization. This information plus the provider organization quality rating gives CT residents vital information to discuss with their doctor—and helps them make better healthcare decisions.
Connecticut General Statute 19a-755a requires OHS to use the APCD to collect, assess, and report healthcare information relating to safety, quality, cost-effectiveness, and access for all levels of healthcare.  All Connecticut regulated insurers and pharmacy benefit managers are required to submit health insurance claims to the APCD.
"The cost differential between provider networks is informative," said Veltri. "For example, an MRI at provider X is $590 and at provider Y it is over $1,000—same diagnostic test, significant cost difference. High cost does not necessarily mean good quality, and this website helps consumers sort that out. This information is a good starting point for conversations with your healthcare provider, and this site will continue to evolve to serve consumers." 
Why It Matters
"Getting the best value possible for healthcare is critical to the bottom line for every business and family in Connecticut. It's important that everyone understand how healthcare providers score on quality and cost of services they provide, and this new user-friendly online tool will make that possible. I applaud Executive Director Veltri and the talented staff at the Office of Health Strategy for working hard to get this project to finish line and launching Healthscore CT to help Connecticut businesses and consumers make informed decisions about healthcare," said Lt. Governor Susan Bysiewicz.