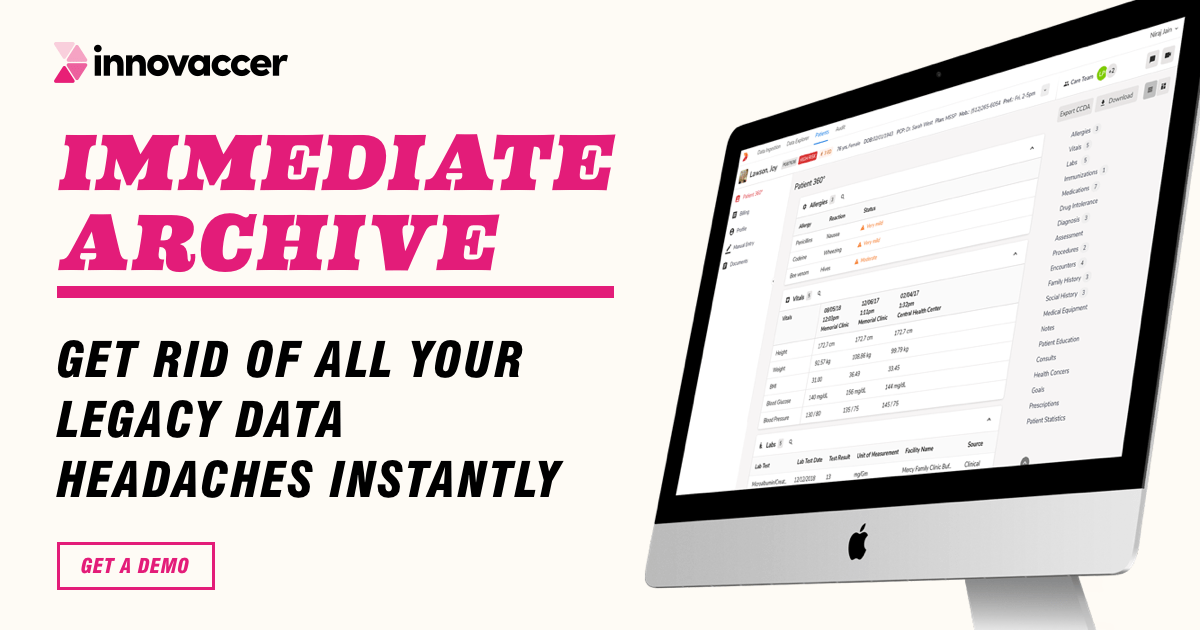 Innovaccer Inc., the leading San Francisco-based data activation company, announced the launch of their Archive solution to enable organizations to archive and preserve their crucial patient data and streamline the operation of data collection from legacy systems. The solution is aimed at enhancing organizations' experience of EHR transition by efficiently archiving their crucial patient data to a single repository to secure it for future reference.
Archive Solution Overview
With healthcare merger and acquisitions (M&A) on the rise, it's important to empower organizations to archive their patient data to ensure smooth transitions. Around 60% of healthcare-based M&A motivating factors are tied to key data archival considerations, data requirements, and areas of potential ROI. Innovaccer's Archive brings forth a revolutionary approach that lets organizations take control of their data. The solution is built on the bleeding-edge data activation platform that aggregates, analyzes, and activates the data including clinical data, revenue cycle data, imaging, PMS, and others from multiple sources such as EHRs, claims, labs, among many others. With its 200+ pre-built connectors to multiple IT vendors and data sources, the platform can integrate and archive data with the fastest turnaround time of 4-6 weeks without sacrificing data quality.
Streamlining The Data Archival Process
The solution offers a comprehensive view of all aggregated data from disparate sources about the patients in unique patient profiles, which allows providers and other end-users to access standardized data. With Patient-360 profiles, organizations can simplify their data and quality management activities. Its node-based data import process allows organizations to quickly create new data integrations, validate data quality, identify and correct errors, and replicate high-quality ingestion pipelines for use on future deployments.  
The solution opens numerous avenues for users to access the archived data, including SQL queries, tabular data access, a comprehensive longitudinal patient record, and scheduled or on-demand exports, among many. With its audit and utilization logging feature, the solution allows users to not just understand the usage patterns of their teams, but also analyze the behavior of individual members.  In addition, the organizations can also define complete organizations hierarchies, allowing simplified control of user data access.
The latest solution offering from Innovaccer allows the organizations to remain compliant with the state and the national regulatory compliances to store protected health information (PHI) in its original form for a long duration. It reduces the cost of data storage to just one-tenth the price offered by other third-party vendors by easily archiving the data without any hassle. The solution offers easy patient search and retrievals with zero manual intervention.
Why It Matters
"Organizations are spending extensively to install new EHRs and streamline their data archiving processes. Many providers have to reluctantly leave their data archived back on their original system," says Abhinav Shashank, CEO at Innovaccer. "With 'Archive,' we strive to simplify the transitions by taking care of the heavy lifting required in data archival and helping meet compliance so that the care organizations can focus on patients."