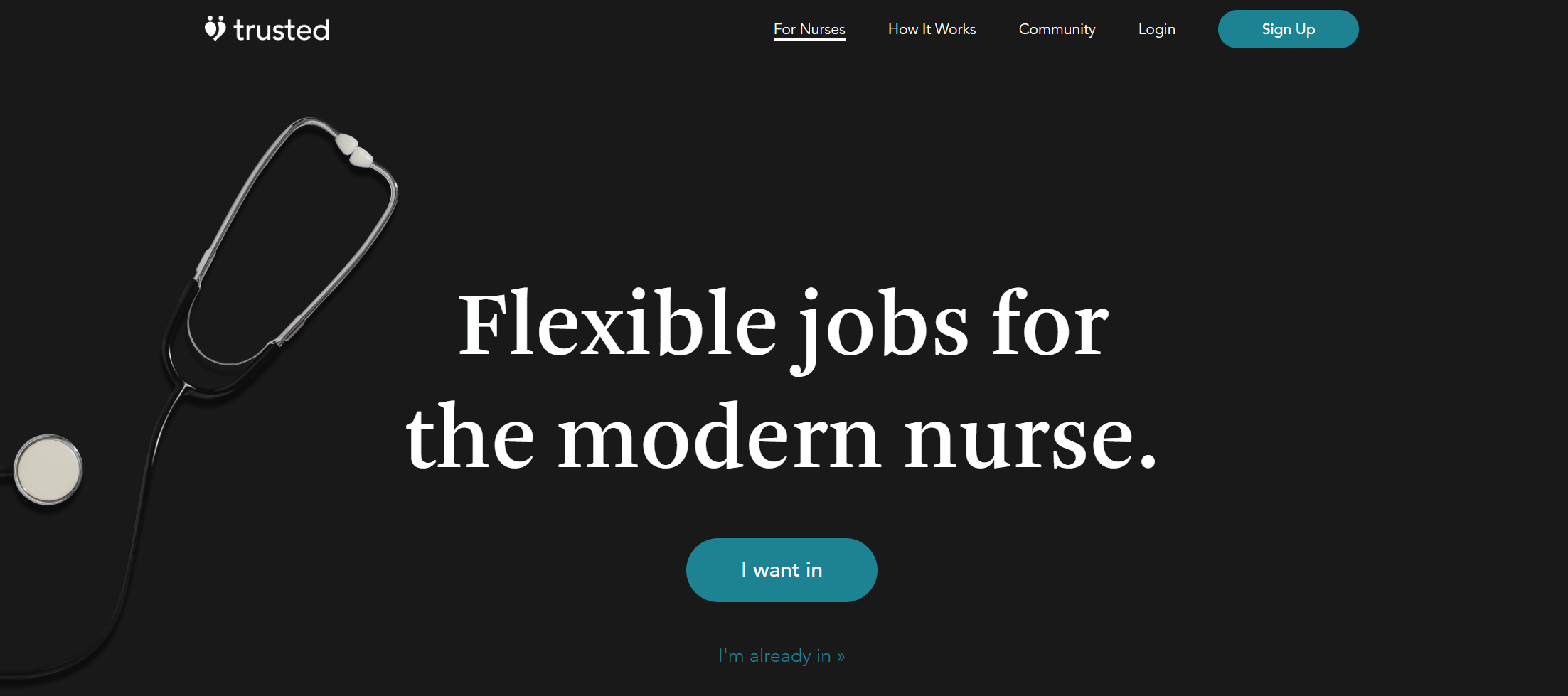 Trusted Health, a San Francisco, CA-based digital employment marketplace for nursing professionals announced it has raised $20 million in Series A funding led by Craft Ventures with participation from previous investors Felicis Ventures and Founder Collective. In addition to the Series A funding round, the company also has officially launched support for flexible nursing opportunities nationwide and added permanent staff openings for nurses seeking more traditional employment. Nurses can receive support from Trusted Health's nurse advocates during their employment journey and take advantage of full W2 benefits.
Transforming How Nurses Are Employed
Founded in 2017 by a team of nurses, labor marketplace experts and technology innovators, Trusted Health wants to change how nurses are employed, something that has a strong appeal to the modern nurse — validated by amazing growth statistics in the past year and demand for their services nationwide. Trusted Health combines state-of-the-art digital employment platform, personalized support and a unique hiring structure that eliminates the hassles and controversy of 1099 contracting, by offering W2 employment, as well as perks similar to those available in the high-tech industry. With Trusted Health, nurses now have a single, go-to resource where they can grow professionally, explore new opportunities and find answers to their questions.
Digital Employment Marketplace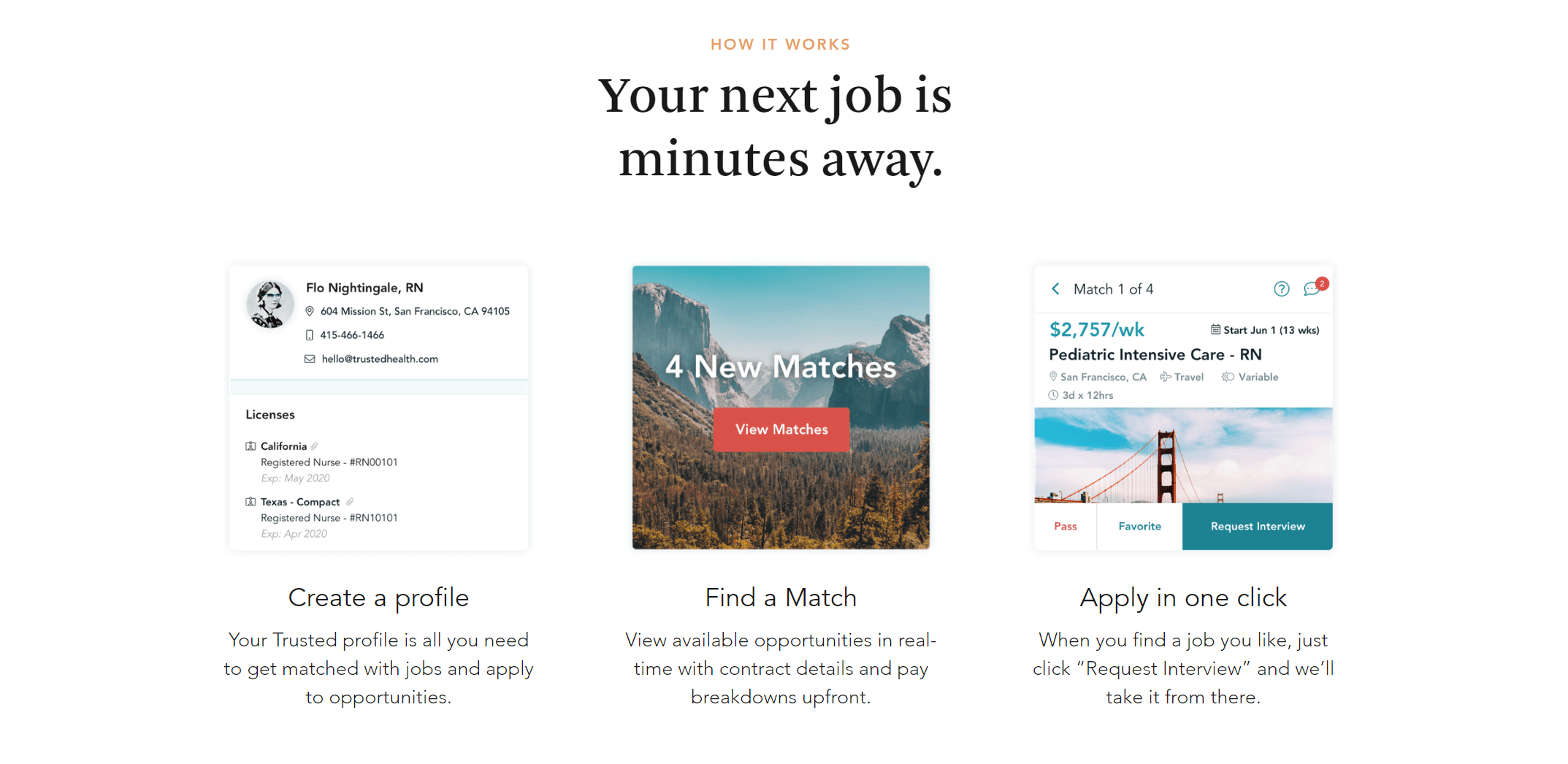 Through its marketplace, Trusted Health operates as a fully automated online employment agency, simplifying job searches by providing candidates visibility into the latest openings. The platform also streamlines the application process by digitizing, saving and managing resumes, credentials, certifications and other key employee information. An advanced, automated matching system alerts nurses in real-time of new opportunities that correspond with their credentials, experience and preferences, and provides all job and compensation details upfront so candidates can make informed decisions.
Once a job is accepted, Trusted Health becomes the nurse's employer, integrating everything from signing their contract and enrolling in benefits to timekeeping in the platform and app. Trusted Health provides nurses W2 employment, including overtime, paid sick leave, insurance and other protections not available to 1099 contractors. Trusted Health adds a personal touch to its technology, with on-staff nurse advocates who answer questions, facilitate the application and onboarding process, and provide clinical, professional and personal support every step of the way.
Nationwide Expansion Into All 50 States
Starting with initial operations in California last year, the company employed nurses in 20 states nationwide at the end of the first quarter of 2019. More than 1,000 new nurses join Trusted Health's platform each week to explore job opportunities. During the first quarter of 2019 alone, jobs available on the platform exceeded $60 million and there were more than 246,000 personalized matches viewed by users. The company plans use its Series A funding to enhance the tools and resources used by nurses, increase the types and quantities of opportunities available, and support the expansion of its employment operations into all 50 states and the District of Columbia.
"With more than half of hospitals reporting staffing shortages now and 1 million vacancies for registered nurses projected by 2024, nurses continue to be in high demand. However, because they have had to rely on antiquated and inefficient recruiting processes, nurses often miss ideal opportunities that fill quickly," said Sarah Gray, R.N., Trusted Health's founding clinician. "Trusted Health is empowering nurses with more control over the trajectory of their careers and greater flexibility in their lives. We have created a community for a modern healthcare workforce, providing a platform that gives today's nurses a quick and easy way to find rewarding work, connect with other professionals and access the modern benefits and features they want, along with the security of W2 employment."