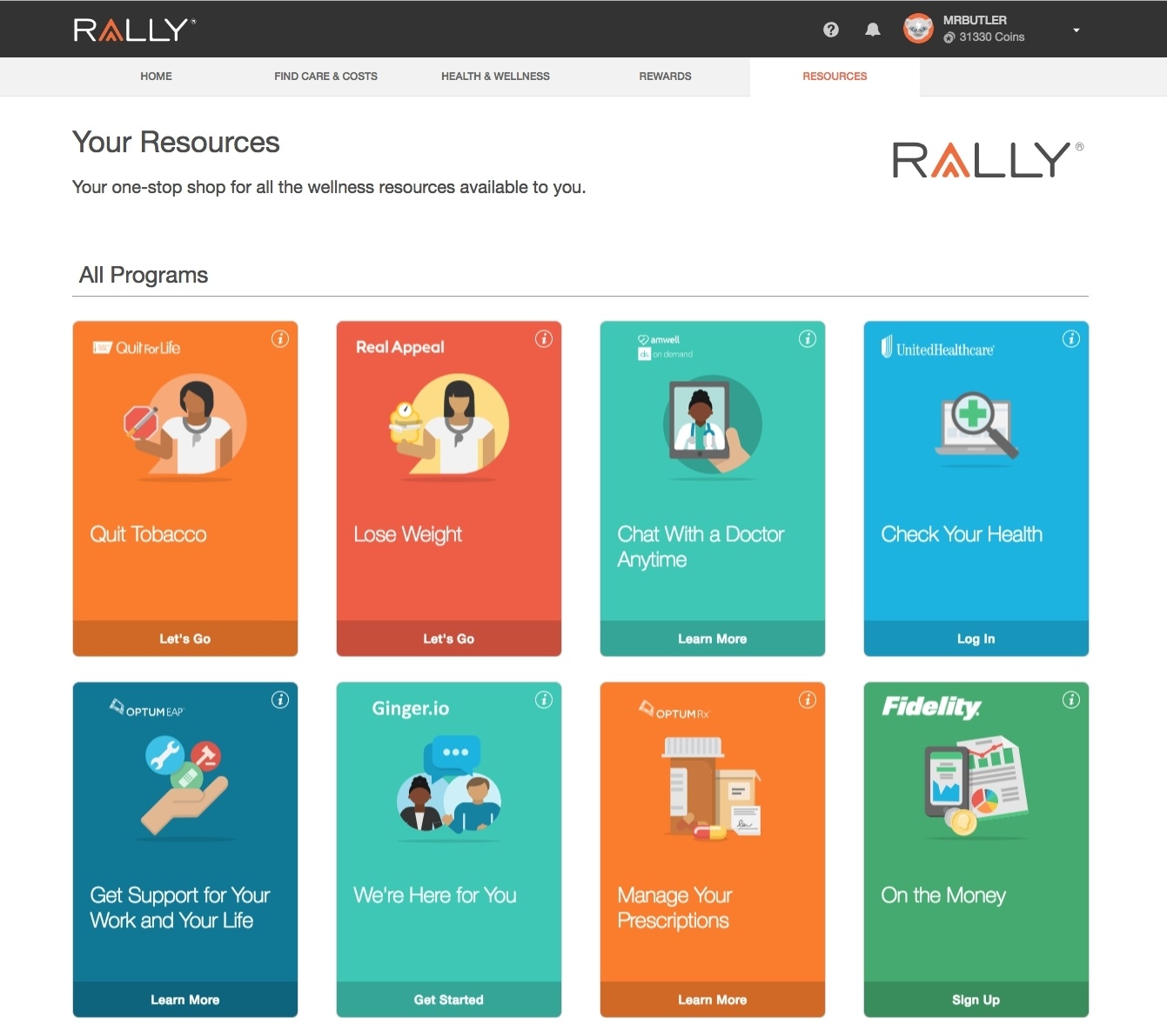 The next-generation Rally consumer digital health platform offers a one-stop-shop for employee wellness benefits programs offered by an employer. 
Rally Health, Inc., today announced its next-generation consumer digital health platform that enables users to access and manage in a single, comprehensive experience their employee benefits, well-being programs. With more than 22 million registered users, Rally is the industry's leading consumer digital health platform, offered by more than 200,000 employers to help increase employee benefits utilization and lower health costs.
Rally for Employers
For employers, the new Rally digital health platform optimizes employee health engagement to help lower costs and improve health outcomes. The platform enables benefit leaders to drive utilization of benefits from multiple health plans through an all-in-one experience that offers personalized decision support for members.
Rally gives employers a full-circle view of their benefits programs and enables them to easily manage and evaluate their performance. It helps simplify benefits communications by enabling employers to direct all of their employees to a single web or mobile experience. Further, it enables their employees to share a similar benefits experience, no matter which health plan they have, and to access their benefits programs using a single account.
Rally for Employees
With Rally, employers are able to work with a single company to deploy a comprehensive benefits hub that helps employees easily find and access the many resources available to them and make better-informed and more cost-effective decisions about their health.  New capabilities include personalized recommendations for well-being activities, decision-support tools to help employees find the right care at the right time and price, and a centralized dashboard of benefits that their employer makes available to them.
"Today we're taking our Rally platform to a new level by making traditionally disparate elements of the health and health care ecosystem work together seamlessly in a unified consumer experience – even across multiple health plans," said David Ko, president, and COO, Rally Health. "The easier it is for employees to engage in their health and take actions to manage and improve it, the greater the opportunity for employers to maintain a high-performance workforce, reduce health care spending and improve business metrics. It's a win-win proposition for employees and employers."