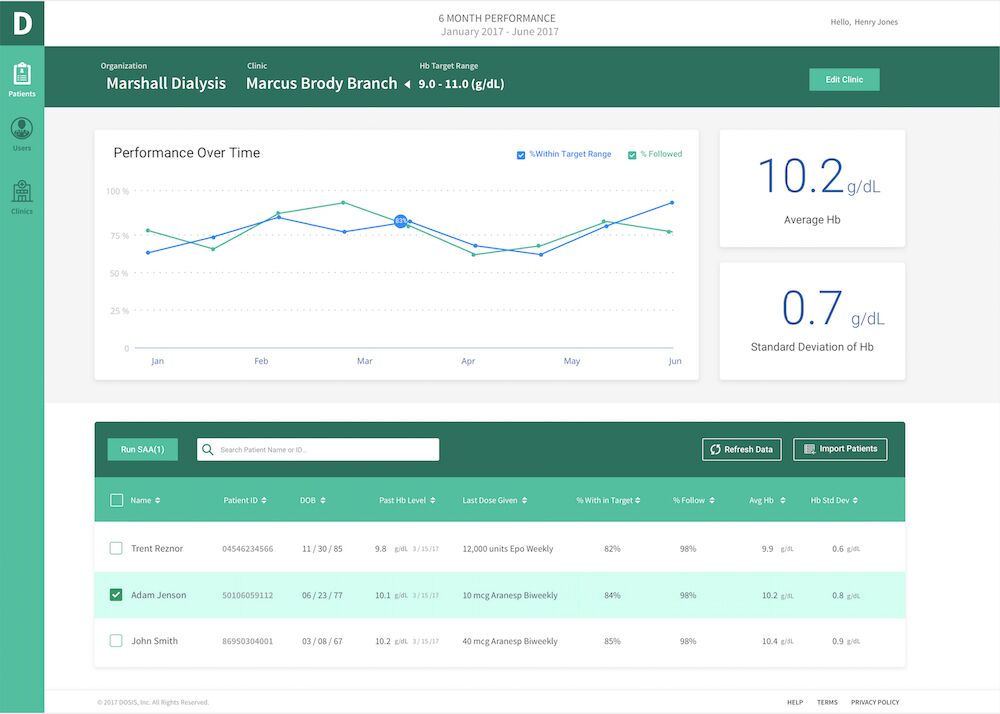 Dosis, a San Francisco, CA-based developer of the Strategic Anemia Advisor (SAA) decision support tool, announced today that it has expanded its AI-powered personalized dosing platform to support to 50 dialysis clinics and 5,000 patients across the country.

More than 550,000 End-Stage Renal Disease (ESRD) patients in the U.S. are currently undergoing dialysis treatment across the country, and the vast majority of those patients experience chronic anemia that requires dosing erythropoietin-stimulating agents (ESAs).

The Dosis Software-as-a-Service reference tool helps providers determine a patient's unique response to ESAs and uses AI-powered algorithms (based on years of peer-reviewed research from the University of Louisville) to recommend a personalized dosage that keeps individual patients within their hemoglobin target ranges.

Variables with adherence to medication often cause huge problems with the quality of data in trials of personalized dosing and medicine. That's not the case with dialysis patients, as you have a highly adherent patient population that goes to the clinic three times per week to be treated.

In working with over 5,000 patients to date, Dosis has enabled healthcare providers to:
– Realize a 65% reduction in patient outlier hemoglobins and an increase in the percentage of patients within a hemoglobin target range
– Cut the time spent on determining the new ESA dose to 30 to 45 seconds per patient.
– Decrease ESA exposure up to 50% and reduce their ESA spend by up to $2,500 per patient per year.
"The increased prevalence of lifestyle disorders like diabetes and hypertension in America has led to a major increase in the incidence of chronic kidney disease, and for too long we've failed to bring innovative technology into renal care," said Shivrat Chhabra, CEO at Dosis. "At Dosis, we're addressing this problem head-on. Today, our company is providing more than 5,000 ESRD patients at dialysis centers across 10 states with a personalized dosing solution that allows patients' treatments to be optimized for their needs. Furthermore, we're enabling providers to enhance their existing anemia care program with a simple, cost-saving, and quickly implemented software-as-a-service solution."