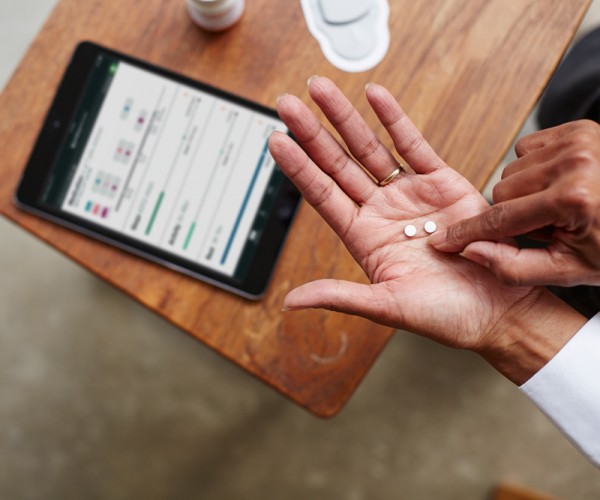 Proteus Digital Health, Inc., Fairview Health Services, and the University of Minnesota Health announced that for the first time cancer patients are using digital oncology medicines to support treatment regimens and improve outcomes. This advancement helps patients complete oral chemotherapy cycles while oncologists gain new insights into their patients' treatment progress and overall health status. Proteus, Fairview, and the University of Minnesota Health unveiled the care model for digital oncology medicines and a collaboration with the University of Minnesota. 
Proteus developed the care model for oral digital oncology medicines with University of Minnesota Health and Fairview, which is the first health system in the world to prescribe digital capecitabine, a common chemotherapy drug prescribed with the Proteus ingestible sensor. Currently, it is being used to help treat stage 3 and 4 colorectal cancer patients.
Digital Cancer Chemotherapy Pill Program Details
The digital medicines program helps optimize treatment regimens while maintaining a patient's privacy. The program securely captures, records, and shares information about the time, dose, and type of oral chemotherapy medication taken. This information, as well as data on rest, activity, and resting heart rate can be shared with the patient's consent with their physician, pharmacist, or caretaker. The information can only be seen by the patient and their designated individuals on a secure, mobile-friendly platform developed by Proteus.
Digital Oral Oncolytic Medication Registry
To gather more real-world experience and data from cancer patients using digital medicines, Proteus is launching a digital oral oncolytic medication registry. This study will gather data from multiple sites spanning academic medical centers to community practices and urban to rural facilities. Patients from participating sites will be prescribed digital capecitabine to assist them in their treatment. Data collected from the study will be used to share best practices across many sites, enabling richer data and outcome analysis.
Partnership with Fairview Ventures
To expand from its established base of cardiometabolic and infectious disease expertise into oncology, Proteus partnered with Fairview Ventures, the innovation arm of Fairview. Experts from one of the nation's leading oncology medication management programs at Fairview Pharmacy Services and from the University of Minnesota Health oncology service line formed the comprehensive team that developed the user experience and workflows for digital medicines in the treatment of colorectal cancer.
"Currently, providers make decisions about oral chemotherapy based on patients' best knowledge of their medication taking," said Andrew Thompson, CEO, and Co-founder of Proteus Digital Health. "For the first time, digital oncology medicines give providers and caregivers new insights and ability to engage with more specific information in the remote care of colorectal cancer patients. Based on our data around the use of digital medicines in other treatment areas, we believe this will enable oncology patients to stay on their therapy longer, avoid hospital admissions, and have better response to therapy overall."