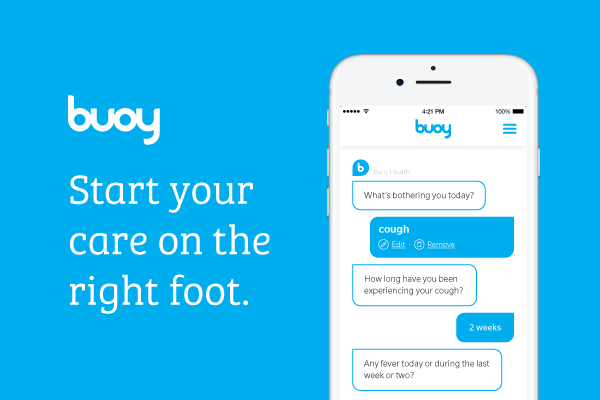 Buoy Health, an AI-focused health technology startup that develops digital tools to help people from the moment they get sick start their care on the right foot, today named Boston Children's Hospital its first innovation partner. As part of the multi-pronged partnership, Boston Children's Hospital will integrate Buoy's advanced AI into its website to help parents around the globe identify the right course of treatment the moment their children's symptoms hit.
Innovation Partnership Details
As Buoy's first innovation partner, Boston Children's hospital will aid Buoy in improving its pediatric capabilities.  Currently, parents concerned about their children's symptoms gain advice from Buoy by visiting its home page, www.buoyhealth.com. Yet, now, by being placed on the Boston Children hospital's website, Buoy will now be able to naturally train its advanced machine learning on a more diverse set of parents.  
It will also help parents identify and better understand the right course of action against simple symptoms like fever, cough, headache, rash, vomiting, fatigue or shortness of breath and if those symptoms warrant a visit to the doctor or the hospital and or if they could be better and more quickly treated by over the counter medication.
Rather than visiting the ER for symptoms stemming from a common cold, like a cough, stomachache, fever, runny nose, and congestion, Buoy has actively helped worried patients reduce triage levels significantly.
According to a recent analysis, of those people who came to Buoy who intended to go to the ER, 72 percent decided to do something less severe and of those people who thought they needed to visit urgent care, 60 percent decided they now had a better course of action. The company also found that every time someone uses Buoy, they save $32 dollars in the system.
To date, Buoy has captured the attention of leading providers, hospitals, payer organizations and venture capitalists. In the past month alone, the company has experienced rapid growth and currently sees over 4 million consumers a month.
"Deep pediatric expertise is concentrated in relatively few places – yet kids are cared for around the world.  Digital tools like Buoy allow Boston Children's to share our pediatric expertise globally – making it accessible right at people's fingertips and helping to make more informed decisions," said Jean Mixer, Vice President of Digital Health at Boston Children's Hospital.