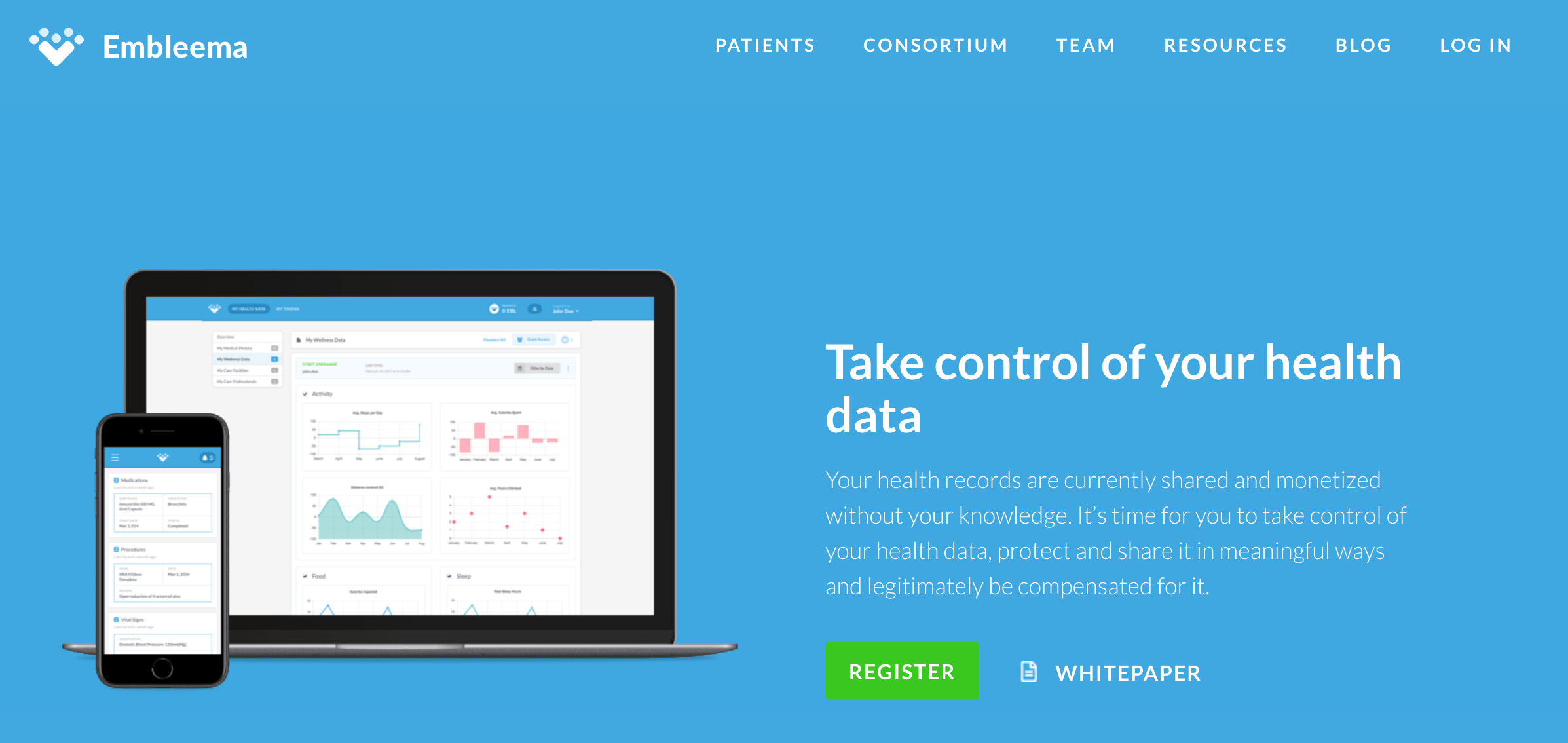 Embleema comes out of stealth to connect patients, life sciences, and regulators through its healthcare blockchain-enabled personal health record (PHR) platform. 
Embleema, a NYC-based patient-focused healthcare blockchain network, today emerged from stealth after one year of R&D, to launch the public beta release of its patient-driven, HIPAA-compliant, blockchain-enabled personal health records (PHR) platform. The new blockchain-driven PHR platform give patients complete control over their medical data – and disrupt the $127 Billion Drug Development Market and $200 Billion digital health market – by directly connecting patients, life sciences, and regulators. Embleema's HIPAA-compliant health blockchain and PatientTruth Dapp removes the need for third parties to broker the exchange of medical data between patients and key stakeholders
Currently, third parties have created a $2 billion industry reselling inaccurate patient data for clinical trials without the user's consent. Embleema's blockchain will enable patients to have the exclusive right to grant access to their medical data for trials, and be compensated directly for doing so via tokens, as well as centralizing all their health data in a completely secure environment. 32% of drugs approved by the FDA are affected by a postmarket safety event due to poor data. Current methods of gathering data on adverse effects and efficacy are slow, and lack precision due to the absence of active patient involvement. This has worsened public health crises, like the Opioid epidemic, generating a vicious circle of distrust between between patients, life sciences, and regulators, and is delaying the availability of new drugs to patients..
Giving patients complete control over their healthcare data
Built on Ethereum, the leading smart-contract platform, and available today, Embleema aims to solve the challenges associated with collection and safe sharing of Real World Evidence (RWE). Embleema's health blockchain and decentralized app (DApp), PatientTruth, enable patients to assemble the full picture of their health from multiple sources generated by non-medical data sources like FitBit.
It rewards them with crypto-tokens for securely storing medical records generated by their multiple healthcare providers including pharmaceutical companies through uploading of HL7 Continuity of Care Documents (CCDs) as well as data from connected health devices, beginning with Fitbit. This will improve real-time detection of safety issues and assessment of efficacy down to the patient level, and benefit the entire health system. 
"With a decentralized public ledger, patients can truly be the stewards of their own data. Blockchain infrastructure provides three benefits — a ledger of where a patient's records are to be found, smart contracts to determine who can access those records under which conditions, and security keys to ensure only authorized parties access the data under the patient's terms. Blockchain isn't here to replace Electronic Medical Records (EMRs), but to create more balance within the healthcare system by giving patients complete control over their treatment and how their data is used." – Dr. John D. Halamka, International Healthcare Innovation Professor at Harvard Medical School, Chief Information Officer at Beth Israel Deaconess Medical Center, and Embleema advisory board member
Founded in 2017 by Embleema CEO, Robert Chu,who  left his role as Senior Vice President, Global Technology Solutions at IMS Health to found Embleema in June 2017. During his time at IMS health he realized that the healthcare industry is focused on doctors and patients, as opposed to patients. He saw blockchain technology as the key technology to build a network that puts patients first.
Key Features of PatientTruth v1 includes:
● Visualization of Medical Histories and Fitbit activity data shared by patients
● Upload Continuity of Care Documents (CCD) medical records into blockchain, with further support of other HL7 and FHIR interfaces in the future
● Upload of Fitbit information into blockchain, with further integration of other connected devices in the future
● Medical History stored securely on blockchain
● Authorization management for the sharing of the Medical History
● Audit-trail of personal Medical Records accesses
● Compensation in tokens for uploading CCDs and Fitbit information, as well as referrals of new patients and providers
"We focus on real data from real patients in the real world, and our mission is to turn the bottle upside down and put patients first in the healthcare system" said Robert Chu, CEO and Founder of Embleema." Blockchain removes the need for third parties to broker the sharing of patient data, which is a multi-billion dollar industry, while providing the most accurate data possible for precision medicine to succeed and allowing patients to maintain sovereignty over their data," Chu added.
Embleema is funding by private VC funding, as opposed to running an initial coin offering (ICO) like typical blockchain companies, and its leadership team brings together more than 100 years of industry experience in healthcare and technology. The company conducted a pilot with CysticFibrosis.com during its year of R&D.
Patients and healthcare professionals can be the first to use the Embleema health blockchain and PatientTruth Dapp by joining the community at https://www.embleema.com.. Healthcare organizations can also pilot the Embleema health blockchain network as part of our Consortium at https://www.embleema.com/#consortium.