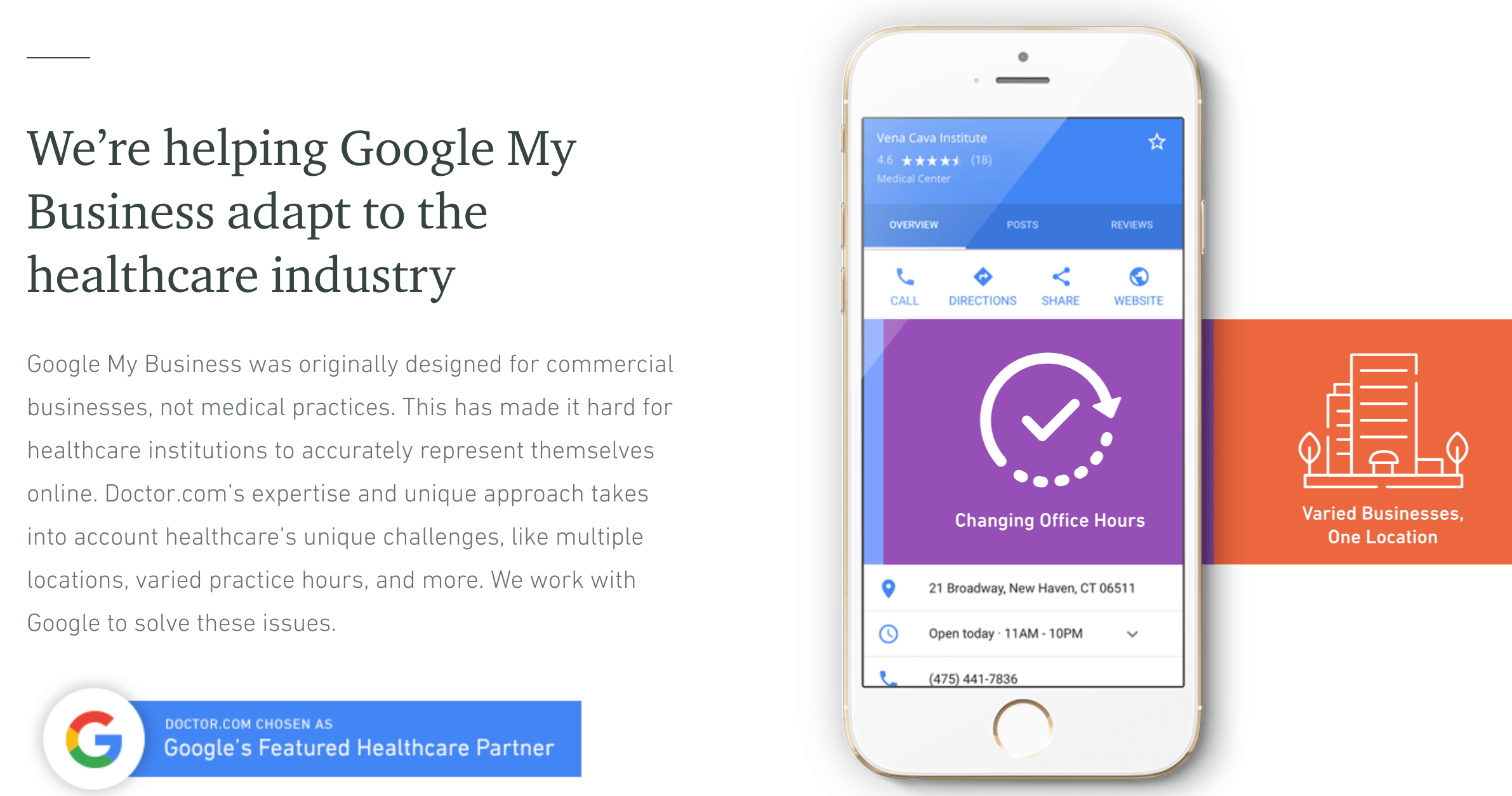 Doctor.com, the first customer experience platform purpose-built for the healthcare industry, today announced that it has officially been recognized by Google as the only healthcare-exclusive organization to be a Featured Google My Business (GMB) Partner. This partnership enables Doctor.com clients to have unparalleled control over the Google My Business listings for all of their providers and facilities, a task which is often challenging for healthcare organizations.
Doctor.com's platform corrects inaccurate information across the web, enables online appointment booking directly from Google My Business pages (on both web and mobile), and provides detailed analytics about how each individual provider and department is performing on Google. Featured Partnership also grants Doctor.com direct access to resources at Google, ensuring Doctor.com clients are always kept up to date on Google's latest offerings and policies.
Google My Business Partner Overview
Google My Business is a free tool for businesses and organizations to manage their presence across Google, including Search and Maps. But because Google My Business (as well as many other online business directories) was primarily built to support typical brick-and-mortar businesses, many healthcare organizations and professionals encounter difficulties when managing and updating location, practice entity, and provider entity data. 
Doctor.com enables healthcare organizations to manage every aspect of their online presence across the most prominent search engines and healthcare sites, from a single holistic platform.  Robust platform integrations with Google include:
– Enterprise Data Management: A system of record to centralize, normalize, optimize, and manage data related to providers, facilities, departments, and the relationships between them. Sophisticated workflows support multiple levels of user access as well as provider self-update functionality.
– Listings management: A single point of entry to maintain accurate and up to date listings information on GMB and all major search engines and healthcare sites.
– Profile Optimization: Ensures provider and facility listings are enhanced for optimal patient engagement, and include compelling data, images and content- on Google and everywhere patients are searching for care.
– Universal Scheduling: Gives patients the ability to book or request appointments direct from online listings across the web, including on Google.  Appointments flow into a centralized portal which integrates with existing EHR and practice management solutions.
– Patient Messaging: Enables organizations to engage with patients on your Google page from an easy to use desktop messaging app.
– Reporting and analytics: Provides insights on user engagement, traffic, and more to measure the performance of digital initiatives.
– 24/7 Brand Protection: Protection against data reversions from unknown entities submitting edits.
– VIP Status: Get early-bird access to the latest GMB enhancements and capabilities; escalate complex issues directly to the GMB team.
"Every healthcare organization we've encountered has cited difficulties in managing their online listings information. With 80% of consumers conducting their search for care online, it's critical that organizations provide accurate information to improve patient access to care, especially on the world's leading search engine," said Andrei Zimiles, CEO of Doctor.com. "Expanding our partnership with Google further advances our mission of helping healthcare organizations of all sizes to deliver a seamless customer experience at every step of the patient journey. By working directly with the GMB team, we can help our clients tackle unique and complex problems with expediency."