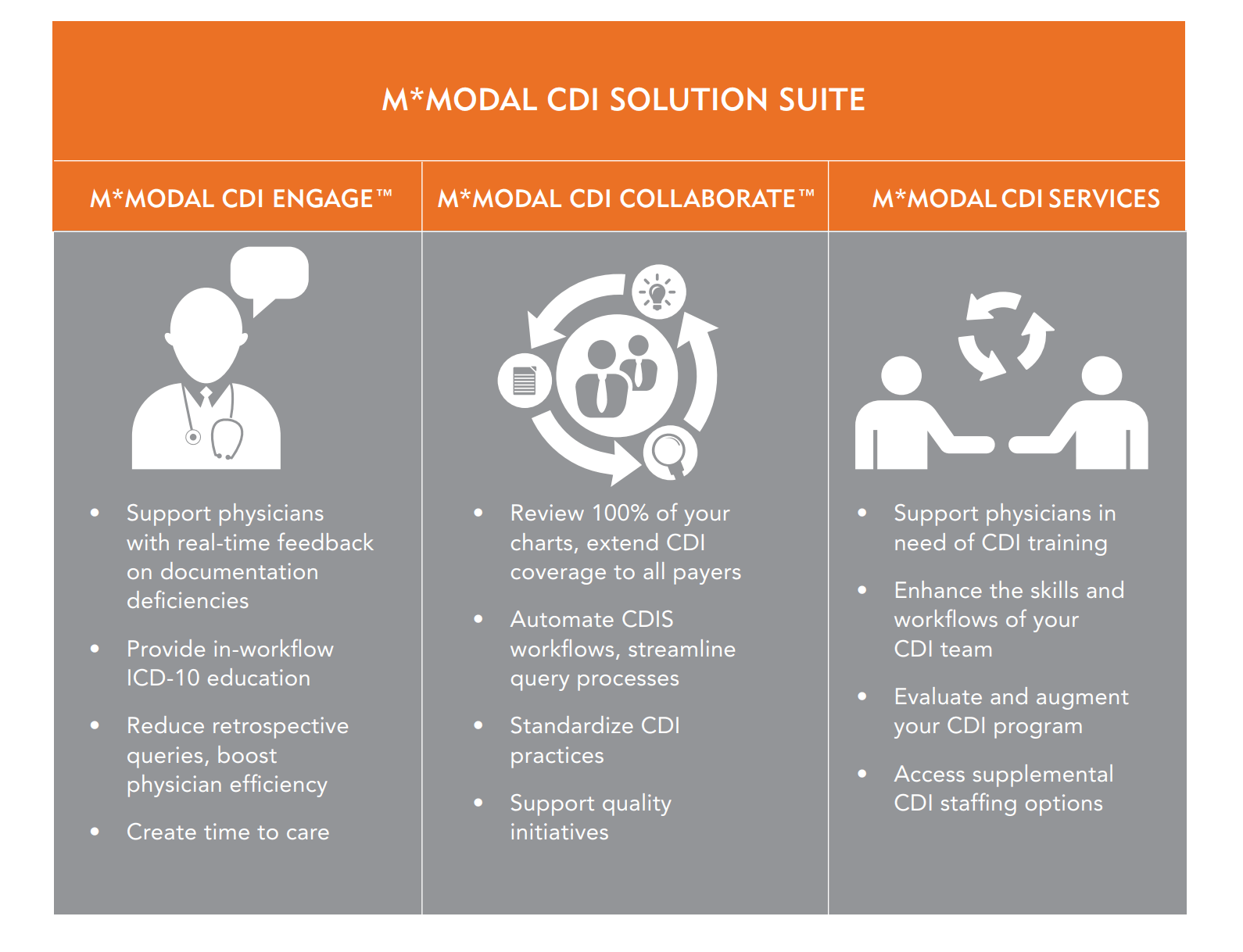 M*Modal, a provider of clinical documentation and Speech Understanding solutions, today announced further enhancements to its artificial intelligence (AI) powered and outcomes-driven CDI solutions. Integrated with over 150 EHRs, M*Modal CDI solutions provide physicians and clinical documentation improvement specialists (CDIS) with a unified and more efficient workflow that closes the loop between physician and CDIS documentation processes. Going beyond traditional inpatient CDI, M*Modal supports risk-adjustment documentation and care management of patient populations with its complete Hierarchical Condition Category (HCC) solution. The M*Modal AI platform applies clinical reasoning and semantic understanding, and delivers high-value insights on over 6,000 clinical conditions.
*Modal CAPD is now broadly deployed across more than 400 healthcare facilities and is being relied on by over 42,000 clinicians. By delivering automated, in-workflow clinical insights from across the entire patient encounter, M*Modal CAPD enables physicians to make adjustments in diagnoses while patients are still in their care and minimize retrospective rework by delivering proactive CDI and HCC clarifications to clinicians at the point of care.
Comprehensive CDI for Inpatient Care
The same reasoning and deep learning technology are also used to identify gaps in the patient record with the M*Modal AI-powered CDIS workflow management solution.  This solution automatically identifies and prioritizes any patient record missed by the physician, expands coverage to all payers and charts, and summarizes clinical evidence to minimize manual chart review. Taking CDI to the next level, advancements in the solution now help the CDIS gain instant visibility into what the quality and revenue impact would be with and without the CDI intervention to drive the most accurate documentation.
Though results can vary, M*Modal clients have achieved outcomes such as:
– 5% increase in Case Mix Index (CMI) resulting in greater than $700,000/month in additional revenue
– 5.1% increase in Risk of Mortality (ROM); 2.6% increase in Severity of Illness (SOI)
– 20% increase in CDI team productivity; 74% increase in meaningful queries sent by CDIS
HCC Management for Outpatient Care
M*Modal provides the first and only complete HCC management solution in the market today. M*Modal's patient-focused and quality-centric HCC solution delivers automation and workflow efficiencies that can scale to the much larger volume of ambulatory-care documentation, and provides:
– Proactive physician support in the EHR workflow, ahead of the patient visit, on HCC opportunities, care goals and insights on chronic conditions.
– Auditing workflow that identifies potential risk-adjustment opportunities and can prioritize patients to be scheduled based on gaps in their risk scores.
– RAF (Risk Adjustment Factor) score optimization, through collaboration with SAS, brings transparency and control to RAF score management for all patients.