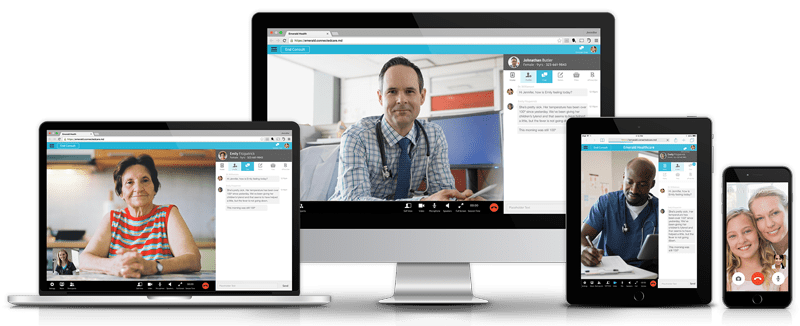 Today, SnapMD, the full-service enterprise telehealth technology innovator and solutions provider, launched a new Patient Presenter Workflow functionality within its Virtual Care Management (VCM) telehealth platform. The new provider interface seat type is a fast and easy means to bring care to patients in a wide variety of settings. Whether it's a virtual consult for a child at school, advice to caregivers for a patient in hospice, or a specialist consult from a patient's bedside, the VCM system can help you improve and streamline patient care without patients ever needing to login. This allows SnapMD's full-stack telehealth software to further connect patient presenters and other care extenders into the care continuum.
SnapMD understands the importance of linking all care teams into the virtual care ecosystem and has integrated the new Patient Presenter Workflow capabilities to further drive cohesive, connected health. As a hyper-secure enterprise telehealth software platform, the VCM platform's administrative interface grants patient presenters access through the permissions system, where administrators can set specific workflow or provider access guidelines for all staff users. The VCM system displays all permitted providers in the interface, allowing these users to serve as the patient presenter; to initiate virtual visits with one or more providers. Patient presenters can manage appointments, schedule or be placed in queue for on-demand virtual visits and be admitted to the digital exam room with the patient's provider.
In addition to introducing new Patient Presenter Workflow capabilities, SnapMD has made other enhancements to its provider interface as well. Providers can now better manage patient records to bolster new patient profiles and utilize greater scheduling functionalities. The new Patient Presenter Workflow and provider updates continue to help hospitals and health systems improve overall health outcomes and reduce costs via expanded and expedited virtual care access.
"With a rapidly growing aging population in the U.S. and a surging demand for care across many specialties, we recognize the need for a better way to connect patients and their care teams throughout the care continuum to achieve greater healthcare accessibility," explained Dave Skibinski, CEO of SnapMD. "The new Patient Presenter Workflow capabilities are designed to support participants across the care continuum, empowering caregivers and other patient presenters to deliver better, more timely care to more patients, improving treatment adherence and reducing wait times."