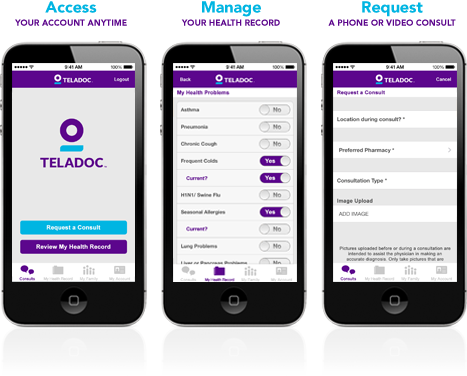 Virtual care provider Teladoc, today announced the launch of Behavioral Health Navigator, bringing innovation to virtual care delivery and the diagnosis and treatment of behavioral health conditions. Behavioral Health Navigator is an integrated care service that provides specialized "navigation," support and coordination, combined with virtual access to expert providers for those facing mental health conditions.
More than 42 million Americans live with anxiety disorders, and more than 16 million struggle with major depression. Studies show that up to half of individuals with a serious mental health illness had not received treatment in the prior year. The lack of accessibility to care providers and lack of confidence in a recommended treatment's ability to improve one's unique condition negatively impacts patient engagement and follow through in their care. With Behavioral Health Navigator, individuals, for the first time, can benefit from expert mental health assessments and second opinions, along with the assistance of a navigation team to guide them through the care journey.
Initially introduced in Canada in 2017, Behavioral Health Navigator has consistently proven to help treating physicians and patients refine diagnoses. Most importantly, patients have seen meaningful symptom reduction using these unique care navigation and expert review services – a 32% decrease in depression symptoms, 31% reduction in anxiety symptoms, and 20% reduction in stress symptoms.
"Fundamental to successfully managing behavioral health issues is understanding the patient's challenges and providing a collaborative, compassionate and high quality care experience," said Lew Levy, MD, chief medical officer, Teladoc. "There is no 'one size fits all' when it comes to addressing the complex range of mental care needs facing us today."
In the U.S., 70% of individuals with a behavioral health issue also have a medical co-morbidity. For the many individuals dealing with multiple conditions, like hypertension and depression, a single point of virtual access for answers to their healthcare needs means improved outcomes through better care coordination. The Teladoc Behavioral Health Navigator is built on a multi-disciplinary approach that finds the right solution for each individual, rather than one solution for everyone. With a focus on collaborative care, it provides seamless clinical integration between mental health providers, primary care physicians, nurses and the Teladoc Navigator team.
"With our single point of entry to a comprehensive suite of behavioral health services, Teladoc is in a unique position to meet the escalating care needs of Americans today, at scale," said Dan Trencher, senior vice president of product and strategy, Teladoc. "As employers and health plans look to support members struggling with physical and/or behavioral health issues, deploying a solution that meets the full spectrum of needs is critical to improving outcomes."