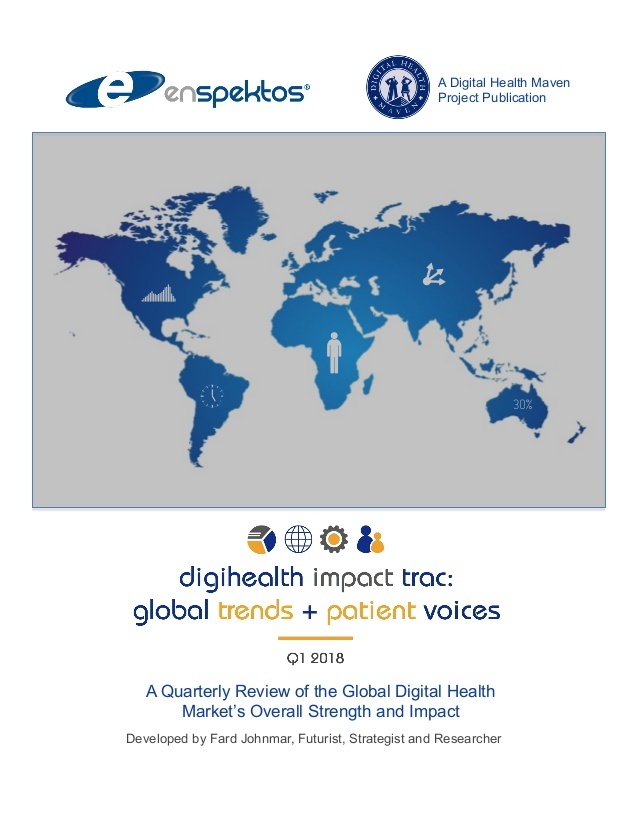 New research released today by healthcare innovation consultancy Enspektos, LLC reveals that digital therapeutics, defined as innovations such as prescription medications with embedded sensors and mobile applications that may one day replace drugs, are rapidly growing in scope and importance globally.
The research also highlights deep patient concerns about whether digital therapeutics will expose them to unwanted surveillance or that data collected by these applications could be sold or used without their consent.
These were among the insights featured in the Q1 2018 edition of Enspektos' quarterly research series, digihealth impact trac. This research is designed to compliment and expand on quarterly investment reports produced by Startup Health, Rock Health and other organizations.
New to the series is digihealth impact trac Patient Voices, a mini-research initiative designed to highlight consumer perspectives on the digital health revolution. Enspektos and Savvy Cooperative, a patient-owned co-op focused on delivering health consumer insights, collaborated to produce this intelligence.
To date, patient perspectives have been underrepresented in research and analysis about digital health. To address this issue, Savvy Cooperative and Enspektos partnered to conduct an online survey of Savvy's diverse patient community to gather data focusing on how consumers are reacting to certain innovations revealed via Enspektos' DigiHealth Informer market analytics platform.
Here are three themes highlighted in the Q1 2018 edition of digihealth impact trac to know:
1. The Asia-Pacific region's importance to the digital health ecosystem is growing as technologies such as artificial intelligence are being deployed there.
2. End-to-end digital services are rising as health organizations aim to create comprehensive, rather than point digital solutions that are only optimized to manage a single condition.
3. Machine-aided diagnosis is growing as artificial intelligence, wearables and data analytics combine to detect conditions like diabetes and heart disease earlier and less expensively.
The full Q1 2018 digihealth impact trac report appears below: