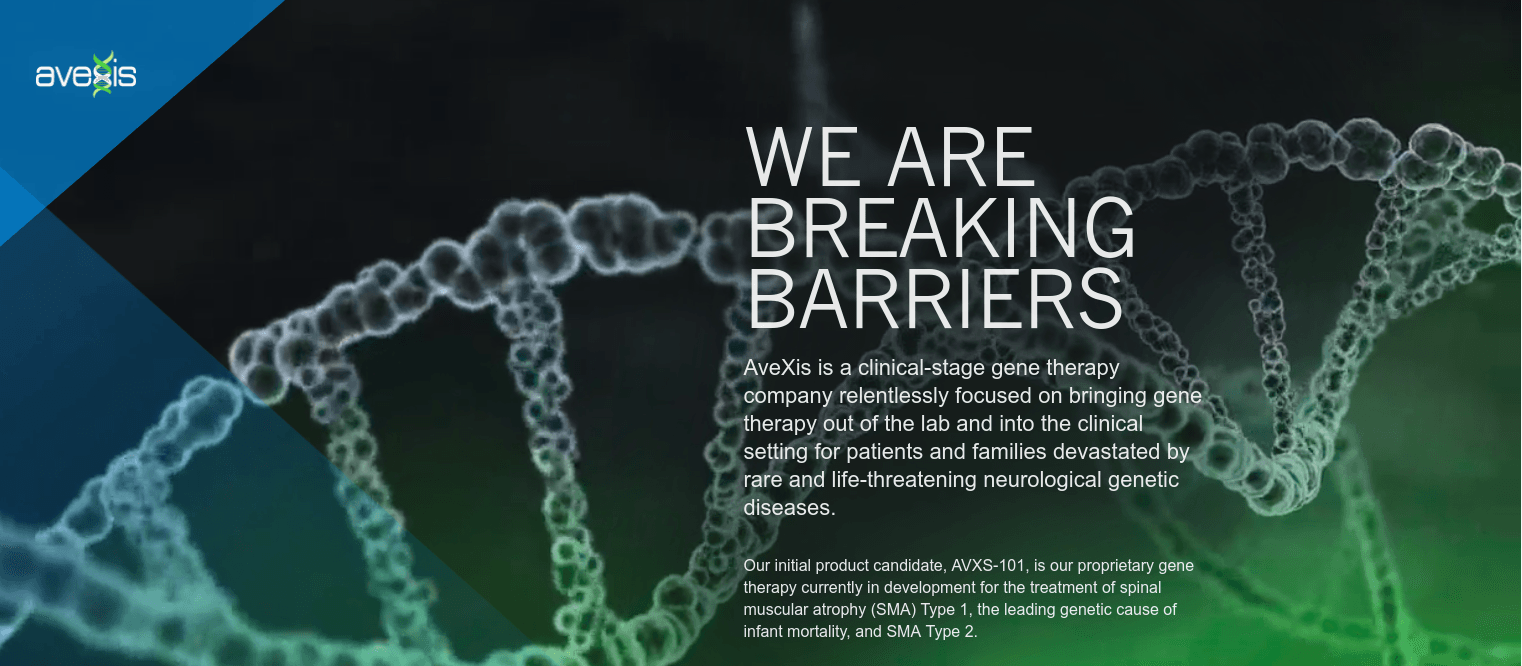 Novartis announced today that is has entered into an agreement to acquire  AveXis, Inc., a clinical stage gene therapy company for $8.7 billion in cash. AveXis lead product candidate, AVXS-101, has potential to be first-ever one-time gene replacement therapy for spinal muscular atrophy (SMA), a disease which results in early death or lifelong disability with considerable healthcare costs. It is estimated that one out of every 6,000-10,000 children born is affected by some form of SMA.
The US Food and Drug Administration (FDA) has granted AVXS-101 Orphan Drug designation for the treatment of SMA as well as Breakthrough Therapy designation for SMA Type 1. A BLA filing with the FDA for AVXS-101 is expected in the second half of 2018 and approval and launch in the US is expected in 2019. PRIME and Sakigake designations have been secured in Europe and Japan, respectively.
If approved, AVXS-101 would be a first-in-class one-time therapy that addresses the root genetic cause of SMA by effectively replacing the defective SMN1 gene. In a clinical study, AVXS-101 showed life-saving efficacy, with all 15 infants treated event free at 20 months compared with an event-free survival rate of 8 percent in an historical cohort (NEJM, November 2017). AveXis will also present two-year data to the American Academy of Neurology on April 25, 2018.
The acquisition is expected to close in mid 2018, pending the successful fulfilment of the tender offer and all other closing conditions. On completion, Novartis plans a smooth transition of operations and the integration of AveXis' talented and dedicated employees to continue the mission of bringing AVXS-101 to patients worldwide. As of 2020, Novartis would expect the acquisition impact to strongly contribute to Core Operating Income and Core EPS accretion driven by a significant increase in sales.
"The proposed acquisition of AveXis offers an extraordinary opportunity to transform the care of SMA. We believe AVXS-101 could create a lifetime of possibilities for the children and families impacted by this devastating condition. The acquisition would also accelerate our strategy to pursue high-efficacy, first-in-class therapies and broaden our leadership in neuroscience. We would gain with the team at AveXis another gene therapy platform, in addition to our CAR-T platform for cancer, to advance a growing pipeline of gene therapies across therapeutic areas. We look forward on the closing of the deal to a smooth transition for AveXis employees and welcoming them to Novartis," said Vas Narasimhan, CEO of Novartis.