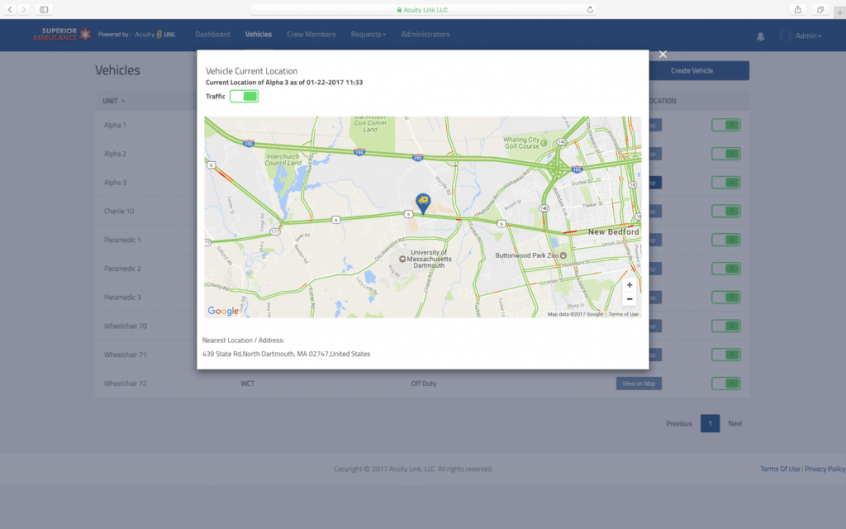 Ride sharing provider Lyft Business is announcing a new integration partnership with Acuity Link, a HIPAA-compliant dashboard, which automates the process of ordering all levels of Non-emergency medical transportation systems (NEMT). As part of the integration partnership, Acuity Link's HIPAA-compliant NEMT logistic management dashboard will now support Lyft's ride-hailing functionality.
Benefits for Providers & Patients
Patients being discharged from any health care provider who do not need special transportation accommodations will have the optionto be discharged through the new service. Additionally, the integration of Lyft's ridesharing network into the Acuity Link platform will allow medical care providers in any health care setting to schedule one-time or recurring non-emergency transportation for inbound or outbound patients.
By integrating Lyft into Acuity Link's existing software, hospital and health care institutions staff or discharge clinicians can quickly and easily arrange medical transportation that meets the needs of these patients.
With the added capability of Lyft, Acuity Link's software is now one of the nation's leading all-inclusive NEMT platform for, all levels of care and modes of transportation, ranging from critical care ambulance transport to ambulatory patient transit – with Lyft as the final link to providehealth care providers with ambulatory transportation solutions.
Often, patients who are ambulatory get transported out of nursing homes via wheelchair van services because most ambulance providers who serve them don't provide ambulatory medical transportation.
Health care facilities currently using Acuity Link's software solutions report seeing improvements in patient experience and a reduction in the time to book transport requests by nearly 75 percent.
"Through our partnership with Acuity Link, we're able to create a seamless option for medical providers to request affordable rides more quickly and efficiently for their facilities," said Gyre Renwick, VP of Lyft Business. "Together, Lyft and Acuity Link are providing an innovative solution to manage all levels of care. Because of this joint effort, we're able to reach even more passengers to ensure they're able to get to and from important medical appointments as we work to cut the health care transportation gap in half by 2020 and improve people's lives with the world's best transportation."
Today, 3.6 million Americans have transportation issues that prevent them from getting to or from a doctor's appointment, and 25 percent of lower-income patients have missed or rescheduled their appointments due to lack of transportation.
This can lead to consequences like emergency room visits and expensive hospital stays, and cost millions of dollars annually in inefficiency and lost time. Lyft's goal is to cut these numbers in half by 2020, and soon after, to ensure that transportation is no longer a barrier to care for anyone.
In 2016, Lyft Business introduced Lyft Concierge API to help patients ride to and from important doctor appointments. Lyft has already announced of partnerships with many organizations in the NEMT space to improve accessibility for communities in need of better transit options to healthcare appointments including Allscripts, Blue Cross Blue Shield, Ascension, Sutter, CareLinx, Circulation and Hitch Health.