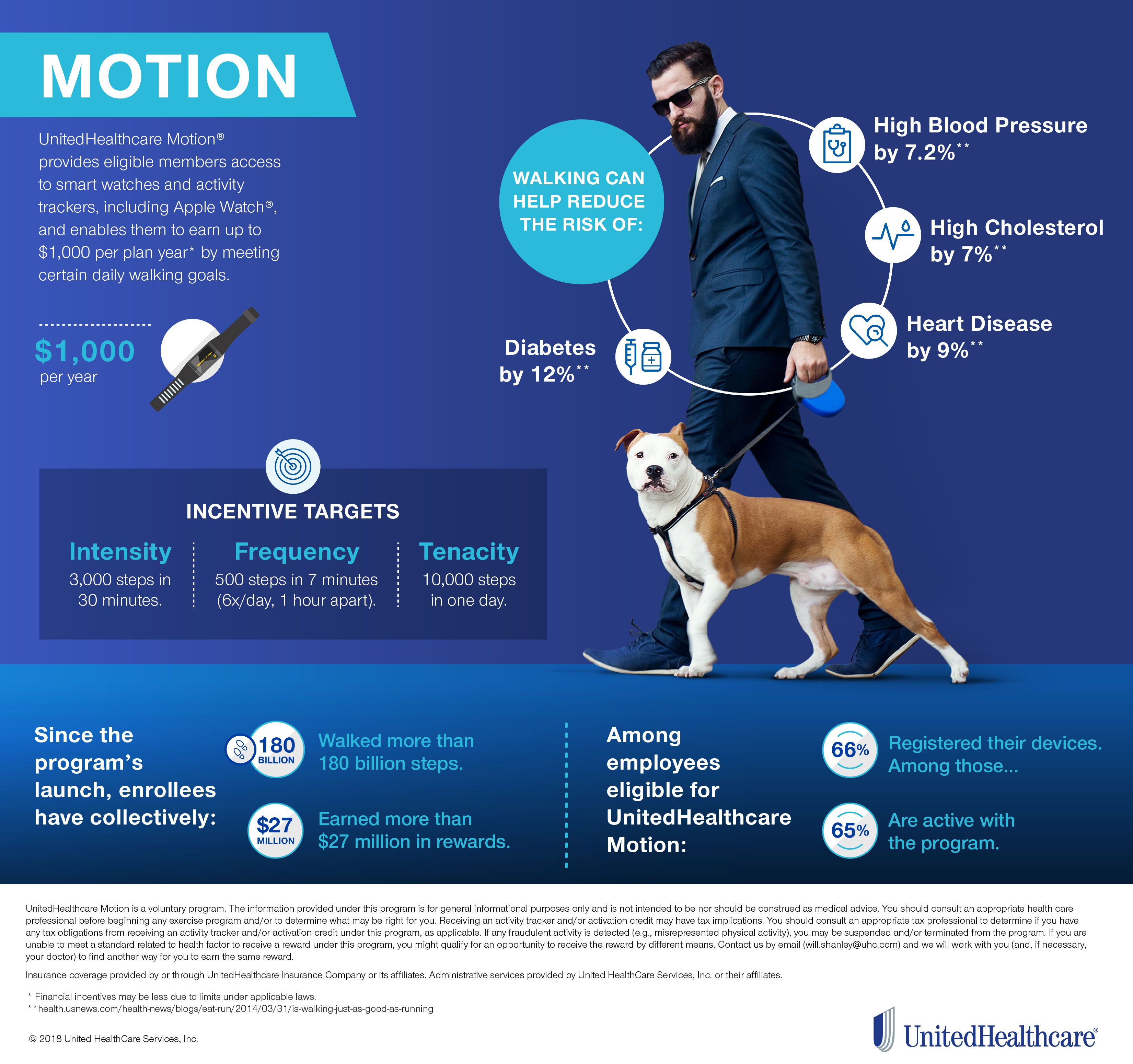 For the first time, the Apple Watch will be integrated into UnitedHealthcare Motion, a national digital wellness program that provides eligible plan participants access to activity trackers that can enable them to earn up to $1,000 per year by meeting certain daily walking goals.
Eligible participants will be able to receive and start using Apple Watch (initially paying only tax and shipping), with the option to apply program earnings toward the full purchase price of the device. Program participants will be able to own – with a zero balance – the world's No. 1 smart watch in as little as six months by meeting daily walking goals. UnitedHealthcare Motion participants who already own Apple Watch will be also able to use it with the program.
UnitedHealthcare Motion is available to employers with self-funded and fully insured health plans nationwide. The program enables employees to earn up to $4 per day in financial incentives based on achieving F.I.T. goals:
– Frequency: complete 500 steps within seven minutes six times per day, at least an hour apart;
– Intensity: complete 3,000 steps within 30 minutes; and
– Tenacity: complete 10,000 total steps each day.
Apple Watch is available through UnitedHealthcare Motion and enables users to see how they are tracking against the program's three daily F.I.T. goals, helping integrate physical activity and engagement with their health plan. Research shows people who consistently achieve the F.I.T. goals tend to improve their health and reduce their medical expenses.
The program's F.I.T. targets are set in the UnitedHealthcare Motion app, which integrates with HealthKit to use data from Apple Watch to track daily goals.
"UnitedHealthcare Motion is part of our consumer-focused strategy that is driving toward a simple, integrated, mobile-centric ecosystem that delivers value to consumers," said Steve Nelson, CEO of UnitedHealthcare. "Smart watches and activity trackers stand alongside transparency in physician selection and medical costs, easy virtual visits with health care professionals, and digital coaching and online wellness programs, all of which are designed to support consumers in enhancing their health and improving how they navigate the health care system."