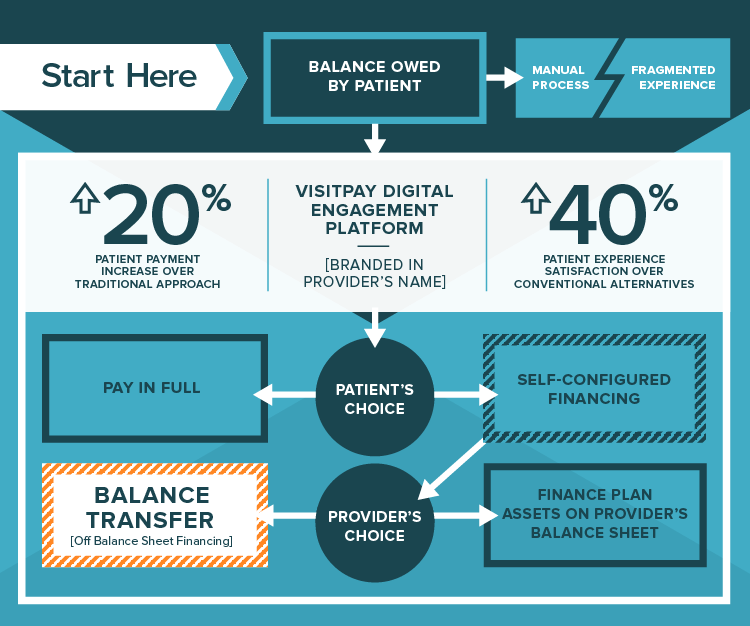 VisitPay, a provider of patient financial engagement, has entered into an exclusive agreement with JPMorgan Chase Bank, N.A. in connection with the bank's plan to extend recourse financing to VisitPay's new Balance Transfer program, which will provide wholesale funding to healthcare providers. St Luke's Health System in Boise, a long standing VisitPay client, is among the innovation partners shaping the program.
With the launch of the Balance Transfer program, VisitPay now offers providers a fully automated and economically sustainable approach to financing patient receivables. The program minimizes days in accounts receivable and improves liquidity metrics, while seamlessly maintaining VisitPay's provider-branded online experience for patients.
VisitPay's platform already offers patients unprecedented transparency, choice and control in managing their health bills, thereby dramatically improving the patient experience, driving yield and reducing bad debt expenses. The new Balance Transfer program will extend credit to healthcare systems as they manage the growth of patient debt associated with high deductible health plans.
The exclusive agreement with JPMorgan Chase comes as the cost of care is increasingly shifted to patients. Nearly 40% of healthcare consumers privately purchased a high-deductible health plan in 2016, up from 26% in 2011, according to the National Center for Health Statistics.
"Managing long-term patient debt is not a core competence for most providers," said Kent Ivanoff, VisitPay CEO and Co-Founder. "It distracts them from fulfilling their core mission of delivering outstanding patient outcomes. The proposed financing will allow providers to augment the unmatched billing experience created by VisitPay with a fully automated, low-cost financing solution."
"Healthcare consumerism is a significant challenge to health systems because it directly impacts the clinical and business aspects of these institutions," Ivanoff said. "Patients who put off care because they lack control, choice and options for paying what they owe prevents providers from delivering positive clinical outcomes."