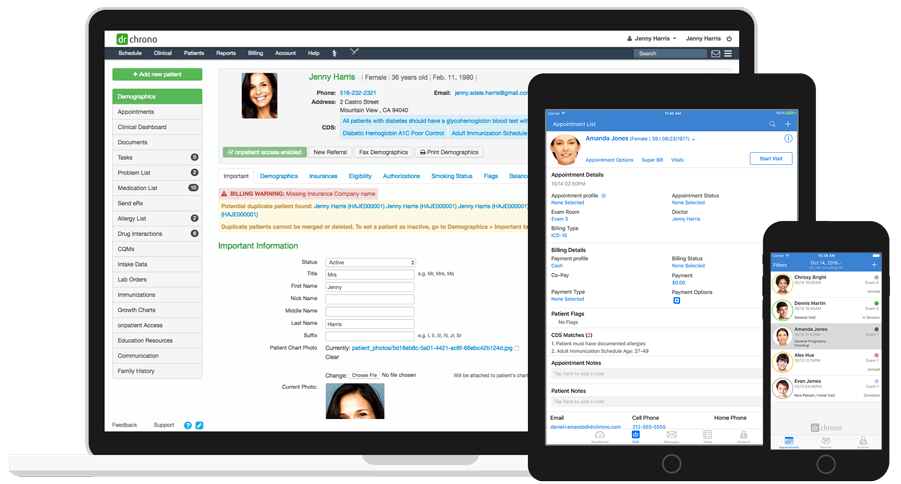 drchrono, the company enabling the medical practice of the future, today announced a new partnership with Ambra Health, makers of the leading cloud-based, medical image management suite, to give physicians and radiologists direct access to medical imaging within their electronic health record (EHR). 
drchrono's integration with Ambra Health eliminates jumping between DICOM medical imaging software and electronic health records. Physicians and radiologists benefit from a more efficient workflow by placing a radiology request then having the incoming medical images, including DICOM images, viewable in one destination within the drchrono EHR. Imaging is exported and uploaded directly from the device to the cloud, placing the images right into the patient's health record via the Ambra Health integration.
Ambra's cloud-based PACS and image management platform integrated with drchrono can process all DICOM modalities including MR, CT, PET, CR, US, and MG. Non-DICOM imaging can be stored side-by- side with DICOM for a holistic view of all patient imaging.
How it Works
The Ambra and drchrono integration offers significant efficiency and patient care improvement to both care providers and patients. Doctors can place imaging orders, receive and view the results directly in the patient chart all from within the drchrono EHR on iPad, iPhone or computer anytime, anywhere. Patient images can also be accessed for measurement, annotation, and comparison, in the Ambra Diagnostic Viewer.  In addition, patients can provide medical images on CD to admissions or check-in staff to easily upload prior imaging so they are available even before seeing the physician.
"Both drchrono and Ambra Health provide cloud-based platforms that make it simple and secure for healthcare providers to instantly access important patient information and history," said Andrew Duckworth, VP of Business Development at Ambra Health in a statement. "By image-enabling the drchrono EHR through this partnership, physicians and radiologists can spend more time on what matters most: patient care. We are excited to begin rolling this integrated solution out to thousands of medical practices already using drchrono's mobile EHR platform."