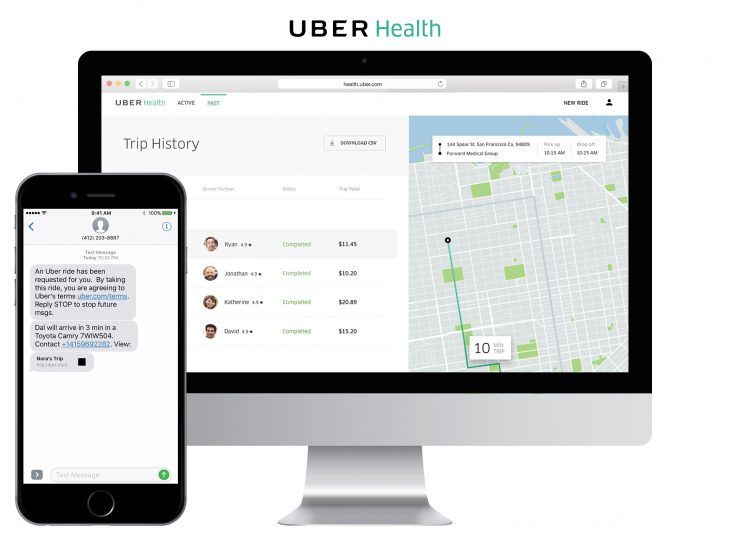 Uber, today announced the launch of Uber Health, a HIPAA-compliant service that lets health providers book rides for patients. According to the Transit Cooperative Research Program, a federally funded independent research entity, the non-medical-emergency medical transportation market is worth more than $3 billion.
With Uber Health, coordinators can schedule rides on behalf of patients, caregivers and staff to take place immediately, within a few hours, or up to 30 days in advance. This allows for transportation to be scheduled for follow-up appointments while still at the healthcare facility. Multiple rides can be scheduled and managed at the same time, all from a single dashboard.
Access for patients without a smartphone
Riders don't need the Uber app, or even a smartphone, to get a ride with Uber Health because it's all done through text message. Uber Health has future plans to provide an option for riders to receive a call with trip details to their mobile phone or landline instead.
In addition to Uber Health, the company has launched Uber Health API to enable easy integrations into existing healthcare products.
Other key features of Uber Health include:
Simple billing, reporting, and management. Organizations can easily keep track of what they're spending on rides. Reporting on requested rides and viewing monthly billing statements, appointments, and scheduling reports is simple.
HIPAA Compliance. Uber has worked with Clearwater Compliance, a leading HIPAA compliance company, to conduct comprehensive risk and compliance assessments that allows them to sign Business Associate Agreements (BAAs) with healthcare partners.