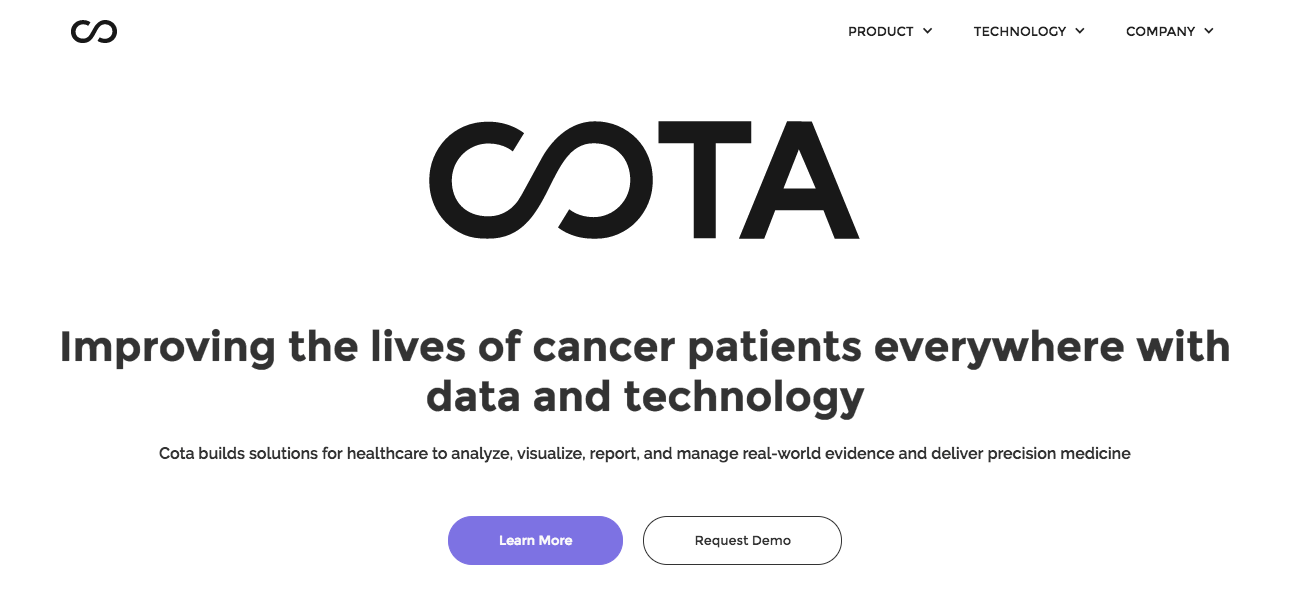 Cota, a NYC-based healthcare data and analytics company bridging precision medicine to population health has raised $40 million in Series C funding led by QVIA and was contributed to by EW Healthcare Partners. Memorial Sloan Kettering Cancer Center also participated in the round, along with existing Cota investors which include, Boston Millennia Partners, Horizon Blue Cross Blue Shield of New Jersey, Hackensack Meridian Health and Atoc Holdings.
The funding will go towards rapidly scaling its solutions in the provider, payer and life science sectors. In addition, it will also go towards advancing its proprietary Cota Nodal AddressTM (CNA) system, a powerful and unique precision patient classification system built on a real-world data set. The CNA is currently being used by prominent healthcare organizations, including MSKCC and Hackensack Meridian Hospital.
Founded in 2011, Cota Healthcare's healthcare data analytics platform enables providers, payers, and life science companies involved in diagnosing and treating complex diseases to optimize the outcomes of individual patients and lower the overall cost of the patient population served. Powered by the patented Cota Nodal Address (CNA) system, a unique digital classification methodology built by leading physicians and data scientists.
CNA precisely categorizes patient factors, their diseases and intended therapies, enabling precision medicine at scale. This enables providers, payers, and life sciences companies to analyze, report on, and research outcomes, costs, treatments, and quality at any granularity and stage of the patient journey.
Cota's CNA-based Real-World Evidence (RWE) offerings include Cota Research, Cota Payer Solution, Cota Provider Solution and Cota Life Sciences. The power of CNAs and Cota RWE is currently being leveraged by some of healthcare's most prominent organizations across the spectrum of providers, payers and life science companies.
"With our CNA classification system and powerful analytics, we are confident that Cota will revolutionize both patient care and healthcare economics. Moreover, the depth and richness of our real-world evidence set empowers life sciences companies to gain new insights into their compounds, accelerate market applications and support clinical trials," said John Hervey, chief executive officer at Cota in a statement. "We're poised to expand our team and add new capabilities to support the company's rapid growth."