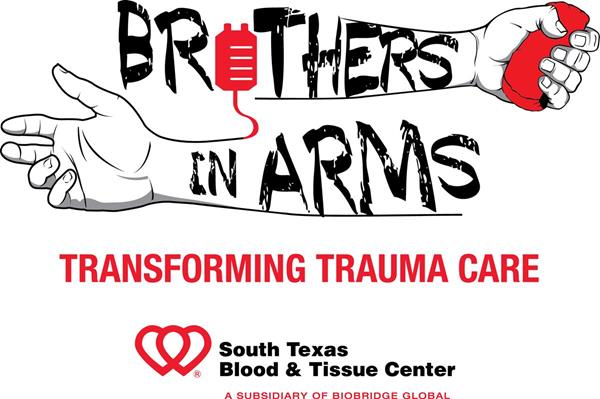 South Texas Blood & Tissue Center, a subsidiary of BioBridge Global has launched a program to aid accident and trauma patients served by area air medical services and hospital helicopters. The program called "Brothers in Arms," will enable air medical crews to administer special pre-hospital transfusions of whole blood, proven to counter blood loss and dramatically improve survival rates when tested in battlefield situations.
The program is based on a battlefield transfusion program developed by the U.S. military and later adapted at the Mayo Clinic trauma center. Research led by Dr. Donald Jenkins, a former U.S. Air Force officer and the principal architect of the Joint Trauma Theater Trauma System in Iraq and Afghanistan, showed that combining the practice of pre-hospital transfusions with specially tested units of whole blood – rather than transfusing individual blood components of red cells, plasma or platelets – is most effective in treating trauma victim suffering from significant blood loss.
Dr. Jenkins later began to transfer the program to civilian use as trauma medical director at the Mayo Clinic. He is now a surgical critical care specialist affiliated with University Hospital in San Antonio, and the Betty and Bob Kelso Distinguished Chair in Burn and Trauma Surgery at UT Health San Antonio.
The new program represents a collaboration involving the South Texas Blood & Tissue Center, the Southwest Texas Regional Advisory Council (STRAC), University Health System, the San Antonio Military Medical Center, The US Army Institute of Surgical Research, the UT Health Science Center and medical helicopter services Air Evac Lifeteam, PHI Inc. and San Antonio AirLIFE. San Antonio is one of the first cities to implement the system,
The program was established in San Antonio with support from a grant provided by the San Antonio Medical Foundation. Blood for the Brothers in Arms program will come from the South Texas Blood & Tissue Center, donated by specially tested male O-positive donors. 
The universal blood type generally used for emergency transfusions, O-negative, is found in just 7 percent of the population. More than 30 percent of donors are type O-positive, making it the most common blood type. South Texas Blood & Tissue Center's sister blood-testing organization, QualTex Laboratories, worked with the military to develop the testing protocol to identify O-positive donors with low antibody levels, making it possible to use O-positive blood for these trauma victims. The program is targeting male O-positive donors because men tend to have lower levels of certain types of antibodies in their blood than women, reducing the possibility of adverse reactions in patients.
STBTC is working to sign up a committed pool of male O-positive donors for the Brothers in Arms program to ensure a regular supply of specially tested whole blood for medical helicopters. The goal is to eventually expand the program to provide whole blood to area emergency vehicles.
"Implementing this program for civilian use will truly transform how emergency care can be administered on medical helicopters and significantly improve survival rates for trauma victims." said Elizabeth Waltman, COO of the South Texas Blood & Tissue Center. "This is also the first step towards a longer-term solution for saving more lives in mass-casualty situations, especially if we are able to expand the program in the future to include emergency care provided by ambulance services."