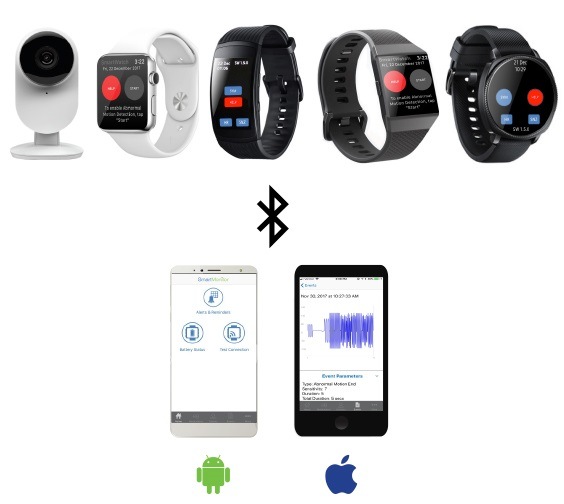 Smart Monitor, a Silicon Valley, CA-based provider of clinically validated solutions for the management of complex chronic conditions has announced the launch of SmartWatch Inspyre for the Apple Watch.  The new Apple Watch app uses a unique algorithm to recognize a wearer's repetitive shaking movements, similar to those caused by convulsive seizures.
Designated family members and care providers are alerted upon onset of these movement patterns so they can intervene in a timely manner to maximize safety of their loved one. The episodic data is captured in a secure HIPAA-compliant cloud for review and analysis. 
SmartWatch Inspyre users can also summon help with the push of a button. Alerts can be sent to any phone, anywhere, and detailed reports of each event can be securely accessed for later review with physicians.
Family members appreciate the peace-of-mind, especially at night knowing they can be on hand to provide assistance when needed. Furthermore, users and caregivers alike value that the activity reports can be downloaded at any time for thorough analysis.
Clinical Studies
The SmartWatch Inspyre by Smart Monitor has undergone clinical studies at top medical institutions across adult and pediatric populations that validates its ability to alert upon repetitive shaking motion. Studies at Stanford with 40 adult participants were concluded in June 2010. SmartWatch Inspyre performed with very high sensitivity – in the high 90s as noted in the journal article: Lockman J, Fisher RS, Olson DM. Detection of seizure-like movements using a wrist accelerometer. Epilepsy and Behavior 2011; 20:638-41. Studies at the University of California, San Francisco with the pediatric population were completed in 2013. The device has been used on children as young as 3 years old. In over 500 hours of testing, the device sensitivity in detecting tonic-clonic seizures was 100%; device specificity was over 90%.
"We are pleased to be able to offer Inspyre on the Apple Watch," said Anoo Nathan, CEO in a statemnet. "This really is a game changer for patients and families alike. Inspyre enhances the safety and autonomy of people prone to seizures while providing peace of mind for families and loved ones.
SmartWatch Inspyre by Smart Monitor is currently being used in clinical studies at Stanford University, NYU Langone Medical Center, Boston Children's Hospital and the University of Virginia.